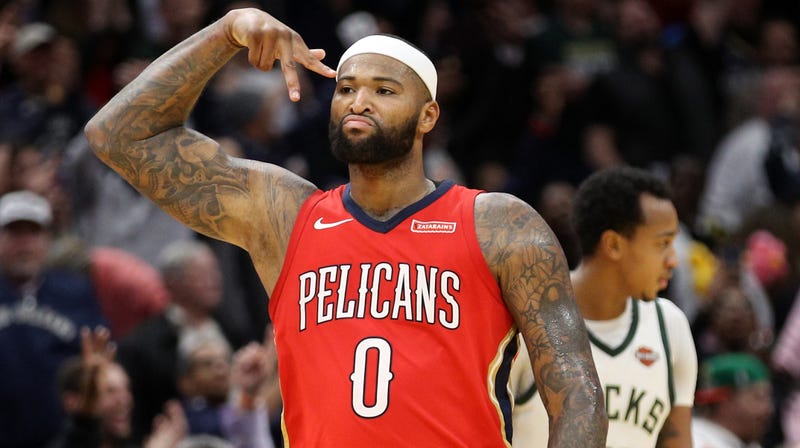 The Warriors' basketball monolith may have just gotten a lot more frightening.
Golden State's latest may-God-have-mercy-on-your-soul maneuver is to add DeMarcus Cousins to a roster that already features four of the top 25 players in the world today. Cousins signed with the Warriors for the $5.3 million Mid-Level Exception, which is significantly less than what he is worth. The Warriors are a team that could legitimately give the Eastern Conference All-Stars a fight, and Cousins' arrival has led many to rightfully decry the competitive balance issues a move like this presents while also giving people another excuse to vent about how the Warriors are too good.
But while hating the Warriors is one of America's favorite sports, there is a fundamental problem with the argument that they are the ones ruining the NBA.
For starters, let's remember how Golden State's unbeatable monster was formed. In 2015, the Players' Union rejected a proposal that would have smoothed the salary cap over a number of years. The cap was set to increase from $70 million to $94 million before the 2016-17 season (due to the league's TV rights deal with ESPN/ABC), and the NBA wanted to spread out this hike over a number of years. The Players' Union could not have been less interested in this, because it would have prevented that year's free agents from getting massive pay raises. The unintended consequence of it, however, was that it gave the Warriors, who were coming off a 73-win season, the additional cap room necessary to snag Durant and not have to give up any of their key players. The NBA's worst nightmare played out in real life.
This is a classic example of needing to hate the game over the player. The other problem we're dealing with here is that, in this scenario, other teams inadvertently helped Golden State sign yet another one of the best players our world has to offer.
Cousins suffered an Achilles injury in January of last year and will miss part of this season because of it. Because he was hurt, though, his value to teams is dramatically lower than it would have been otherwise. With that thought, several teams that would not have been able to afford Cousins could try to sign him for less than what he would have been worth. Of course, this didn't happen, and according to the New York Times' Marc Stein, one of the teams that passed on Cousins will catch your eye, particularly when you see what his services would have cost:
Word also reached us Monday night that LeBron's Lakers, after signing Rajon Rondo away from New Orleans and then losing Randle to the Pelicans, had an opportunity to sign Cousins at a one-year price point similar to the one that landed him in Golden State. But I'm told the Lakers passed, clearing the way for the Warriors to infuriate the basketball public yet again.
Whoops.
There are 29 teams in the NBA who could have had DeMarcus Cousins for less than half of what he's really worth. There is no explanation, then, as to why Cousins got zero offers in the opening hours of free agency. Don't get me wrong, it's fine to be mad that the Warriors signed Cousins and, if he's healthy, will be better than they were the past two seasons.
But if you're just mad at Golden State for picking him up when no else wanted to, you're misplacing your anger.