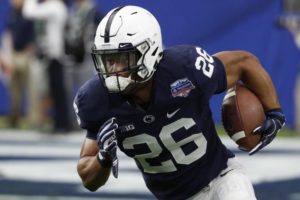 It's the most wonderful time of the sports year. March Madness is in full swing, MLB's Opening Day is right around the corner, in case you couldn't tell, and NFL Draft season is finally upon us. This article will focus on the latter proposition.
In this post, we'll take a look at picks one through ten. There has already been one trade within these ranks, and in this article, we'll raise the possibility of another hypothetical one.
So without any further ado, here is a first look at the top ten picks of next month's NFL Draft.
1. Cleveland Browns
Josh Allen (QB/Wyoming)
Measurables are a surefire way to get NFL teams to salivate over your talent.
Want a guy who's 6'5″, 230 pounds and can throw the ball 80 yards on the fly? Josh Allen's your man. Allen has all of the arm talent of the league's best quarterbacks and easily has the biggest upside of any signal-caller in this draft. But now that we have that out of the way, let's get to the negatives.
Against two Power 5 opponents last season (Iowa and Oregon) Allen was less than impressive. He went 33-of-64 for 238 yards and three interceptions in those two games, and he only completed 56% of his passes last season. He is talented enough to make any throw on the field, but he also makes some horrendous decisions and misses some easy throws.
Now, of course, we need to acknowledge the changes the Browns have made in both their front office structure and roster in the past few weeks and months. The team has added quarterback Tyrod Taylor, wide receiver Jarvis Landry, cornerback Demetrious Randall, and wide receiver Brandon Coleman. Cleveland's new general manager, John Dorsey, seems to have a clue as to what he's doing, and that's already an improvement over most previous Browns' front offices. Fans of the team — who, at this point, probably feel like Charlie Brown trying to kick a football — are rightfully getting excited over a unit that still shouldn't be good enough to compete for a playoff spot.
If the team takes Allen here, he likely would not be Cleveland's Week One starter. That honor would belong to Taylor, a perfectly fine and competent NFL quarterback that the Buffalo Bills decided to bench for Nathan Peterman in November of last season. Taylor will protect the football and give the Browns mobility out of the pocket, and he'll be far better than anyone Cleveland trotted out at quarterback last season. Allen doesn't look like he's ready to play next season, and the Browns, as crazy as this sounds, have the best personnel (head coach Hue Jackson, offensive coordinator Todd Haley, and Taylor) for him to learn from.
An NFL team will talk itself into Josh Allen early in the first round of the draft, even though he's only the third or fourth-best quarterback available at the top spot. If Dorsey decides that Allen is the Browns' quarterback of the future, he may very well pull a Lucy on the entire city of Cleveland.
And Browns fans might let out a collective "oh, good grief" in response.
2. New York Giants
Saquon Barkley (RB/Penn State)
Saquon Barkley is a once-in-a-generation talent.
He rushed for 1,000 yards in three straight seasons at Penn State, and that is hardly the only upside he brings to the table. He is a running back with shiftiness the likes of which we have not seen in some time, and he also has strength to boot; he weighed in at the Combine at 233 pounds and did 29 reps on the bench press. He also ran a 4.4 40-yard-dash and had two kick return touchdowns last year.
The guy has it all. He'll run you over. He'll jump over you. Sometimes, he'll do both on the same play. He also has enough speed to run around you.
The Giants were the most disappointing team in the league last season. A year that started with high hopes and championship aspirations quickly turned into a 3-13 season and the #2 overall pick. While the team should start seriously thinking about replacing quarterback Eli Manning, their priority here should be to get the best player available.
And with Barkley, he's not just the best player available. He could be the best running back we've seen in several years.
When I watch Barkley play, he reminds me equally of Eric Dickerson and Marshall Faulk. He's that good. Here's to hoping the Giants make the right choice if Barkley is available with the second pick.
3. New York Jets (from Indianapolis Colts)
Josh Rosen (QB/UCLA)
Josh Rosen is the best quarterback in this year's draft class. He's also not for the faint of heart.
To be clear, his off-field distractions have nothing to do with the legal sort. He hasn't been arrested and many of his extracurricular troubles are of the inane, albeit concerning, kind. Rosen's greatest hits at UCLA include wearing a "F— Trump" hat on one of the President's golf courses, taking multiple shots at the NCAA, and, my personal favorite, putting a hot tub in his freshman dorm. Of course, these things are, in the grand scheme of things, not that important and, in the case of the hot tub, legitimately hilarious. However, to be the face of a franchise, you need to bring as few distractions along with you as possible.
Several teams are looking for a franchise quarterback in this draft. And gee, what team is most likely to inherit a total circus in the largest media market in the country? That's right, it's the New York Jets!
The J-E-T-E, Jets thought they had their quarterback with Geno Smith, just four years after thinking they had their guy in Mark Sanchez. The Jets' history is a Sistine Chapel of awful draft picks, perhaps none more glistening than their 1997 draft, when they traded out of the first overall pick — which later became Hall of Famer Orlando Pace — then traded down the board again and out of the sixth pick, which the Seahawks used to select future Hall of Famer Walter Jones. In the span of six picks, the team fumbled their way out of two of the best offensive linemen in history and stumbled into James Farrior, who left the team after five seasons and played most of his career with the Steelers. And the mastermind behind all of that was none other than Bill Parcells!
Anyway, Rosen is the best quarterback available at three and could go a long way towards fixing the Jets' quarterback issues. He, like Allen, can make any throw on the field and has decision-making concerns, but Rosen is far more accurate than Allen and can be plugged into the starting lineup for Week One. The Jets could also take Oklahoma's Baker Mayfield if Rosen gets taken before their pick here. More on Mayfield later.
For now, the Jets look to fix their years-long quarterback nightmare, but they'll have to take a hot tub and some distractions with them if they do.
4. Cleveland Browns
Minkah Fitzpatrick (CB/S/Alabama)
In the eyes of many, Minkah Fitzpatrick is the best defensive player available in this year's draft. He's also one of the safest choices this early on.
He has a very high football IQ, which is most easily translatable in his ball skills as a safety at Alabama (he nabbed six interceptions last season) and is a very versatile defender as well. The Browns, provided they take Fitzpatrick, can plug him in as a safety, slot corner, or even an undersized linebacker in certain situations.
In my view, the Browns could use more help at corner than at safety, as the team drafted Michigan's Jabrill Peppers last season and acquired Randall from the Packers two weeks ago to cover the other safety spot. Fitzpatrick is a rock-solid defender who would likely be able to get immediate playing time for a defense that surrendered the second-most points in the league last season.
Another option for the Browns with this pick would be an offensive lineman, likely Notre Dame's Quenton Nelson, to shore up their offensive line after the retirement of Joe Thomas. However, Fitzpatrick is the best player available with the fourth pick, and my bet is that Dorsey, the general manager of a team that still has a lot of needs, will simply grab the most talented player available and take his chances.
5. Buffalo Bills (from Denver Broncos) NOTE: This trade is simply a proposal; it hasn't actually happened and the Broncos are still the owners of the fifth pick as of now.
Baker Mayfield (QB/Oklahoma)
A trade involving the Broncos at five makes sense; the team signed Case Keenum, mainly based on 14 starts last season, to an $18 million deal earlier in the offseason and no longer need a quarterback, unless they want to be the Chicago Bears and pay Keenum that money to back up an unproven rookie. Therefore, we pivot to a team that does need a quarterback: the Buffalo Bills.
Enter Baker Mayfield.
The 2017 Heisman Trophy winner was penciled in as my number-three quarterback before the NFL Combine, and his impressive performance there coupled with Sam Darnold's confusing and perplexing decision not to throw at that venue bumped him up to number two. The problem here, though, is that many are ragging on Mayfield for only being 6'1″, and while those concerns are valid, they also completely discount the existences of Drew Brees, Russell Wilson, Fran Tarkenton, and Johnny Unitas, all of whom either are or were shorter than Mayfield and still had wildly successful careers. Mayfield should not be compared to those men, but he can definitely succeed in the NFL.
Beyond his success in college, he is an accurate passer who has improved his deep ball tremendously and is also mobile enough to extend plays with his feet. He has several flaws (poor feel for the rush in the pocket, suspect footwork) but he can work through those and be successful in the NFL. And even though Mayfield brings his own baggage (most significantly, a DUI last February) he looks better and better the more you watch him on tape.
The Buffalo Bills signed A.J. McCarron earlier in the offseason but are still in the market for a quarterback. Making a splash move up to the fifth spot in the draft will get them the second-best one in this year's rookie class.


6. Indianapolis Colts (from New York Jets)
Bradley Chubb (DE/NC State)
The Indianapolis Colts did a very smart thing by trading the third overall pick to the Jets. Chubb is the top defensive end coming out of college this year and could be a game-changer for one of the league's worst defenses a season ago. With the team likely getting Andrew Luck back off his shoulder injury, the Colts should look to improve their defense. Because they don't need a quarterback, Indianapolis could afford to trade down in the draft and get several later-round picks to draft more talented defensive prospects. The Jets, who do need a quarterback, were willing to surrender these picks in the name of getting one, and the Colts should look to use them on an ailing defense. Chubb, who may have been taken by Indy with the third pick, anyway, can make an immediate difference for Indianapolis.
He posted the highest vertical jump among defensive ends at the Combine (36 inches) and at 6'4″ and 270 pounds, he is someone the Colts could plug into their starting lineup immediately. The Tampa Bay Buccaneers were the only team that got fewer sacks than the Colts did last season and the team's pass rush was the weakest link on a defense that ranked 30th in points allowed.  In that regard, Chubb can make an impact from day one, as he put up back-to-back seasons with ten sacks his last two years at NC State.
Bradley Chubb is a top-five player in the NFL Draft and if he is still available with the sixth pick, the Colts would be foolish to go in another direction.
7. Tampa Bay Buccaneers
Denzel Ward (CB/Ohio State)
The Tampa Bay Buccaneers had a truly horrendous defense last season.
The team's defense was last in the league in total yards, passing yards, and yards per play. Things went south quickly for the Buccaneers in 2017, as they finished 5-11 after a 2-1 start. The offense still has plenty of talent; while Doug Martin left to sign with the Raiders, Tampa Bay still has Jameis Winston, Mike Evans, and tight end Cameron Brate. Where they truly need help is on defense.
Denzel Ward can help the Buccaneers improve on that side of the ball. Ward led all corners at the combine in 40-yard-dash time (4.32), vertical jump (39.0 inches), and broad jump (136 inches). While he is just 5'10" and naturally gives ground to taller receivers, his athleticism and talent make up for his challenges in stature.
While Ward may not be enough to salvage the Buccaneers' defense, he will help a secondary unit that gets the pleasure of facing Drew Brees, Matt Ryan, and Cam Newton twice a year. He's the top cornerback coming out of college, and he'll look to do what Marshon Lattimore did coming out of Ohio State in 2017; win Defensive Rookie of the Year and greatly improve a previously horrific defense.
8. Chicago Bears
Quenton Nelson (G/Notre Dame)
The Bears have a new head coach.
Matt Nagy comes over after serving as the Chiefs' offensive coordinator for the past two seasons. The Bears, under his leadership, may have something going for next season; the team has signed wide receivers Allen Robinson and Taylor Gabriel from the Jaguars and Falcons, respectively, and will hope for improvement in quarterback Mitchell Trubisky's second season. However, the team lost guard Josh Sitton to the Dolphins in free agency and should look to protect Trubisky at all costs.
The way they can do that is by taking Notre Dame's Quenton Nelson, the best offensive lineman on the board, with the eighth overall pick.
Nelson stands at 6'5″ and 325 pounds, and his athleticism should make him ready to start as soon as the season begins. Nelson played guard on the left side of Notre Dame's offensive line last season alongside Mike McGlinchey, and the Irish had arguably the best offensive line in the country because of that combination. The Bears have made some questionable decisions under GM Ryan Pace, but they are having an objectively good offseason. They signed Robinson, Gabriel, backup quarterback Chase Daniel, and even the guy who threw the touchdown on "Philly Special". I bet you had to look up who that was.
But anyway, Nelson is tied for the second-highest grade on NFL.com's draft tracker; he sits behind only Saquon Barkley in that category. Nelson is another safe bet for a team looking to contend in a talented NFC North next season.
He's the best fit for the Bears, and they should look to scoop him up with the eighth pick.
9. San Francisco 49ers
Calvin Ridley (WR/Alabama)
The 49ers have found (and secured) their quarterback of the future.
After trading a second-round pick to the Patriots for Jimmy Garoppolo and going 5-0 with him as their starter, the team inked Jimmy G to a five-year, $137.5 million deal that, at the time, made him the highest-paid player in the NFL. After a 1-10 start, the team finished the year with six wins and will look to build around Garoppolo to compete for a playoff spot in the very near future.
Adding a wide receiver like Calvin Ridley would be a big boost to the Niners' offense. Ridley is the only receiver in this draft class with the complete combination of speed, route-running ability, and hands. I actually like the upside of receivers such as Oklahoma State's James Washington or SMU's Courtland Sutton more than Ridley's, but the Alabama product is the safest choice out of this year's wide receiver class.
He would add to a receiving core whose best receiver, as of the moment, is Marquise Goodwin. Ridley would become a solid second receiver opposite Goodwin's speed on the outside. The 49ers have their franchise quarterback, but they need to surround him with talent at the skill positions in order for them to have sustainable success on offense.
10. Oakland Raiders
Roquan Smith (LB/Georgia)
This one just feels right.
Roquan Smith is the best linebacker in the 2018 Draft, and a gap of about three-and-a-half-miles separates him from the number-two choice. Smith's tape doesn't "pop"; it explodes. He's an athletic linebacker with a nose for the play, as he's often involved in pass coverage or making a tackle. He won the Butkus Award as the nation's best linebacker this past season and ranked in the top ten in the country in total tackles. Smith has it all; his one weakness is that he is undersized (6'1″, 236) but he compensates for that with elite effort and tremendous discipline.
The Raiders, who were one of the worst defenses in the league a season ago, could use a little of both.
Smith is versatile; he could help the Raiders, under new (old?) head coach Jon Gruden, in pass coverage and in the run game. He's a slightly underrated prospect; I have him in the top five and he should be taken by a team in the top ten next month. The way things look right now, that team is the Oakland Raiders.
Smith would be a tremendous help for a team looking to jump back into contention in the AFC West. He's also one of the best players in this year's draft, and he would be an absolute steal for the Raiders at ten.