July 1, tomorrow, marks the beginning of free agency in the NBA.  Free agency is typically the signing period that provides the most intrigue during the league year, and it also provides teams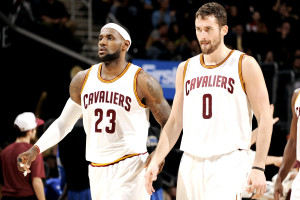 the chance to improve on last year's showing and build a title contender. This year is no different, as there are plenty of key free agents that could be changing teams. This list will be the five most important free agents this year, not necessarily the best ones.  So let's get started, with the five most important NBA free agents this summer.
5. Jimmy Butler
SG/SF
Current team: Chicago Bulls
If you don't think Butler is important to the Bulls' future, take from Jordan Campbell of the Fansided blog Da Windy City:
Last season for the Bulls, player 1 averaged 17.7 points per game while shooting 40.5% from the field. Player 1 shot 28% percent from three-point range while also averaging 3.2 rebounds per game and 4.9 assists per game. In the playoffs, player 1 averaged 20.3 points per game while shooting 39% from the field to go along with shooting 34.8 percent from three-point range with 4.8 rebounds per game and 6.5 assists per game.

Player 2, last season for the Bulls, averaged 20 points per game while shooting 46.2% from the field. Player 2 shot 37.8% from three-point range last season while averaging 5.8 rebounds per game and 3.3 assists per game. In the playoffs, player 2 averaged 22.9 points per game while shooting 44.1% from the field to go along with shooting 38.9% from three-point range with 5.6 rebounds per game and 3.2 assists per game.

From last season alone, the stats suggest that player 2 should be "The Guy" going forward for the Bulls' organization. Player 1 was Derrick Rose while player 2 was Jimmy Butler.
Butler, then, it could be argued, was the most important player on the Bulls' roster last season. Derrick Rose, at just 26, played only 51 games last season in his return from myriad knee injuries. And even then, D-Rose suffered another tear to his medial meniscus in February.  If Rose cannot stay healthy consistently, the Bulls will have to turn to Butler to pick up the load offensively.  Butler already takes care of much of the perimeter defense on that end, but his shooting and slashing ability with that defense is what gives him the most value to the Bulls, and those are the reasons why the Bulls need him.
4. Marc Gasol
C
Current team: Memphis Grizzlies
Gasol has been a target of many teams' interest, namely the Knicks and Lakers.  However, according to ESPN's Marc Stein, Gasol is not interested in leaving Memphis:
Hosting team officials Wednesday in Spain & taking ZERO free agent meetings? Marc Gasol is all but back w/Grizz –> http://t.co/JUIOFJZr8F

— Marc Stein (@ESPNSteinLine) June 30, 2015
Gasol is a player that brings rim protection on defense and versatility on both ends of the floor.  It would make sense why he would stay in Memphis: he has a good team, a great situation, and the chance to get more money, as the Grizzlies are allowed to offer him more money and tenure than any other team can.  He is worthy of a max deal, and I would not be surprised if the Grizzlies give it to him.  It doesn't look like he's going anywhere, but that doesn't mean he isn't important.
3. Kevin Love
PF/C
Current team: Cleveland Cavaliers
Much has been documented about the relationship between Love and LeBron James, both on Twitter, in the press, and in the locker room.  James tweeted this, seemingly randomly, in February:
Stop trying to find a way to FIT-OUT and just FIT-IN. Be apart of something special! Just my thoughts

— LeBron James (@KingJames) February 8, 2015
However, LeBron later admitted that the tweet was aimed straight at Love.  Love's role in the Cavs' offense has also diminished, as his per game figures in points, field goal attempts, and free throw attempts were the lowest they've been since his rookie year.  Even though the Cavaliers played just as well, and at times better, without Love in last year's Playoffs, it looks like they and, most importantly, LeBron, want him back next year:
Listen, I'm no @WojYahooNBA, but pretty sure I just stumbled on a Lebron / Kevin Love meeting. pic.twitter.com/d6cWe63zuy

— Jensen Karp (@JensenClan88) June 29, 2015
Love is an incredibly important asset for the Cavaliers and their future.  James needs the support offensively as he gets later and later in his career. He isn't going to be able to score 35-40 points per game in the Finals every year; that's why he needs Love and Kyrie Irving.
2. LaMarcus Aldridge
PF/C
Current team: Portland Trail Blazers
LaMarcus Aldridge is done as a Portland Trail Blazer and has teams lining up for his services, according to ESPN.com's Ramona Shelburne:
According to one source, the chance of Aldridge staying with the Portland Trail Blazers is "very unlikely."

Knicks star Carmelo Anthony has already called Aldridge, sources told ESPN The Magazine's Chris Broussard.

The Knicks will emphasize that in the Eastern Conference, the road to becoming an All-Star and a playoff team is much less clogged than in the West.

ESPN.com reported in May that the Spurs and Mavericks strongly believe they'll have a great shot to lure Aldridge back to his home state of Texas. But sources said last week that Aldridge is actually thinking more and more about a free-agent jump to the Lakers.

The Lakers, sources added, firmly believe they will now be in the Aldridge hunt. And there is a rising sentiment, sources said, that the Lakers have edged past the Mavericks on Aldridge's wish list even though he was a high school star in Dallas.

The Spurs, sources say, continue to be Aldridge's most likely destination if he goes through with the idea of leaving the Blazers to start anew. The contingent for San Antonio's pitch to Aldridge is expected to include Tim Duncan, Tony Parker and Gregg Popovich, according to multiple media reports.
The Knicks are not getting LaMarcus Aldridge.  Their pitch of going to the Eastern Conference to win makes sense, but they take it too far when they insinuate that he is more likely to become an All-Star in the East.  Take a guess who started at power forward in this year's All-Star Game, on the West team.
It was LaMarcus Aldridge.
With the Knicks out of the picture, LMA is very likely to stay in the Western Conference.  The Mavericks are an unlikely destination, as they already have an All-Star power forward in Dirk Nowitzki, and while Dirk is nearing the end of his career, putting the two together may not make the most sense.
The Lakers are an obvious contender because they have holes to fill and are looking square in the face at a future without Kobe Bryant.  With D'Angelo Russell drafted, Aldridge can come in and, post-Kobe, play a role similar to the one he had in Portland; being set up by a (potential) star point guard.  Would he want that, though?
The Spurs are the clear front-runner to land Aldridge, and even though they will have to part ways with Danny Green or Tiago Splitter to get him, the decision is a no-brainer.  Tim Duncan is very likely to come back for at least one more season, and the Spurs could use a replacement for him if/when he retires. Aldridge can give Timmy room to work in the post and can space the floor with his jump shooting.  The combination of big men makes perfect sense, and the Spurs should do everything in their power to get him, even if Gregg Popovich has an early bedtime.
1. LeBron James
SF/PF
Current team: Cleveland Cavaliers
Duh.  This one is self-explanatory.  All reports seem to state that James is coming back to the Cavs, even though he may want to be sure that the organization is doing its part to improve the roster. He was carrying an entire team on his shoulders during the NBA Finals; he won't want to go through that again.  He is the best player in the world, and the Cavs will take no chances in re-signing him.