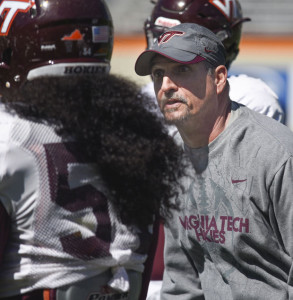 College football season is now just four days away; that's awesome, awesome news.  One of the headline games of the sport's opening weekend will occur Monday night in Blacksburg, when the Hokies of Virginia Tech bring their lunch-pail D, their Beamer Ball, and their Enter Sandman into Lane Stadium as they host the defending champion Ohio State Buckeyes; again, wonderful.
However there is one piece of not-so-awesome news that pertains to college football, and specifically Virginia Tech, and that is the thought of fining players for various transgressions.
Now, you must be thinking that this is some kind of sick joke; that's what I was thinking when I first heard the story.  But it isn't, and there is even photographic evidence:
#BREAKING: #VaTech players apparently assessed fines for missing meals, practices http://t.co/bHZE0NNRqp#Hokiespic.twitter.com/9j712UL7uA

— RTDSports (@RTDSports) August 27, 2015
Yeah, a fining system makes perfect sense… in the pro game.  For the record, Virginia Tech Athletic Director Whit Babcock put an end to the system that was initially proposed by Defensive Coordinator Bud Foster.  So how was Virginia Tech going to get away with this, if Foster got his wish?
On January 17th, the schools in the Power 5 conferences got together at the NCAA convention and voted 79-1 in favor of a cost-of-attendance stipend.  These schools were able to get this done because, as you may remember, they were given autonomy by the NCAA last August to make their own rules, free of those set by the NCAA.  This is what ESPN's Mitch Sherman wrote about it at the time:
Stipends, determined by institutions under federally created guidelines, have been estimated at $2,000 to $4,000 annually. They are designed to cover the cost-of-living expenses that fall outside athletic scholarships.

Group of Five and other non-football playing Division I conferences can opt to enact the proposals passed Saturday as early as next fall.
And many schools are doing just that; Virginia Tech is one of them. As I understand it, this stipend is designed to help the players pay to live on campus and keep a roof over their heads.  There isn't anything wrong with that; even if you are opposed to the payment of college athletes, this rule tangibly benefits the players without actually paying them, per se.
Another godawful element to the Foster Fine System?  The inconsistency.  Go take another look at the chart and you'll notice something.  That something is the difference between, say, missing a Monday class and getting an unsportsmanlike conduct penalty.  Not being in that Monday, Wednesday, or Friday class will set you back $30, but a lapse in judgment on the field will cost you $100.  The other things that will cost a player more than missing a Monday, Wednesday, or Friday class?  Forgetting your equipment for practice, having a dirty dorm room, and having a dirty locker.  That's nice.
And you're still thinking that Virginia Tech is the only school even thinking of doing this.  No, no, no, no, no, there's another school and another coach deliberating the adoption of this practice, per ESPN's Joe Schad:
Cincinnati's Tommy Tuberville said he will consider withholding some cost of attendance money for off the field shortcomings/violations.

— Joe Schad (@schadjoe) August 27, 2015
Yes, now there are two schools who have at least given thought to the idea of taking a chunk of the little money the players get because of minor off-field transgressions.  Kevin Trahan of VICE Sports wrote to this point a couple of days ago:
This time, the athletic director was on the coach's side, as Cincinnati AD Mike Bohn said that he supports using fines as "a tool"—a tool to take money out of a supposed academic-based scholarship due to "accountability" related to athletics.

That's all well and good, but expect Bohn to get a memo from the NCAA soon enough. Subject line, Re: Shut up. There will be no fines at Virginia Tech this season, or at Cincinnati, because nobody riding the gold-plated gravy train of big-time college sports administration wants the association to lose its future legal battles.

In the NFL, teams can fine players because those players are employees earning salaries, and they've agreed to having those salaries docked through collective bargaining. In college football, players don't have those same fundamental economic rights. At least not yet.
Absolutely.  Players in the NCAA don't have collective bargaining. Whether they should or not is a matter of much debate; after all, the NLRB recently denied the request of Northwestern football players to unionize.  No matter what you think, it simply isn't fair that players who have no workers' rights have to also allow their coaches to take their money.
Before you ask: sure, players should be going to class (that's why they're there) and there's nothing wrong with coaches wanting to incentivize class attendance/good in-class behavior.  But, in Foster's case, fining the players only $30 for missing certain classes but a full $100 for unsportsmanlike conduct?  Come on, especially when you consider that the stipend the players receive may only be $2,000.  So a player could hypothetically lose 5% of his stipend because of one dumb play.
It should bear repeating, however, that Virginia Tech's AD killed the idea very shortly after Foster announced it.  He probably killed it because he didn't think that the Hokie players were employees of Virginia Tech or head coach Frank Beamer.
And this is something that Spencer Hall of SBNation has already written about:
Virginia Tech laid waste to the system in a matter of hours for a good reason. Fining athletes is something professional leagues do because they are professionals — paid, well-compensated employees of a corporation, the kind of companies that have definite labor laws, obligations to their employees, and rules for behavior. (In the NFL, the person in charge of some of those rules is Roger Goodell, so maybe "rules" and "consistent standards" are misnomers, but let's get back on topic.)

If you are a student-athlete — a designation Virginia Tech and every other college football program would love to keep around — then you are not an employee. You play for the love of the game alone, plus a scholarship and cost of attendance and maybe a few under-the-table fringe benefits on the side. Those side benefits are vastly overrated in value. Mostly a few hundred here, maybe a few thousand there if you're lucky.

We've had this discussion before, and we'll have it again right now. Things are not free, unless they're classified as amateur sports. The company store has been theoretically outlawed in the United States for years, unless we call it amateur sports. We are completely opposed to paying people with things they often don't want or need, unless it's amateur sports. You can't underpay people for decades on end, unless we're talking about amateur sports.

You don't defend a system that deliberately shorts people their worth unless: amateur sports.
And this is the way of amateur sports: screw over the players while the coaches and institutions get all of the wealth and power.  And who does a good lion's share of that work for the coaches and institutions? The players.
For the record, this isn't an essay in favor of paying college athletes. But there is no doubt that these players should be able to make money off themselves and their likenesses; their inability to do so has at least partially helped to rob our conglomerate of the delightful NCAA Football video game series.  But that game shouldn't be made again until the players can make money off their appearance in it; we all know who this dude is, from NCAA Football 14: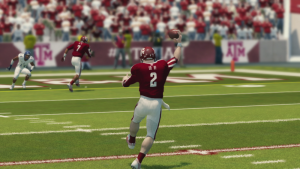 QB #2 was the previous year's Heisman winner and maybe the most unstoppable sports video game character this side of Madden 2004 Michael Vick.  QB #2 went on to be a first round pick in the next year's NFL draft.  QB #2 couldn't make any money off of his awesomeness in the game, but he did try to make money off other things.  And QB #2, like the Virginia Tech and Cincinnati football players, had no collective bargaining rights to protect himself in case of something like a fine system being enforced on him.
You've figured it out; QB #2 is Johnny Manziel.  Anyway, let's get back to the point.
While I understand why student-athletes want to be paid, the value of receiving a free education in the greatest country in the world is kind of a huge benefit, too.  While some student-athletes are really more athlete than student, many athletes do go to college for the education. But this is why it's easy to understand the plight of college athletes: they are being treated like employees without being compensated like employees would be.
And it would be fair for employees to be fined for shortcomings; NFL players are fined every single day.  That's fair; those players are getting paid to do a job, and are expected to do it well.  But, in amateur sports?  The players are being fined, even though they are nothing near employees.
They're volunteers, playing for the love of the game and being exploited time and time again by the amateur system.
The system that allowed Foster and Tuberville to think about fining their players in the first place.