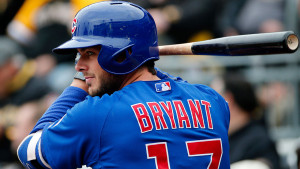 This is the second part of the MLB end of the season awards.  The first part of these awards was published Friday, and you can find them here.  The same rules apply; I don't care what you call them, but they are my choices for the remaining major awards.
This post will cover the rookies and managers that have separated themselves from the rest of baseball's pack.  Of course, my choices aren't necessarily going to be winners for each league; rather, they are the people who I think are worthy of the honor of receiving these awards.  Again, the season has been competitive and interesting.  The award races are the same way.
Let's get things going with the Rookies of the Year for each league.
AL Rookie of the Year: Carlos Correa, Houston Astros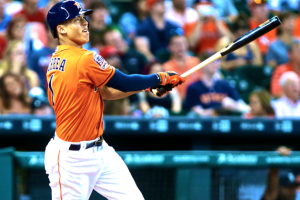 This is a very close race, with Correa, the Twins' Miguel Sano and the Indians' Francisco Lindor all being worthy of consideration for the award.  However, I'm giving a very slight edge to the Astros' shortstop for a couple of reasons.
One of them?  He actually hasn't really done anything badly.  He's hit for average (.282), power (21 home runs) and even has 12 steals to boot this year.  His promotion on June 8 has helped the Astros get past some of their first-year-of-contention struggles with their current core, so he's been rather critical for the 2017 World Series champs.
Recently, YahooSports' Mike Oz wrote a piece about the importance of Correa and Jose Altuve to the Astros' chances in this postseason and beyond.  That said piece contained some crazy stats about just how good Correa has been this season.  Here are some of them:
Correa was the No. 1 overall selection in the 2012 MLB draft, coming out of the Puerto Rico Baseball Academy and High School. The Astros gave him a $4.8 million signing bonus when he put his name on a contract. Ever since, he's been one of the most hyped prospects in the game and that's continued into this season. He might win the AL Rookie of the Year Award after hitting .279/.345/.507 with 19 homers and 56 RBIs. Some were calling him the best shortstop in the American League only a month into his career. His 3.1 Wins Above Replacement, according to Fangraphs, is second among Astros position players. Altuve, naturally, is No. 1.

Before he even played in the big leagues, Correa was compared to Derek Jeter. Talk about high expectations. It wasn't just for his skillset, but the aura of leadership he emits. Correa has a presence about him. He's 6-feet-4, lean but solid, with a big smile and good knack for saying the right thing. He's polished, poised and ready to be a star, on the field and off it.
Well, that's true.  It can be argued that Correa has been one of the Astros' MVPs this season (beside Dallas Keuchel and Altuve) and the team's hopes for a deep playoff run likely rest, at least partially, on his shoulders.
But let's appreciate what he is in the 2015 season: the American League Rookie of the Year.
Top 5
Carlos Correa
Miguel Sano (Twins)
Francisco Lindor (Indians)
Billy Burns (Athletics)
Roberto Osuna (Blue Jays)
NL Rookie of the Year: Kris Bryant, Chicago Cubs
Well, we go from a really close race to a… not really close race.
I wrote in August about how at that time, I thought that the NL Rookie of the Year should have been the Giants' Matt Duffy.  This is how I ended that article, which was published on August 4:
Right.  Matt Duffy is the most valuable rookie in the NL.

By writing this, I'm not trying to say that Duffy should definitely win Rookie of the Year; there is a lot of baseball yet to be played.  His sudden power surge may end and his numbers might just fall back down to earth.  However, if he keeps up his current pace, I definitely think he should win the award.  If he does, it will be the ultimate surprise in a season full of them.

And it will be a surprise because no one talks about him.
Yes, it would have been a surprise to see Duffy win the most prestigious rookie award in the game.  What's less surprising is the end result; it isn't happening.
Duffy actually has kept up his pace since then, but Bryant has exceeded his, and by a lot.  While he's struck out a lot (182 times!), he's also hit third in a playoff lineup (as a rookie) and is about to drive in 100 runs, which is difficult for a 10-year veteran, let alone for a newcomer.
When you combine the performance of Bryant with the faltering of Joc Pederson and the general lack of qualification of the other rookies, this becomes very easy.  It's Kris Bryant, in a landslide only previously seen by 1984 Ronald Reagan.
Top 5
Kris Bryant
Matt Duffy (Giants)
Jung Ho Kang (Pirates)
Noah Syndergaard (Mets)
Justin Bour (Marlins)
AL Manager of the Year: Paul Molitor, Minnesota Twins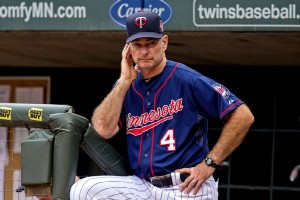 Paul Molitor took over as manager of the Twins this offseason, and it would've been easy to understand him if he didn't expect much.  With a roster that was probably a year or two away from contention, the Twins were headed for another last place finish.
Molitor came into this season with no managerial experience, and while his career and his baseball knowledge were respected, his managerial instincts were undoubtedly going to come into question. And while he probably hasn't been perfect, he has exceeded anyone's expectations, and so has his team.
Going into Monday's action, the Twins found themselves a half game out of the American League's second Wild Card and a full year ahead of schedule.  While the Twins only have a +5 run differential this year, they are alive and well for a playoff spot in the very poor American League.
However, while this is important, it isn't a be-all-end-all.  For example, the Rangers are 84-71 with a +9 run differential.  Their record in one-run games is 26-20, while the Twins' is 21-20.  So while the Rangers will probably win their division, they have more or less done so on luck, while the Twins have made it to 80-75 with almost the same differential.
While the Rangers' Jeff Banister can make a solid case for being Manager of the Year, I'm giving to Molitor.  And that is the case whether the Twins are in the playoffs or not.
Top 3
Paul Molitor
Jeff Banister (Rangers)
A.J. Hinch (Astros)
NL Manager of the Year: Joe Maddon, Chicago Cubs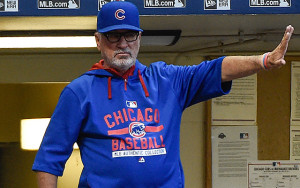 In a very tight race between Maddon and the Mets' Terry Collins, I'm giving the slightest of edges to Maddon.
His quirky style has worked wonders for the Cubs this season, and while they'll be (wrongly) subjected to a one-game playoff against the Cardinals or Pirates, they've won 90 games and will yield the Rookie of the Year and maybe even the Cy Young winner.
The Cubs won 73 games last year under Rick Renteria, good for last in their division.  This year, the team won't be losing 73 games.  Led by Jake Arrieta, Kris Bryant and MVP-candidate (at least he should be) Anthony Rizzo, the Cubs are going to have the biggest turnaround in the National League this year, and that's all because of Joe Maddon.
He's had snakes and magicians in the clubhouse.  He's managed bullpen games in elimination games.  He's even offered drinks to reporters.  And now he'll have a third Manager of the Year trophy.
Top 3
Joe Maddon (Cubs)
Terry Collins (Mets)
Mike Matheny (Cardinals)
Let me know your opinion in the comments section!