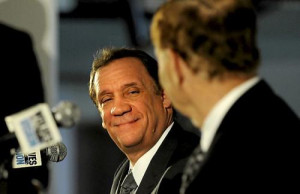 With the NBA season nearing its onset, the time has once again arrived for pundits, fans, and general "basketball people" to start looking at the year ahead and/or making predictions.  The season, as usual, has been rather highly anticipated, and the team that will be raising the Larry O'Brien trophy in June is anyone's guess.  We'll try to take that guess (and probably fail miserably) as well as look at the other teams in the NBA.
One other note: we go into this post with heavy hearts, as Timberwolves head coach Flip Saunders passed away Sunday at the far-too-young age of 60.  Rest in peace, Flip.
It is with extreme sadness to report that today Phil "Flip" Saunders has passed away at age 60. pic.twitter.com/l8tthTocAt

— Timberwolves PR (@Twolves_PR) October 25, 2015
Now, with that being said and with Flip in mind, let's get on with our preview.  We'll alternate between conferences and start from the bottom.  You'll see what I'm talking about when we start.  Here it is, a preview of the 2015 NBA season.
Western Conference, #15: Portland Trail Blazers: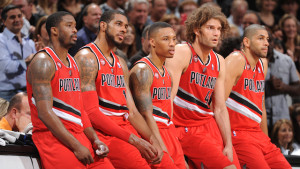 Take a look at the above image of the 2014-15 starting lineup for Terry Stotts' Blazers.  There is something special about the guy in the middle, and it's more than you think.  Yes, he's Damian Lillard, he's one of the best point guards in the game, and he hits killer buzzer-beaters to end playoff series.
And the other thing that is special about him, at least this season? He's the only guy in the picture left on the team.  All the other guys? Moved on to other teams (Wes Matthews, Robin Lopez, LaMarcus Aldridge) or were traded (Nic Batum).  It's been a weird offseason in Portland, but the lineup has basically been flipped on its head because of it. Can C.J. McCollum, Gerald Henderson, Al-Farouq Aminu, Mason Plumlee and others replace what was lost over the summer?  It remains to be seen, but it's also very unlikely.  A rebuilding year awaits the Portland Trail Blazers.
Record: 20-62
Eastern Conference, #15: Philadelphia 76ers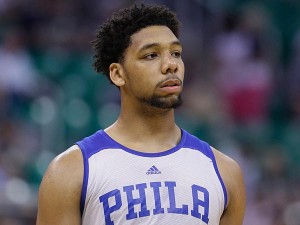 The 76ers made a safe and solid pick at #3 overall in this year's draft, taking Duke's Jahlil Okafor.  They still didn't have any guards, but you could bank on them taking some guards in the second round, one in which they had five picks (#35, 37, #47, #58, #60).  Going in, you thought you would see the Sixers go small.  Instead, as a 76er fan, you were left needing to #TrustTheProcess.
GM Sam Hinkie decided to take big man (Willy Hernangomez) after big man (Richaun Holmes) after big man (Arturas Gudiatis) after big man (Luka Mitrovic).  Wedged in the middle of all of these bigs was a wing (North Carolina's J.P. Tokoto), but, again, none of the picks were guards. 
The team went out and acquired Kendall Marshall and Sauce Castillo Nik Stauskas in deals (Stauskas was acquired from Sacramento for the rights to Gudiatis and Mitrovic).  This team is, to be kind, a work in progress with a truckload of big men.
How that turns out in the future is anyone's guess, but the 76ers, as Fran Fraschilla once said, "are two years away from being two years away, and then we'll see".
Record: 18-64
Western Conference, #14: Sacramento Kings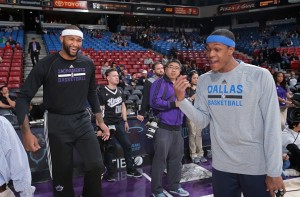 This team is actually very difficult to handicap.  The addition of Rajon Rondo should, at least theoretically, help the Kings.  On the other hand, Rondo hurt both of the teams he played for last year, and the relationship between DeMarcus Cousins and coach George Karl probably isn't getting better anytime soon.
A starting lineup with them, Ben McLemore, Willie Cauley-Stein and Rudy Gay carries plenty of intrigue.  However, Cauley-Stein just doesn't space the floor, which won't help Cousins in getting room inside.  Gay and McLemore are the only two players in the starting five that can knock down 3s with any consistency, and even with the Kings' inability to get points from behind the arc, they still ranked 28th in defense last year.  That's not likely to change all that much, even with Cauley-Stein starting at power forward.
Record: 23-59
Eastern Conference, #14: New York Knicks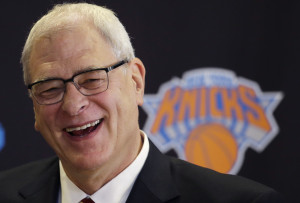 The Knicks actually made some, dare I say, good moves this offseason. Arron Afflalo and Robin Lopez were solid additions, ones that should improve the Knicks' 17-65 outcome from a season ago.  Their first-round draft pick of Kristaps Porzingis was one that I simply disagreed with (another example of being two years away from being two years away, and then seeing).
But the Knicks aren't going to be a playoff team this season, and I think we can all agree on that.  How's it goink, Phil?
Record: 21-61
Western Conference, #13: Minnesota Timberwolves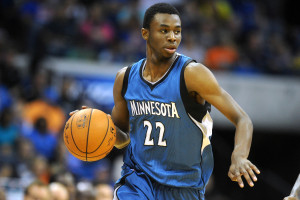 The Timberwolves also had a very solid and respectable offseason.  It started with the good pick of Karl-Anthony Towns at #1 overall and ended with the acquisitions of veterans Tayshaun Prince and Andre Miller.  The team also drafted Duke point guard Tyus Jones, who is, in my opinion, one of the most underrated players in this year's draft.
They will obviously have to sort out their front office and head coaching situation in light of recent events, but this year should be better in Minnesota.  They're still a ways away from playoff contention (and surprisingly old in certain places on the roster), but they'll be making incremental improvement in the 2015-16 season.
Record: 24-58
Eastern Conference, #13: Detroit Pistons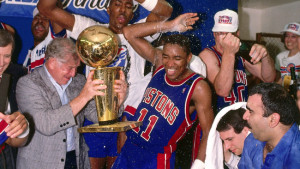 Note: that's a personal tribute to one of the most underrated teams of all time, the late 80s-early 90s Bad Boys.  They're also one of my favorite teams ever, one of the most interesting assemblages of characters the NBA has ever seen.  They were simply incredible. Anyway….
This year's Pistons are not the Bad Boys, and they aren't coming even close to winning an NBA title.  They had a real chance to be a playoff team next year until Brandon Jennings went down on January 25. After releasing Josh Smith, head coach and president of basketball operations Stan Van Gundy saw things pick up with a smaller, faster-paced lineup.  But Greg Monroe and Caron Butler, two key pieces of the brief midseason turnaround last season, are gone, and replaced by lesser talent.
The team did an excellent job by drafting Arizona's Stanley Johnson with the #8 overall pick, and he'll be starting the season backing up Marcus Morris (but he will be starting in due time).  But in the aftermath of Jennings' catastrophic injury and subsequent fight for playing time with volume shooter Reggie Jackson, the Pistons won't be as competitive this time around.
Record: 24-58
Western Conference, #12: Los Angeles Lakers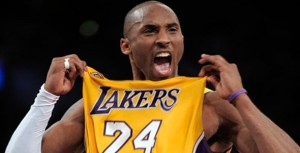 With their #2 overall pick, the Los Angeles Lakers picked the best player in the draft (and I really do believe that) in Ohio State point guard D'Angelo Russell.  They were also able to sign center Roy Hibbert in free agency and are getting Kobe Bryant and Julius Randle back from injury.  And with Bryant and Randle, there is major uncertainty.
Randle suffered a broken right tibia on last year's opening night and was forced to miss the entire season.  Bryant, after suffering various leg injuries, particularly to his Achilles, in 2013, missed the second half of last season after tearing his right rotator cuff.  Will he return to form, or will we see more of the Kobe we saw at the beginning of last season; inefficient, overworked, and turning the ball over?  Or will we see pre-injury Kobe?  I'm guessing the former, and that's why I'm putting the Lakers right here.
Record: 27-55
Eastern Conference, #12: Indiana Pacers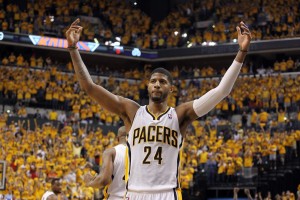 The Pacers, much like the Lakers, are also decimated, but for very different reasons.  Gone are…. well, who isn't gone?  Anyway, gone are Roy Hibbert, Luis Scola, and David West, the key cogs that comprised the Pacers' dangerous inside game in recent years.  Paul George is back and will be playing power forward, and judging by this video, I'd say he looks pretty good:
But George's skill set really isn't geared toward playing power forward, and he's never done it for an extensive period of time in his career.  It will be interesting to see how he fares, but the Pacers offseason losses will sink them in 2015-16.
Record: 31-51
Western Conference, #11: Phoenix Suns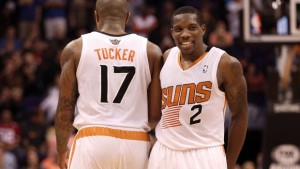 The Phoenix Suns were 29-25 before the trade deadline last season. While they were a fringe playoff team, you would think they wouldn't make any moves to blow anything up or potentially hurt their chances to make their first playoffs since 2010.  Well, they did just the opposite, and while the acquisition of Brandon Knight was made to help the team go to the playoffs, the price they paid to get him (Goran Dragic) and the loss of Isaiah Thomas in a separate deal was simply too much to overcome.
The Suns have basically the same team this season, with one exception: the addition of Tyson Chandler.  While he should be able to help the team in other areas, he may not be too great of a fit for the team's up-and-down style, which may be difference between contending for a playoff spot or not.  And the Suns won't compete for a playoff spot.
Record: 35-47
Eastern Conference, #11: Brooklyn Nets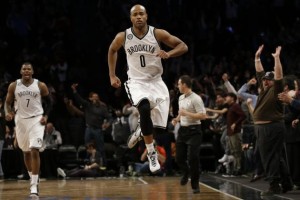 You're probably thinking, "The Nets were a playoff team last year and all they lost was Deron Williams, so how could they be worse?".  Well, think about it from a different perspective.
The Nets had a -2.9 point per game differential a year ago, and no other 2014-15 playoff team had a differential worse than +0.2.  So, in essence, the Nets sold their soul to the devil for a playoff spot last season (hyperbolic, yes, but you cant count on consistently getting outscored and still making the playoffs).  While Williams was a massive disappointment in a Nets uniform, I don't see Jarrett Jack being all that much better.  Oh, and there's also Iso Joe Johnson, so the ball won't magically be whipping around the floor while the Nets are on offense.
They didn't get better over the summer, and some of the teams behind them did.  The Nets fall short of the playoffs.
Record: 32-50
Western Conference, #10: Denver Nuggets
So here's the thing: I really like new head coach Mike Malone.  I like him and the fit with the Nuggets so much that I think the team will appreciably improve this season, maybe even to briefly compete for a playoff spot.  The team's offseason moves were also solid, but Malone was the biggest acquisition the team made all summer.
Malone's up-tempo offensive style and his emphasis on defense should be the ingredients to let out the "Manimal", Kenneth Faried. Faried had a slightly disappointing fourth season in the league, and some speculated that he and others gave up on former head coach Brian Shaw.  But an inspired Faried is a scary Faried.  Also new is rookie point guard Emmanuel Mudiay, and he replaces Ty Lawson, who was traded to the Rockets and has his own problems.
This team has holes to fill, but it should overachieve with Malone now at the helm.
Record: 38-44
Eastern Conference, #10: Charlotte Hornets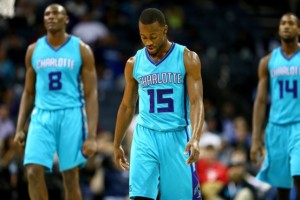 Kemba Walker, as usual, will have to run everything with the Charlotte Hornets this season.  However, it's going to be that much harder for Walker and the Hornets to succeed this year, as starting small forward Michael Kidd-Gilchrist went down in the preseason with a torn right labrum.  He may very well miss the entire season, which is simply too much for the Hornets to handle.
Even with the acquisition of Jeremy Lin in the offseason (which is significant, with Kidd-Gilchrist's injury) and Nicolas Batum, Kidd-Gilchrist's injury is enough for me to drop the Hornets out of the playoffs.  His effort and energy on defense are impossible to replace and will be dearly missed without his presence in the lineup.  The Hornets will struggle in the East once again in 2015-16.
Record: 36-46
Western Conference, #9: Dallas Mavericks
The Mavericks had a really, really awful summer.  They had signed (at least thought they signed) DeAndre Jordan away from the Clippers and Wesley Matthews away from Portland.  Matthews stayed, but Jordan changed his mind at the last minute, going back to L.A. after being barricaded in his own house by Clipper brass and players.  And you thought I was joking:
Don't agree with the furniture layout but I'm not an interior designer. pic.twitter.com/23PNgQB88z

— Blake Griffin (@blakegriffin32) July 9, 2015
The team was, however, able to sign Zaza Pachulia from the Bucks, and at least some of the numbers show that he might be better than Chandler.  But Matthews is a gigantic risk coming off his Achilles injury near the end of last season.  The Mavericks, as a team, are also a risk, and as of now, I can't put them in the playoffs.
Record: 42-40
Eastern Conference, #9: Orlando Magic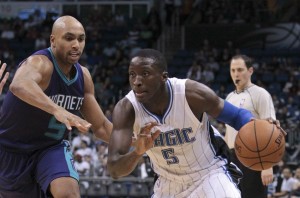 The 2015-16 Orlando Magic will, like the Nuggets in the West, be invigorated by a new head coach.  Scott Skiles was hired as the team's new head coach on May 29, replacing the ineffective Jacque Vaughn. Vaughn was simply unable to take advantage of the Magic's young talent, compiling a 58-158 record (.269 winning percentage) in over two seasons as the head coach.
This year, however, Skiles will properly take advantage of the talent of young guns Elfrid Payton, Victor Oladipo, Tobias Harris, Aaron Gordon and Nikola Vucevic (that's Orlando's starting lineup).  The Magic will be a surprise this season, mainly because their best players will finally be correctly utilized.
Record: 38-44
Western Conference, #8: Utah Jazz
The Jazz, believe it or not, are one of the league's most rapidly improving squads.  They improved by 13 wins from 2013-14 to last season, and I would foresee another improvement of a similar scope this season.  In a not-so-little-known stat, Utah led the league in points per game allowed last season (94.9) and were second in opponent field goals made per game (35.8).  The best part of all this?
The Jazz are bringing everyone back.  They get starting shooting guard Alec Burks back and fully healthy, which is big as he and Trey Burke form the effective 1-2 punch in the backcourt.  However, the team does its real business in the paint, with Derrick Favors and Rudy Gobert.  Gobert, who had his breakout season last year and led the team in win shares, won the starting job for good after Enes Kanter was traded to Oklahoma City at the trade deadline.  Gordon Hayward is also back, as he is an integral part of Utah's plan and one of the most perpetually underrated wing players in the game.
Utah will finally break out and get back to the playoffs in 2015-16.
Record: 46-36
Eastern Conference, #8: Boston Celtics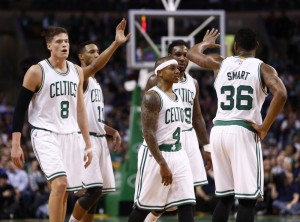 Last year's Boston Celtics orchestrated one of the most stunning runs to a playoff berth one could possibly imagine.  Once they got to the playoffs, of course, they were run off the floor by the LeBron James-led Cavaliers; while the series ended in four games, all of the games were competitive and the C's showed an edge that was an embodiment of their head coach, Brad Stevens.
Can they repeat that performance this year and make it back to the playoffs?  Absolutely.  They have last year's core back for another year (minus Brandon Bass, plus Amir Johnson and David Lee) and, of course, they have Stevens.  It may not be as easy this time in a more competitive East, but the Celtics will be back for more late April basketball.
Record: 40-42
Western Conference, #7: New Orleans Pelicans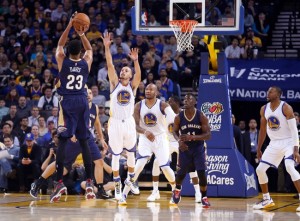 Word out of New Orleans is that Anthony Davis is developing a three-point jump shot, and if that is true, the rest of the league should be afraid.  Very afraid.
Where the Pellies' improvement gets stinted, however, is out of Davis' control.  Their inability to take a giant leap forward this season instead of just a step lies in the fragility of their two starting guards, Jrue Holiday and Eric Gordon.  Gordon played in 61 games a season ago but has only reached that total in three other seasons in his career, which started in 2008.  Holiday has not played in more than half of a season in his two years in New Orleans; he has been riddled with leg injuries since he arrived from Philadelphia.  These are the only things holding the Pelicans back from being serious Western conference contenders, and I'm totally serious when I say that.
Record: 49-33
Eastern Conference, #7: Washington Wizards
The biggest loss of the Wizards' offseason occurred when Paul Pierce decided to call game on his tenure with the team and sign with the Clippers.  Other than Pierce's departure, the Wizards are largely the same team from last season, and that may be something of an issue come playoff time (or in the regular season, for that matter).
For example, when John Wall was injured in last year's playoffs, the team simply struggled to put up points against the Hawks' defense. This lack of scoring ability was a need that was left largely unaddressed during the offseason, and the loss of Pierce can't help in this regard.  Also, another concern for the Wizards needs to be the lack of an offensive game from Pierce's replacement, Otto Porter, Jr. While his three-point and field goal percentages improved in his second season, how will he fare with increased offensive responsibility?  It's a question worth asking, one the Wizards may be unable to answer.
Record: 43-39
Western Conference, #6: Los Angeles Clippers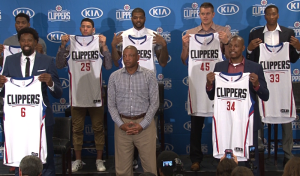 That's a lot of people, and a lot for coach/president of basketball operations Doc Rivers to figure out.  It would be difficult enough for the Clippers to figure out how to rebound from last year's debacle against the Rockets in which they were leading 3-1 and somehow still lost the series.  The additions of Paul Pierce, Josh Smith, Lance Stephenson and others should theoretically help the Clips this year. Theoretically.
But there are more weapons at the Clippers' disposal this year, and my dropping them to sixth doesn't necessarily mean that they are worse than they were a season ago.  But the addition of so many different players, many who are multi-year veterans, presents a unique challenge to Rivers, one that he will have to solve pretty soon if the Clippers are to make a run deep into the playoffs and beyond.
Record: 51-31
Eastern Conference, #6: Milwaukee Bucks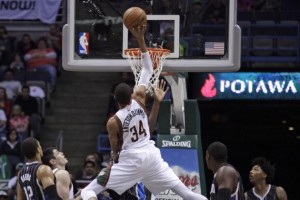 The Bucks improved their record by 26 wins from 2013-14 to 2014-15. Much of that rise has to do with the coaching change, albeit terribly handled, from Larry Drew to Jason Kidd in the summer of 2014. Another thing that has to do with the rise of the Bucks is the simultaneous rise of budding superstar Giannis Antetokounmpo (yes, I was able to spell it correctly), as his flourishing all-around game expedited the team's rebuilding process.  This success also allowed them to spend on power forward Greg Monroe in free agency.
Monroe comes from the Pistons, and can play power forward or center.  He is more likely to play center as the Bucks can put Antetokounmpo at power forward when Jabari Parker returns from injury (yes, I think that will happen; Khris Middleton has to play and the Greek Freak can play anywhere).  However, it's no secret that Monroe can't play defense, so he doesn't quite fit the Bucks' system; this is why I don't have them improving on an impressive campaign a season ago.
Record: 45-37
Western Conference, #5: Houston Rockets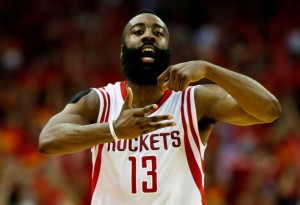 The Rockets had a dream season a year ago, as they were the #2 seed in the west and advanced to the Western Conference Finals before ultimately being knocked out in five games by the Golden State Warriors.  They bring almost everyone back from that team, with the exception of trade deadline acquisition Josh Smith.
This is another example of a team that isn't any worse than a season ago.  But the Rockets will drop mainly because they aren't any better; also, they were one loss away from dropping from second to sixth in the West last season, so maybe their dream season wasn't so much of a dream season after all.
Record: 52-30
Eastern Conference, #5: Chicago Bulls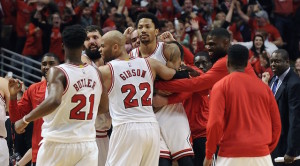 The Bulls were vanquished in the Eastern Conference Semifinals a season ago by LeBron James' Cavaliers, and their championship window may very well be closing.  Pau Gasol is in the second year of a three year contract, and while he's still really good, he's starting to ever so slightly decline.  Joakim Noah has been banged up over the last year or so, so much so that he'll be starting the season on the Bulls' bench, losing his starting spot in favor of Nikola Mirotic.
And, of course, there's the big question: Can Derrick Rose stay healthy?  Jimmy Butler is the best player on the team (another thing I really do believe) but Rose is the most important Bull.  Under new coach Fred Hoiberg, Rose could thrive, but he'll have to stay healthy to do so.  Because of this uncertainty, picking the Bulls to go deep into the playoffs is essentially a ginormous crapshoot, a risk that probably isn't worth taking.
Record: 48-34
Western Conference, #4: Memphis Grizzlies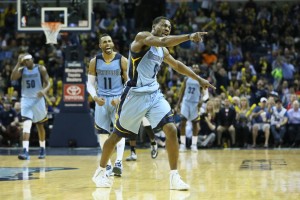 The Memphis Grizzlies are probably the best NBA team that you don't see coming.  You probably should be aware of their consistent presence (they've made the playoffs in each of the last five seasons) but the way they win- post play, rebounding, slow pace…. yeah, that doesn't exactly lend itself to getting lots of attention.  The offseason they had should also make you buy in to their chances in 2015-16.
In addition to already having veteran Vince Carter on what was a solid second unit a year ago, the team acquired Matt Barnes from the Hornets for basically… nothing.  Barnes joins Carter and Beno Udrih as the centerpieces of the Grizz bench, and while the team lost Kosta Koufos in free agency, they signed Brandan Wright over the summer to replace him.
Mike Conley is the most underrated point guard in basketball.  Zach Randolph and Marc Gasol will take care of their business in the paint. The only question mark lies with starting small forward Jeff Green, but in his second year in Memphis, and with more time to acclimate to his surroundings, I'll guess that he does just fine.  The Grizz will continue to impress and/or surprise in the 2015-16 season.
Record: 54-28
Eastern Conference, #4: Atlanta Hawks
The Hawks were the NBA's main surprise story a year ago, winning 60 games and earning the #1 seed in the Eastern Conference playoffs. They advanced all the way to the Conference Finals and were then promptly destroyed by the LeBron Jameses Cavaliers.  Still, the season was likely the most successful in franchise history and there should be enough for the team to build off for this season.
But not everyone is back.  DeMarre Carroll left in free agency to sign with the Raptors (more on them later), and do not underestimate the importance of that loss.  Carroll had a solid seven win shares last season, and while that was fifth on the team, that type of output is difficult to replace.  He also led the team in energy, particularly on defense.  Kent Bazemore and Tim Hardaway, Jr. will attempt to replace him, but it won't be easy.  Expect a small step back for the Hawks this season.
Record: 51-31
Western Conference, #3: Oklahoma City Thunder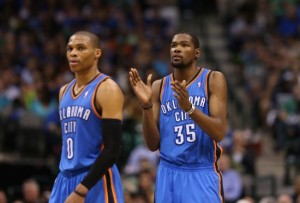 The Thunder may very well be the deepest team in the NBA this season.  Unfortunately, they may need that depth if superstar Kevin Durant is injury-riddled again this season.  There are reasonably two possibilities for the Thunder this season, and they both hinge on KD.
If Durant can somehow stay healthy, the Thunder may be the best team in basketball.  Russell Westbrook had a near-MVP-caliber season a year ago and can take over some of the load, which would give Durant some rest, which could help him for the rest of the season and beyond.  Without a healthy KD, the Thunder are probably a lower-end playoff team, and not very dangerous come playoff time, either. Somewhere in between is where I am putting them, mainly because they are just too big of a risk to put in the top two in the stacked West.
Additionally, new head coach Billy Donovan is a wild card.  Keep an eye on how he does in year one with Oklahoma City.
Record: 55-27
Eastern Conference, #3: Miami Heat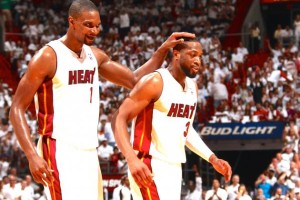 The Miami Heat acquired guard Goran Dragic from the Suns in last year's trade deadline in hopes of making something of a run through the Eastern Conference in last year's playoffs.  Of course, Chris Bosh's ill-fated blood clots greatly harmed those chances, and the Heat wouldn't make the playoffs at all.  This season, they have their post-trade deadline cast for a whole season, and the only cap on their potential is the health of Bosh and Dwyane Wade.
If the starting lineup of Dragic, Bosh, Wade, Luol Deng and breakout center Hassan Whiteside can put it together for a full season (or close to it; Wade will sit out some nights with his continued knee troubles), then the Heat are probably the biggest threat to the Cavs in the East. If not, they're a back-end playoff team.  I'll bet on the former.
Record: 55-27
Western Conference, #2: Golden State Warriors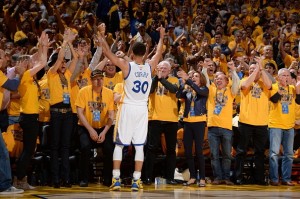 The Golden State Warriors' mindset will simply be different this season.  It usually is for teams coming off the heels of winning a championship.  There's nothing wrong with that, and while there have been plenty of recent repeat champions, especially in the NBA, repeating is difficult to nearly impossible.  Being in the hyper-competitive Western Conference won't make things easier.
The Warriors do basically bring everyone back this season (except David Lee), but the biggest loss may be Steve Kerr; there is no timetable for his return after offseason back surgery.  Stephen Curry is still Stephen Curry, and he may have a similar season to his overly impressive 2014-15 campaign.  But repeating is such a difficult task, and the Warriors won't quite be the next team to do it.
Record: 56-26
Eastern Conference, #2: Toronto Raptors
The Raptors have lost first-round playoff series in back-to-back seasons, and in both of those series, they lost to Paul Pierce.  The good news?  Pierce is now in L.A., which means Toronto probably won't lose to him in this year's playoffs, barring a Finals matchup.  The bad news?  They still have to clear the hump of winning a playoff series.
But the same team returns once more with the same challenge.  And they will finally succeed in this challenge this season.  In the offseason, the team signed DeMarre Carroll, Cory Joseph and Luis Scola.  Another year of playoff experience should help the team (finally) begin to win consistently in April and May, which should be huge as the team goes forward.  The Raptors take a big leap forward this season.  They the North.
Oh, and did I mention that this is Kyle Lowry now?
Record: 57-25
Western Conference, #1: San Antonio Spurs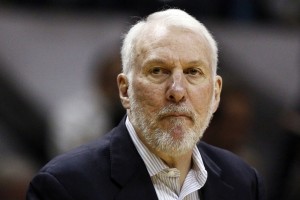 The 2015-16 San Antonio Spurs will be downright scary, but not after they suffer some necessary growing pains.  Yes, the team is old and its players are probably done growing, but these growing pains come from the free agent addition of LaMarcus Aldridge, which, while it will help the team long-term, will require some adjustments from the team early on.
Other than the loss of Marco Belinelli, basically everyone is back at coach Gregg Popovich's disposal.  The team also added David West in the offseason for basically nothing and he will provide instant value off the bench.  The usual faces (Parker, Duncan, Ginobili, Danny Green) are also back.  To me, the Spurs will be the best team in the West, even with an early-season adjustment period.
Record: 60-22
Eastern Conference, #1: Cleveland Cavaliers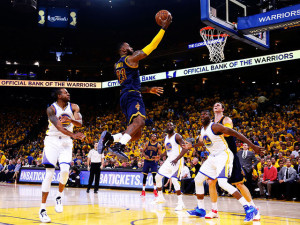 This is pretty obvious.  The Cleveland Cavaliers are easily the best team in the East once again this season, and they won't have to deal with any acclimation process, as the core of the team remains largely unchanged.  The only thing that will hold back the Cavs to start in 2015-16 will be the loss of Kyrie Irving, who still has no timetable for the knee injury he suffered in last year's playoffs.  Even without Irving, GM David Griffin went out and got serviceable, solid point guard Mo Williams; this addition should help the team weather the storm without Uncle Drew.
And you know the rest.  Kevin Love returns from his shoulder injury in the first round of last year's playoffs, and while the team played well with Tristan Thompson replacing him, Love is simply a better basketball player.  But Thompson is back in a prominent bench role, too.  So not much has changed, and neither has the Cavs' status as kings of the Eastern Conference.
Record: 59-23
Finally, here are some of my predictions for the NBA award winners for the upcoming season.  My final prediction will be that of the NBA Finals.
Rookie of the Year: D'Angelo Russell, Lakers
Coach of the Year: Mike Malone, Denver Nuggets
MVP: Anthony Davis, New Orleans Pelicans
Defensive Player of the Year: Draymond Green, Golden State Warriors
My Conference Finals Predictions:
East: Cavaliers over Heat
West: Spurs over Thunder
And finally, my NBA Finals prediction, which only has a 95% chance of being wrong:
Spurs over Cavaliers
Happy NBA season everyone!