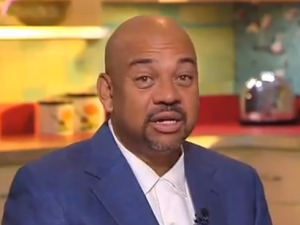 Pardon this interruption, but bloggers are people who sit in their mother's basements and write stuff.
Seems pretty bold coming from someone who runs a blog himself. But don't take it from me; take it from ESPN's Michael Wilbon.
Wilbon, along with Tony Kornheiser, is the co-host of the station's Pardon the Interruption and is also known for his work with the network's NBA Countdown.  Prior to that, he gained notoriety for his work writing about the sports landscape for the Washington Post.  He's survived a lot of change and done a lot of good work during his career, so I'm not going to take any shots at him in this post (besides the intro, because that was low-hanging fruit).
Wilbon was recently on a panel with Kornheiser, USA Today's Christine Brennan, and Maury Povich (yes, that Maury Povich) to discuss the evolution of journalism.  (Povich was on the panel because it was done in conjunction with the Shirley Povich Center for Sports Journalism; Shirley was Maury's father.)
Anyway, Wilbon was asked by Povich about the change in journalism from when he broke into the business to now.  And this is what he said:
What bugs me now is that people is that people sit in their mother's basements and write this crap and they don't have any knowledge of what is going on in that place, and it's too easy to get it. You can go to a game, you can go to a locker room. The only reason to read this stuff is to tell people why something happened, and if you're not there, and you can't tell me why it happened, I don't care about all your advanced analytics and all the other things you concoct.
First of all, I'm not sitting in my mom's basement right now while I write this article, so he's kind of wrong with his remarks off the top.
Let me say this: he does make a couple of valid points.  For starters, when covering a team, it helps to be in the locker room interviewing players and coaches rather than writing about said team from afar.  His other completely correct point comes when he says that people read pieces of sports writing to figure out why something happened; that's absolutely right.  That's why I don't write recaps here; sports writing is all about the "why" and not the "how".
But the "mother's basement" put-down and "they don't have any knowledge" points are simply wrong.  While it should be noted that Kornheiser and Brennan weren't too fond of this new journalism, either, they were at least able to stay away from making blanket statements like Wilbon's.  It's also ironic that Wilbon is saying this coming off the heels off his company's shutting down of Grantland, which was the greatest example of modern, long-form internet blogging (in other words, journalism).
And about the advanced analytics that he seemingly despises?  While we are all entitled to the right to have an opinion, I find Wilbon to be in the wrong here as well.  He obviously doesn't think much of advanced stats in sports, but they aren't concocted: maybe he should read this article from one of his ESPN colleagues, Tom Haberstroh; in it, Haberstroh combines advanced analytics with solid writing to provide a fascinating lens into the NBA's gradual acceptance of living and dying by the three.
Teams, especially in Wilbon's area of expertise, basketball, are relying on advanced analytics more and more.  All advanced analytics amounts to is another way for teams to make personnel decisions, and teams that ignore them completely are often left behind because they are disregarding information that could really help them in making future decisions.
But blogging isn't all about sitting in mom's basement and writing about stuff.  For example, Jessica Mendoza of ESPN (them again) became the first female announcer ever to broadcast an MLB playoff game.  The reason why is because the color commentator she was filling in for, Curt Schilling, was suspended, initially because of a tweet equating Muslims to Nazis.  Later, he decided to e-mail a writer at Awful Announcing about his displeasure with their reporting on the initial story about the tweet (AA, ironically enough, was one of the first sites to call Wilbon out on his comments at the Povich Symposium).
The site then published Schilling's e-mail, and he was suspended for the rest of the season, allowing Mendoza to finish off the rest of ESPN's Sunday Night Baseball schedule and the one playoff game the network aired, the American League Wild Card game.  Simply enough, if it wasn't for Awful Announcing, Schilling likely would have returned to the broadcast booth before the end of the season, and no history would be made.  Like it or not, the site changed the course of history for both people, as Mendoza earned rave critiques and may very well replace Schilling in the broadcast booth for the long run.
Another, more obvious example of the importance of blogging comes in the form of the Greg Hardy story.  As you probably already knew, Deadspin published photos of the aftermath of the domestic incident between him and his ex-girlfriend, Nicole Holder, in early 2014.  The images are incredibly disturbing, and no matter where you stand on the story, Deadspin's publishing of the photos has framed the debate on the issue.  The anger toward Greg Hardy may very well have dissipated if it weren't for our ability to see those pictures.
To conclude, I have a world of respect for Michael Wilbon.  Having seen him all over ESPN for as long as I can remember, he always seems fresh and interesting, even as he freely admits that he isn't quite down with the new way the majority of the people look at sports.  His points always bear weight, even as he easily surpasses the topic-to-topic time limits on PTI.  They bear weight because of the respect he has among colleagues and people in sports, as well as his vast experience in the industry.
But as much as it pains me to say this, he's wrong on this one.  We don't just sit in the basement in our underwear and write, and we definitely don't just spit out nerdy statistics for no particular reason. This mass generalization is unfair, but to be fair to Wilbon, some of us bloggers have probably told people of his ilk to "get off our lawn". I'm not telling Wilbon to do that, but he needs to respect us and the work we do as indicative of the way sports journalism is going.
He needs to respect us because we're people, too.