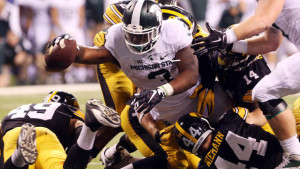 This year in college football, New Year's Eve will be so awesome.  And while you may not necessarily be watching the College Football Playoff through confetti (or at all, because of the utterly ridiculous scheduling loophole), the Cotton and Orange Bowls will provide all sorts of intrigue this year as the College Football Playoff bowl games. Of course, the other New Year's Six bowls (Peach, Fiesta, Rose, Sugar) all provide interesting matchups as well; this post, however, will only focus on the two playoff games.
So for now, we'll only take a look at Clemson-Oklahoma and Michigan State-Alabama.  It's playoff time again!  Let's get right into it.
Orange Bowl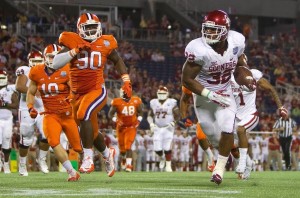 Last year, Clemson and Oklahoma played in the Russell Athletic Bowl, and Oklahoma got absolutely hammered with a capital h.  They're meeting in a slightly different and more important bowl game this year in Miami, but Oklahoma will still be out for revenge.
The team's "out for revenge" attitude can be tied directly back to transfer quarterback Baker Mayfield.  He transferred into Oklahoma in 2014 but was unable to play until this season because of the Big 12's transfer rules against a player transferring from one in-conference school to another.  His departure from Texas Tech can best be described as acrimonious, and he'll be more than happy to tell you about it.
In any event, the key matchup in this game will be Mayfield and the Sooner offense against that of the Clemson Tigers.  The duel between the Oklahoma quarterback and fellow Heisman Trophy finalist Deshaun Watson will be the main attraction to this semifinal.  Of course, there is more to it than this.
Another key will be each team's surprisingly good defense.  The Tigers and Sooners are ranked 8th and 31st is yards per game allowed, respectively, in college football, and both allow around 20 points per game.  The defenses are an under-appreciated part of the Orange Bowl, and it will be extremely important for each defensive unit to play well, but particularly against the no-huddle: the defense that is on the field less will likely have the upper hand.  It's worth noting that Oklahoma easily has the best defensive player on the field in the game in linebacker Eric Striker.
But this is really why I'm taking Oklahoma: weapons.  Talent. Versatility.  Oklahoma's offense can kill you in many different ways, but the most devastating of all may be through running back Samaje Perine.  If Perine gets loose early in the game, you can expect a very long day for the Tiger defense.  His running will also set up Mayfield, star wide receiver Sterling Shepard and the rest of the Oklahoma passing game.
That being said, it's going to be an excellent game.  Clemson is getting absolutely no respect from Las Vegas, the public, or really anyone covering the game.  It's going to be as spirited a big game as we have seen in college football for quite some time, but I think Oklahoma has a slight edge.
The Pick: Oklahoma 38, Clemson 31
Cotton Bowl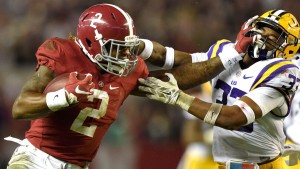 This game is really a matchup of two very similar teams.  They both play basically the same offense; often under center, never hurrying up.  But what they do with their offenses is very different: while Michigan State rightfully puts their faith in senior quarterback Connor Cook, Alabama will rightfully give the ball to Heisman Trophy winning running back Derrick Henry.  And they'll give the ball to him some more.  And some more.  And some more.
A conservative estimate of Henry's touches would likely be set at 40, and he'll probably reach that by running the ball alone.  In Alabama's last two games of the season, Henry racked up 46 and 44 carries in wins over Auburn and Florida.  If Alabama is to win this game, they have to give the ball to #2 and hope that he has another monster day; this is entirely possible, but the task will be tougher against a stout run defense that only allowed 113.1 yards per game on the ground this season (7th in major college football).
Another thing Alabama will need to do is to put faith in quarterback Jake Coker to make enough plays to win them game.  His sound decision making and sudden, new-found mobility has helped Alabama get to this point, and for the first time in his up and down, good and bad college career, the quarterback will get a chance to be the signal caller on a national championship team.  To have that distinction, though, he'll have to have a solid, mistake-free game against a really good defense.
As for that defense?  It's really well-suited for a game like this.  While it ranks a mediocre 76th in FBS in passing yards allowed per game, Alabama will have a difficult time running it on them, as the stats above show.  The main battle in this game is going to be Henry and the offensive line of the Crimson Tide against Michigan State's defensive line, led by future NFL Draft first-round pick Shilique Calhoun.  Whichever front gets a push will win the battle, and possibly win the game as well.
Of course, Michigan State's offense is key as well.  They will also have to be able to run the ball against Alabama's solid defense, one that allows the least rushing yards per game of any team in America (74). Cook might have to do it on his right arm alone, and that may be a risky proposition: the Tide are also a top-20 pass defending team. Making headway will be an immense challenge for the Spartan offense, one that may be too difficult to overcome.
I'm picking Alabama.  Spread offenses do well against Nick Saban, but this is the furthest thing from a spread offense.  Mark Dantonio will have his team ready, and the Spartans will play angry.  But I just think the Tide has too much.
The Pick: Alabama 27, Michigan State 17
Personally, I believe that Oklahoma would beat Alabama in a national championship game.  However, that will be a separate post after the semifinal results.  As always, enjoy the games and have a safe, healthy, and Happy New Year!