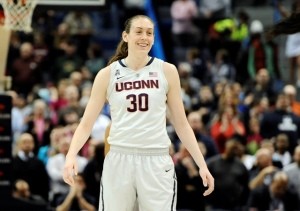 Just when people say you can't, you can… — Jim Nantz
Those words were uttered by Nantz at the end of Connecticut's win over Duke in the 1999 men's basketball national championship game. Amazingly, they still apply today.
On Saturday afternoon, the UConn women's basketball team resumed its conquest of women's college basketball with a 98-38 slaughter of Mississippi State for its 72nd consecutive win (the team beat Texas on Monday and extended its win streak to 73).  Honestly, the game wasn't even that close; the halftime score was 61-12.  61-12.
After the game ended, Boston Globe columnist Dan Shaughnessy, who has written and said ridiculous things in the past, tweeted this thought about the team:
UConn Women beat Miss St. 98-38 in NCAA tourney. Hate to punish them for being great, but they are killing women's game. Watch? No thanks

— Dan Shaughnessy (@Dan_Shaughnessy) March 26, 2016
In the span of 137 characters, Shaughnessy somehow does the impossible: he simultaneously has a point and completely misses the point.  He is correct in saying that the overall dominance of one team and one program is detrimental to the game.  And yet his attribution of the killing of the women's game to the UConn women is completely reckless.  In fact, it completely misses the real source of the sport's lopsidedness:
The other 348 Division I women's basketball programs.
To show you the talent disparity between UConn and every other team in women's basketball, these are the winners of the women's tournament since 1995 (Geno Auriemma's first national championship):
Connecticut (1995, 2000, 2002, 2003, 2004, 2009, 2010, 2013, 2014, 2015)
Tennessee (1996, 1997, 1998, 2007, 2008)
Baylor (2005 and 2012)
Maryland (2006)
Notre Dame (2001)
Purdue (1999)
Texas A&M (2011)
Meanwhile, these are the squads that have accomplished the same feat on the men's side:
Connecticut (1999, 2004, 2011, 2014)
Kentucky (1996, 1998, 2012)
Duke (2001, 2010, 2015)
North Carolina (2005 and 2009)
Florida (2006 and 2007)
Arizona (1997)
Kansas (2008)
Louisville (2013)
Maryland (2002)
Michigan State (2000)
Syracuse (2003)
Notice just how much more parity there is in men's college basketball. But why is there such a difference in the competitive balance of the men's and women's games?
In reality, the problem with one team dominating the sport isn't that team's fault; if you don't like it, beat them (good luck with that).  As a fan, it's nice if you want parity in the sport but you have to understand that parity can only be attained if many of the best teams in the sport have similar levels of talent.  This parity was attained in men's basketball this season because many of the best teams were similar and unable to distinguish themselves.
If you wanted to make the argument, though, that UConn is and has been on a different level because of Breanna Stewart, one of the best women's basketball players ever, that would seem fair.  But every school had a chance to sign her coming out of high school; few actually attempted to earn the right to her services.  Such is the case with Moriah Jefferson and basically any other player on the team. There is a wealth of talent in Storrs and a dearth of talent everywhere else; 348 coaches can look in the mirror for an explanation why.
But maybe these coaches would receive better results if their athletic departments invested more in them and their teams.  Here is some data from Joe Mussatto of the Scripps Howard Foundation Wire about pay disparities between men's and women's coaches at certain schools:
The Scripps Howard Foundation Wire pulled 2013 data from 65 schools, all members of the Power Five conferences and Notre Dame, to conduct its research.

Coaches of women's teams average less than one fourth of men's team head coaches' salaries. Texas and Vanderbilt have the biggest discrepancy, but no school pays women's team coaches more than men's team coaches.
No school in the entire country pays women's coaches more than men's coaches.  Let that sink in and then consider the ridiculousness in that occurrence.
For example, consider the University of Tennessee.  The Volunteers had one of the best women's coaches of all-time in Pat Summitt; Summitt stepped down after the 2011-12 season after being diagnosed with early-onset Alzheimer's Disease.  Summitt, a winner of eight national championships and coach of eighteen Final Four teams, was paid an annual base salary of $325,000, with the potential to earn around $1.5 million with incentives.
On the other hand, Tennessee's men's basketball program hired Donnie Tyndall from Southern Mississippi in 2014.  His six-year contract called for an annual salary of $1.6 million.  The best part? Tyndall went 16-16 in his first year on the job.  Better yet, he was fired after the season for financial aid violations he had committed in his time at Southern Miss.  Not exactly equal pay based on merit.
Another example of an unjust pay disparity takes place, ironically, at the University of Connecticut.  Geno Auriemma, the greatest women's coach in the history of the sport, earns around $2 million per year. His counterpart on the men's side, Kevin Ollie, makes a full $1 million more than him.  Ollie is making that amount based on his team's 2014 national championship.  That run, however, was fueled by star point guard Shabazz Napier; without him, the team likely would have been bounced in the first weekend of the tournament.
Besides the 2014 run, Ollie has made the NCAA Tournament once in his four-year UConn career.  A recap:
Auriemma: 10 national titles, 16 Final Fours, $2 million salary
Ollie: 1 national title, 1 Final Four, $3 million salary
Sure, that's fair.  Actually, it's completely inexplicable.
That being said, should you be interested in the Women's Final Four, even if you and everyone else watching probably know the final outcome?  Yes, you should.  While the Huskies have been the predominant team in women's college basketball over the last two decades, teams like this year's squad don't come around very often. Geno Auriemma's team is a special group, one of the best in the history of the sport.  So yes, there is plenty of intrigue to the Women's Final Four, even if the outcome is inevitable.
But how can the women's game avoid lopsided seasons like this one in the future?  Even though there is nothing the NCAA can (or should) do about competitive balance, the other major schools in the sport can do something very easy and simple: invest time and money in their programs.  It really isn't that difficult, but few schools actually do this.  Other than Auriemma, only four other women's coaches make more than $1 million per year.  If more universities invested money in their coaches, the likes of UConn would face stiffer competition and parity in women's college basketball would greatly improve.
But the chances of this happening are very slim.  The sad part is that aside from UConn, the Women's Final Four is very balanced with a 2-seed (Oregon State), a 4-seed (Syracuse), and a 7-seed (Washington). If there were no dominant team, this Final Four would have the potential to be as interesting, if not more so, than its men's counterpart.  There is a dominant team, though, and it's UConn.
Which is okay.  But that there isn't anyone to get in the way shouldn't be; it's up to 348 Division I programs to change that.  In the meantime, let's lay off the Huskies for being so amazingly good.
Actually, let's give them the appreciation they deserve as one of the best college basketball teams ever.