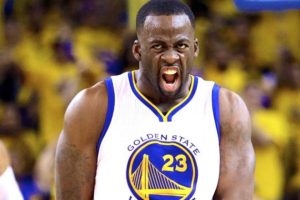 The Golden State Warriors defeated the Houston Rockets 121-94 on Sunday to take a 3-1 lead in their first-round series.  To many in the city of Houston, though, the game was an afterthought.
Ravaging floods have recently affected the city, killing at least eight and forcing over 1,000 to leave their homes.  The rainfall is a serious matter as it has caused over $5 billion in property damage across the city.  Therefore, you can understand why Houstonians aren't exactly worried about their Rockets right now.
But that didn't stop a reporter from asking Draymond Green a question about the parallels between the flood and the Warriors' road wins in the city in each of the past two playoffs.  Instead of deflecting this ridiculous inquiry, Green took the time to wonderfully excoriate whoever this "reporter" is:
Perfect answer to a stupid question. https://t.co/48iRpnRIuR

— NBA Stats (@StatisticsNBA) April 25, 2016
The question was easily the dumbest I've ever heard.  Trying to create similarities between the team's 21 threes and a life-threatening natural disaster is never a good way to go about your business as a so-called "journalist".  Yes, you're there to ask questions and get more than just cliched responses out of the players, but you're also supposed to make informed, relevant, pointed inquiries.  That question had none of those qualities.
And yet, upon hearing the tirade, I had a different thought: would it have been better for Green to just say "next question" and move on? Did Green's destruction of the reporter actually shift attention away from the question and toward the player ranting about it?
We've seen reporters ask stupid questions before, especially in the NBA.  During the 2014 NBA Finals, local reporter Bobby Ramos made a name for himself for all the wrong reasons.  After the Spurs' 111-92 defeat of the Heat in Game 3, Ramos got his chance to question LeBron James and Dwyane Wade.  This is what he asked in his 15 seconds of fame:
I have no idea what Ramos was trying to accomplish by way of that question.  Translated, this is what he asked: "Is the problem that you're not scoring enough or that you're giving up too many points?" Basically, it sounded like Ramos wanted to know if it was important for one team to score more points than the other.  In my brief experience with the game of basketball, it is.  But that's just my perspective.
It was a question that James and Wade wasted little time with.  They both chuckled and Wade answered that the team was down 2-1 and that was the big problem.  Really, huh?  I'm sure that's a piece of information that fans would not have previously known.
That wasn't all the press conference fireworks for that series, however.  Before game 4, Spurs coach Gregg Popovich sat down at the podium and fielded this bizarre query from another Miami-area reporter:
While Popovich gets criticized sometimes (and rightfully so) for his excessive brevity with reporters, he did nothing wrong by shooting down this question.  The team was coming off one of the most dominant performances in NBA Finals history in game 3; a repeat of that level of play would assuredly be good enough to win game 4.  So why on Earth would the team change anything?  What is there to change?  Again, this is an example of a question that was not thought out in advance, one that ended with a verbal smackdown that ended faster than you could say "five championships".
But which response is better: the ignorance of the question or the flaming of the reporter who asked it?  The answer depends on the situation.
For example, Green was asked a question about flooding, a life-threatening situation.  He and the Warriors were also coming off a game in which they lost soon-to-be-MVP Stephen Curry to a knee injury; Curry will miss at least two weeks with an MCL sprain.  That loss, combined with the stupidity of the question asked, created a perfect storm for Draymond to react the way he did.
On the other hand, Popovich, Wade, and James were asked questions about the game itself.  Granted, they were absurd lines of questioning, but they had to do with the comparatively trivial subject of sports and nothing greater.  Because of this, it was easier for them to deflect the questions as nothing more than unprepared reporting.  However, it would have been understandable if they had reacted to the silly questioning like Jay-Z probably reacted to Lemonade; that is to say, not well.
There's another side to the story, though, and that's the side of the reporter.  Obviously, not all sports journalists ask questions so hollow and uninformed.  There are plenty of reporters who ask fair, challenging, tough questions that back interview subjects into corners.  For example, take this exchange that then-CNN personality Rachel Nichols had with Roger Goodell over a year ago:
There, Nichols asked a very relevant question: why does the NFL refer to their investigations as "independent" if they are still paying the "private investigators"?  The commissioner immediately got defensive with Nichols, saying that he didn't agree with her assertion and even pointing out that she won't be paying for the league's investigations.   The exchange was a demonstration of excellent journalism and how a prepared, reasonable question could put one of the most powerful people in sports on his heels.
That being said, not enough of those informed questions (and people) comprise the sports media today.  Too many times, athletes are asked ignorant questions at press conferences, flip out on the reporters asking them, and are blamed by the partial media for doing so.  In reality, it isn't their fault; they push themselves to their physical and mental limits each and every day.  To have second-rate journos interrogate them this way is, in some ways, a little insulting.
The relationship between athletes, coaches, and the media is an interesting one.  The players and coaches feel that they should be given more space while the media wants unfettered access into their lives.  Their relationship is lukewarm, at best.
And with questions like the one posed to Draymond Green last night, it's hard to see it improving anytime soon.