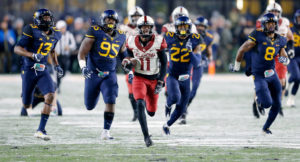 Relative order was restored to college football last Saturday, as there was only one top-10 defeat (Louisville) and many a blowout victory to go around. However, there is still plenty of intrigue in this week's results just as there was a week ago; the intrigue in these results comes in what they mean for the College Football Playoff. So without further ado, here are my selections for the top ten teams in college football after week 12.
10. Washington Huskies (10-1)
You may have noticed that I dropped Washington from last week's rankings after a home loss that week to USC. Well, after getting some help from Louisville, the Huskies emerge at number ten in this week's rankings. I do not believe that this team deserves to make the playoff, as their out-of-conference schedule was atrocious (no, really: their best inter-conference foe was Rutgers). While they are playing well, their loss to USC ended their chances, at least in my eyes. And while the Huskies may control their own destiny in the real Playoff race, there is little to no chance you will see them in my final four. I just don't think I can do it, especially with their strength of schedule (or lack thereof).
9. USC Trojans (8-3)
Sure, the USC Trojans are 8-3 and don't necessarily have the resume to make the Playoff. But ask yourself this: do you really want to play the Trojans right now? Although they got off to a horrific 1-3 start, Clay Helton's squad has bounced back with seven wins in a row, including triumphs over Colorado and Washington. Sam Darnold has been terrific since being named the starting quarterback earlier in the year, and USC could legitimately be ranked higher than this strictly based on how they have played over the past two months.
8. Western Michigan Broncos (11-0)
Weekly Western Michigan rant: this team is undefeated, has soundly defeated nearly every team it has played and boasts one of the best quarterbacks in the country. Last week, the Broncos defeated Buffalo 38-0, a visit that was punctuated by the presence of ESPN's College Gameday. While the Broncos are ranked 21st in this week's rankings, I believe that they should get a bonus for going undefeated, even if their schedule isn't overly strong. And that concludes my rant. However, I will say this: I can't see myself putting the Broncos higher than eight. So Western Michigan is not going to break the glass ceiling, so to speak, but I do believe they should be in a New Year's Six Bowl game.
7. Oklahoma Sooners (9-2)
Oklahoma had what was easily the most impressive performance of week 12, as the Sooners traveled to Morgantown and defeated West Virginia 56-28. Granted, Oklahoma lost two lopsided contests early in the season to Ohio State and Houston, but they, just like USC, are one of the most explosive and dangerous teams in the country right now. The team has struggled defensively at times this year, as evidenced by their allowing 579 yards to the Mountaineers on Saturday. But this is a team that you can disregard at your own risk.
6. Penn State Nittany Lions (9-2)
Week 12 was quiet on the Penn State front, and that's not necessarily a bad thing. The Nittany Lions took care of business against Rutgers on Saturday to move to 9-2 and set up a meeting with a 3-8 Michigan State team for a chance to go to the Big Ten title game. Penn State needs Ohio State to beat Michigan, as well, for that to happen, but their chances of making the Big Ten Championship Game and potentially playing for a spot in the final four are becoming more realistic with each victory. Penn State needs some help, but their Playoff chances do have some life.
5. Wisconsin Badgers (9-2)
A quick note: my dropping Wisconsin from four to five this week does not have anything to do with the Badgers. Their solid run continued on Saturday with a 49-20 win against Purdue, a team that is winless in Big Ten play. Rather, this move has to do with the teams above Wisconsin in the standings, and one, in particular, that I am going to get to next. In my rankings, the Badgers would control their own destiny to make college football's final four, even with two losses. Those two losses, though, came to Ohio State and Michigan.
4. Clemson Tigers (10-1)
Last weekend, Clemson really impressed me. While a road win in November against Wake Forest may seem like an ordinary triumph, the circumstances around it are what made it so pleasantly surprising. After the Tigers lost a heartbreaker to Pitt the week before, they bounced back and absolutely dominated the Demon Deacons on Saturday. The 35-13 win, as well as the quality of Clemson's bounce-back performance, was enough for me to push them into the top four this week. It's not that I expected them to lose, but the Tigers had their most important test of the season last weekend and they aced it. That's enough to put them in the Playoff if it were held today.
3. Michigan Wolverines (10-1)
Not a whole lot has changed on the Michigan front, either. Even though the Wolverines stumbled to a win against Indiana last weekend, that came under adverse weather conditions and with the team starting a backup quarterback (John O'Korn) who completed a grand total of seven passes on the day. Next up for Michigan is their annual rivalry matchup with Ohio State with a win sending them to Indianapolis for the Big Ten title game next weekend. The health of starting quarterback Wilton Speight will be critical for Michigan on Saturday, as playing with O'Korn might not cut it against the Buckeyes.
2. Ohio State Buckeyes (10-1)
Speak of the devil, Ohio State comes into this weekend scarred after a 17-16 victory against Michigan State. The Spartans tried to go for two late in the game to take the lead but failed, and the Ohio State defense sealed the win with an interception on the next drive. All of that can be thrown out the window in advance of Saturday's game; however, the performance could be construed as slightly concerning for a Buckeyes team that has been slightly inconsistent at times this season. However, I sincerely think Ohio State will be fine. A win on Saturday gets them into the Playoff.
1. Alabama Crimson Tide (11-0)
There really is nothing to see here. Alabama struggled to a 31-3 win over Chattanooga last week, but that may actually be good for them as they head into the Iron Bowl against Auburn. The Tide should be just fine, assuming they can escape the next two games without any severe injuries. Even a loss to Florida in the SEC title game would not knock them out of the top four. A loss to Auburn wouldn't, either. After all, this is the best team in college football.
Departure: Louisville
New Addition: Washington