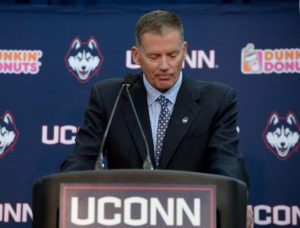 Over the past week, it is very likely that you heard the national sports media talking about the story of a high school senior by the name of Ryan Dickens.
Ryan Dickens was offered a football scholarship from the University of Connecticut last June; upon this offer, Dickens (who lives in Raritan, New Jersey, roughly four hours away from the University) immediately offered his verbal commitment to the school over offers from Cornell and Monmouth, as well as interest from other Division I schools. The senior linebacker is in the class of 2017 and committed early to ensure that his future would be locked in.
Then, on December 26, the Huskies fired head football coach Bob Diaco after three years at the school. Two days later, former head coach Randy Edsall was re-hired by the school to the same position. Dickens called Edsall on New Years' Day to ensure that his scholarship offer was safe, and Edsall reassured him that he was still wanted in East Hartford. Dickens then met with the school's linebackers coach, Jon Wholley, to discuss his impending visit to UConn (which would have been today).
However, this past Sunday, Edsall informed Dickens that his scholarship had been taken away. He was given no reason why; rather, he was simply informed that the school decided to "go in another direction".
Unsurprisingly, the national media absolutely pounced, and rightfully so; Edsall's decision to renege on Dickens' scholarship offer was collegiate greed at its absolute finest. Those other offers for Dickens? Out the window. His college future? At the time, uncertain (he did receive an offer from Rhode Island days after UConn's reversal and will most likely play college football next year). Edsall's job, one that has him making $400,000 this year? Safe.
Here is the problem, though, with our perfect picture of this story: what if this had been Alabama? Or any other major program, for that matter? Would the outrage be nearly this fervent?
Let me first say that this story was covered properly by the sports media. It showed recruiting for what it really is and although the story clearly cast Edsall in a negative light, it needed to be addressed. However, there is an air of hypocrisy about the reaction to this story. For example, Paul Finebaum of ESPN called the pulling of scholarships a "total disgrace" because of the reversal's close proximity to National Signing Day, which is less than two weeks away. Finebaum is also the author of "My Conference Can Beat Your Conference", which is a tale about just how great the SEC is. The problem is that Finebaum's beloved conference is no better about holding their word with high school athletes.
Nick Saban has come under fire in the past for over-recruiting, or signing more than the NCAA-allowed 25 scholarship players in any one given year. In some cases, as in that of Harrison Jones, that means reneging on a scholarship offer at the last minute…. or even well after that. Before the 2010 season, Saban yanked Jones' scholarship offer after Jones had moved into his dorm room in Tuscaloosa. Because the school had over-recruited and had player(s) become academically qualified shortly before the season, there was no room on scholarship for Jones. That same year, Ole Miss, then coached by Houston Nutt, signed 37 players and needed to rescind the scholarships of 12 of them because they had budgeted their offers that badly.
One would figure that the national response to this would be collective outrage even worse at Alabama than in this case because it happened in August, not January. Instead, there was little to no response from the sports media. This is what Finebaum, who called out Edsall for this reversal, said about Saban when talking about another recruiting fiasco:
Nick Saban has tried to circumvent every rule in the NCAA rulebook and has mostly gotten away with it. I'm not saying he's breaking rules, he's pushing the envelope. I once asked a recruiter 'How do you do it?' and he said 'You skirt the rule, you go over the line, and then you get back when no one is watching,' and that's Saban, that's Harbaugh, that's Urban Meyer.
So when Edsall does it, it's a "total disgrace", but when Saban does it, he's just "pushing the envelope"? Oh. Here's a pro tip: if you're going to make a total double standard out of something, don't veil it this thinly.
Worst of all, Finebaum said this just one year ago, so it is hard to believe that his opinion could have changed this much in just twelve months. His attitudes toward this story, and the issue in general, though, are emblematic of the opinions of the rest of the media. UConn has made one bowl game since 2010 and has generally been a laughingstock of college football for the past few seasons. The fact that they have been so bad makes them a punching bag for sports punditry; after all, it is far easier to criticize a team that waited until three weeks after the season to fire its head coach than it is to to criticize a program that has won four national championships in the past eight seasons.
As for the issues with the NCAA's amateurism rules, those are ever-present and don't really need to be stated. Coaches are allowed to do this to student-athletes with no repercussions whatsoever while the student-athlete is left scrambling with just days to go until he must make his college decision. Yes, that seems completely fair from the institution that still claims it is not-for-profit even though its president made nearly $2 million two years ago. This institution also made nearly $1 billion in the 2011-2012 year, the last year the company was audited. Do you want to guess how many of those dollars went to student-athletes? I'll give you a hint: it was as much as I made playing college football last year. In other words, nothing.
Paul Finebaum is right: what Randy Edsall did to Ryan Dickens is a "total disgrace", especially considering Dickens never made an effort to rescind his own verbal commitment to the school. However, many of us, including myself, must do a self-examination of ourselves and investigate whether or not this anger would have come to the surface if it was Jim Harbaugh pulling the offer instead of the coach whose most memorable college football moment was this (I can't embed the Vine anymore; RIP Vine).
So while the media was correct to shred Edsall for his reneging on the school's scholarship offer, it is unlikely that the criticism would have reached the same level if and when a major program did the same.
We'll see how the media reacts the next time a top program reneges on a scholarship offer to a high school football program. My guess is that there will be crickets abound.