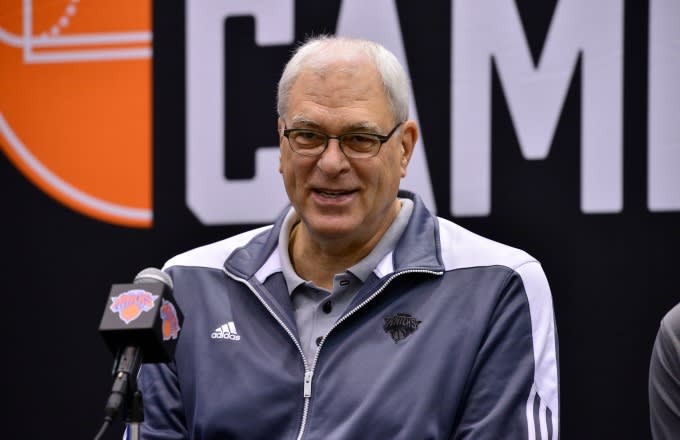 Phil Jackson is goink, goink, gone as President of the New York Knicks.
The news was passed down early yesterday morning, as Jackson and owner James Dolan began to have major philosophical differences about the future of the franchise. This frustration is reported to have revolved around a potential buyout of Carmelo Anthony, an avenue that would have entailed the Knicks paying him a large sum of money, potentially up to $54 million, to play elsewhere. While Anthony wanted out of New York, Jackson wanted to get something back for his services. With this, the tumultuous, turbulent, three-year tenure of Jackson's rule over the Knicks came to an end yesterday.
The reaction to this news? Predictable:
Nooooo @Espngreeny. Don't stop that music. Don't stop spreading that news. Yes! He's leaving! Yes! He's leaving! Spread that damn news!!!!

— Stephen A Smith (@stephenasmith) June 28, 2017
It's been a while…

ITS BEEN A DAMN LONG WHILE

WE DID IT, WE ARE FREED

SOMEBODY HIT THE DAMN MUSIC!!!!!

— Rob Perezinson (@World_Wide_Wob) June 28, 2017
Needless to say, Knick fans are pretty stoked about the team getting out of Jackson's grasp. At this point, though, it's probably a good idea to take a look back at Jackson's time with the Knicks and just what exactly went so wrong for him and the team over these past three years. It's also important to look at where the Knicks are now as opposed to where they were when Jackson took over as the team's lead executive.
On March 18, 2014, the Knicks hired Jackson as their team president. The team was 28-40 at the time and in no position to make a run towards the playoffs. In fact, Phil's first move as the lead executive, as certain individuals will happily remind you, was to sign Lamar Odom, who, at the time, was in the midst of an addiction to alcohol and cocaine. As a metaphor, it wasn't the best start to the Jackson era in New York.
After the season, Jackson fired head coach Mike Woodson and replaced him with the recently-retired Derek Fisher. While the hiring was met with optimism, the Knicks previously had their heart set on Steve Kerr, who instead took a job with the Golden State Warriors. The team reportedly low-balled Kerr by offering him $13 million for three years; the Warriors offered to pay Kerr $5 million per year for five years, an offer he happily accepted. Three years and two Golden State championships later, it's clear that the disenfranchisement of Kerr set a negative tone for Phil Jackson's tenure as president of the Knicks.
Perhaps more telling, though, were the assistant coaches hired by Jackson to help the inexperienced Fisher. Among others, Jackson hired Jim Cleamons and Kurt Rambis to spots on Fisher's bench. Why was this significant? Well, both men were former assistant coaches under Jackson in his time with the Bulls and Lakers; they would help implement Jackson's favored Triangle offense, an offensive system he used in both of his previous coaching stints to help him win eleven championships. The Knicks, however, did not have Michael Jordan or Kobe Bryant, and it showed, as the team went 17-65 for the 2014-15 season, Jackson's first full campaign as leader of the Knicks' front office.
The seminal move of that season was the team's trade of J.R. Smith and Iman Shumpert to the Cleveland Cavaliers. In a three-team trade that also included Dion Waiters and the Oklahoma City Thunder, the Knicks acquired… Alex Kirk, Lou Amundson, and Lance Thomas. Smith and Shumpert became important pieces to the Cavaliers' run to the NBA Finals that season and both are still in Cleveland. Jackson had finally helped build a title contender. Unfortunately, that title contender played in Cleveland, serving as yet another metaphor for the hapless Knicks.
Jackson's lasting legacy as an executive will be his selection of Latvian power forward Kristaps Porzingis with the fourth pick in the 2015 NBA Draft. Porzingis has been excellent as a Knick and represents the team's future as Carmelo Anthony begins to decline. Of course, in true Jacksonian fashion, he tried to trade the 21-year-old Porzingis before this year's draft. When asked why he would even think about doing such a thing, the principal reason he cited was the Knicks' future. The main reason for trading Porzingis would have been because he blew off last year's end-of-season exit meetings because he, like everyone else, was and is frustrated with the Knicks' dysfunction. While Phil cited the future to explain why the Knicks took calls about Porzingis' availability, little did he know that trading the team's best asset would have sabotaged the future Jackson said he was trying to protect.
This is also to say nothing of the relationship (or lack thereof) Jackson cultivated with Anthony. Among other insults, Jackson suggested that Anthony was a ball hog and didn't necessarily care about winning. Jackson later went back to his Twitter with this truly bizarre clarification after subtweeting his star player:
So after starting a 🔥storm with a misunderstood tweet, I offer this✌🏻our society is torn with discord. I'm against it. Let It Be

— Phil Jackson (@PhilJackson11) February 9, 2017
One thing Jackson does understand about being an executive is the use of social media. As an influential leader in the 21st Century, Jackson understands that Twitter is a way to get your message out without going through the media. Unfortunately, his Twitter usage only created further problems for the Knicks, a team already torn apart by bad management and poor performance.
So where are the Knicks right now? After firing Fisher and bringing in new coach Jeff Hornacek before last season, the Knicks are at something of a crossroads. While Jackson and the Triangle are out, Hornacek and the remains of his staff and the team's front office will have to fend for themselves with a roster somewhat in question; point guard Derrick Rose is a free agent and the team reportedly wants to try to trade Anthony, even though Jackson has left the front office.
Even though Phil Jackson proved to be a fairly awful executive (the Knicks were 80-171 under his leadership), he didn't completely sabotage the team's future. While there were times it looked like he would, Jackson still left the Knicks with Kristaps Porzingis and the opportunity to get something meaningful in exchange for Anthony's services.
As for who will replace Jackson, that still remains to be seen. The top candidates to emerge for the position are former Cavaliers GM David Griffin and Raptors president Masai Ujiri. If the Knicks can lure Ujiri from Canada, the Raptors are likely to receive draft pick compensation in return. Of course, the success of Jackson's replacement will depend on how willing owner James Dolan is to trust the new decision-maker(s). Dolan's track record could use some improvement; since 2002, the Seattle SuperSonics have won more playoff games than the Knicks. Since 2008, the Seattle SuperSonics have been known as the Oklahoma City Thunder. The task awaiting whoever takes over as the president of the Knicks is to rebuild the worst-run franchise in the NBA into a contender. Good luck.
But the new president of the team will have Porzingis, Anthony, and, most importantly, a bright future for a team that has not reached the Eastern Conference Finals since 2000. That's a lot better than nothing.