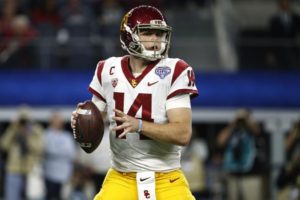 Note: Projections for picks 1-10 can be found here.
11. Miami Dolphins
Sam Darnold (QB/USC)
The Dolphins, under third-year head coach Adam Gase, have a ton of problems at the quarterback position. From the devastating knee injury to starter Ryan Tannehill to the Jay Culter-ness of Jay Cutler, the 2017 season quickly turned into a nightmare on South Beach.
The team finished 6-10 and just one game ahead of the Jets for last place in the AFC East. While they also have other needs on their roster, their most pressing one is at quarterback. And at this point in the draft, I could see them getting one of the hardest prospects to peg in this year's rookie class:
USC quarterback Sam Darnold.
Darnold, for reasons passing understanding, declined to throw at the NFL Combine last month and instead opted to throw at USC's pro day. While not throwing at the combine was an objectively bad decision, Darnold made up for it at his pro day, as he dazzled scouts from several teams, none of which were the Miami Dolphins.
Here's the main issue with Darnold; while parts of his game film are exceptional, other parts are terrible. It's so difficult to ascertain how successful he'll be in the pros because he was so inconsistent last season. Personally, I think he can be a successful quarterback in the right system and with the right players around him.
I could even see Sam Darnold being taken with the number one pick; several Browns executives also attended his pro day and reportedly liked what they saw. If we do another mock draft closer to April 26, I wouldn't be surprised if I put him at the top.
For now, though, I'll give him to the Dolphins at 11.
12. Denver Broncos (from Buffalo Bills)
NOTE: I raised the possibility of a trade involving the Bills and Broncos in my mock draft of picks 1-10. The Broncos receiving this pick would be the byproduct of that potential deal, but as of today, it belongs to the Bills. For our purposes, we are going to treat it as if it belongs to Denver.
Mike McGlinchey (T/Notre Dame)
The Denver Broncos need help along their offensive line.
Denver's offensive line surrendered 52 sacks last season, which tied them for the third-most in the league. After signing Case Keenum from the Vikings earlier in the offseason, the Broncos' main priority should be to prevent him from getting killed.
And for as many other needs as the Broncos have, Notre Dame's Mike McGlinchey makes the most sense for them with the 12th pick.
Along with Quenton Nelson, McGlinchey formed one of the most dominant sides of an offensive line in college football last season. McGlinchey played every game for the Irish over the past three seasons, and there's a reason why; his technique is superb and he has surprising agility and mobility for someone who stands at 6'8″.
The one thing that befuddles me about McGlinchey is his lack of strength, especially considering his stature. While he will likely add a few pounds of muscle upon arriving in the NFL, he needs to improve that aspect of his game if he doesn't want to get run over by bigger and stronger defensive linemen. I don't see it being too much of an issue of McGlinchey bulks up, but it is something to keep an eye on.
The Broncos have a new quarterback, but they need to do a far better job of protecting him. Mike McGlinchey can help them do that from day one.
13. Washington Redskins
Vita Vea (DT/Washington)
Vita Vea, in my view, is one of the five best prospects in this year's draft class.
Vea is nearly 350 pounds but has the agility of a linebacker. Washington used him in several different spots on their defense a season ago, including the edge rusher spot, which is usually reserved for a linebacker or an undersized defensive end. Vea also played special teams last year and even made an open-field tackle in the team's Fiesta Bowl loss to Penn State.
If the Redskins are looking for some help on their defensive line, Vea would be a steal at 13.
Washington gave up the most rushing yards in the league last season and their defensive line could be best compared to a large block of Swiss Cheese. Vea could help them in that regard, as he would be an immediate upgrade to their front four. He could also help the 'Skins in passing situations, as he has potential as a pass rusher and can be used at any spot on the defensive line.
Another possibility for Washington at 13 would be a cornerback, on account of their trading away Kendall Fuller in the Alex Smith trade. I wouldn't be surprised to see them get someone like Iowa's Josh Jackson (more on him shortly) but defensive line still makes more sense for the Redskins.
Vita Vea would be a great choice with the 13th pick, and the Redskins would be getting $1.50 on the dollar if they took him.
14. Green Bay Packers
Josh Jackson (CB/Iowa)
We are about to find out how highly teams think of someone based on only a season's worth of tape.
The Bears answered that question for quarterbacks last season, as they moved up from the third pick to the second pick to take Mitchell Trubisky. But what do we make of this dilemma on the defensive side of the ball?
For one thing, Josh Jackson was all over the ball in the 14 career games he played at Iowa. Jackson had eight interceptions last season and returned two for touchdowns against Wisconsin in November. He isn't just good at covering routes; on many occasions, he runs routes for the receiver he's covering. He can be a very good NFL player, but he is raw and may need a year or two under his belt before he reaches his full potential.
With all of that said, though, he's probably better than anything the Packers have in their secondary right now. Green Bay let go of both their starting safeties, Morgan Burnett and Demetrious Randall, to the Steelers and Browns respectively, and the team needs all the help in the world on the back end of their defense. Taking Jackson would be a good start, but the Packers need to do a lot more to improve a defense that has not been in the top ten in the league in yards or points allowed since the team won the Super Bowl in 2010.
Josh Jackson is penciled in as my number-two corner in this year's draft class. The Packers need to get more players like him, and quickly.
15. Arizona Cardinals 
Connor Williams (G/Texas)
I'll say this out of the gate; I have no earthly clue where the Cardinals will go (or, more accurately, can go) with the 15th pick. They could trade up in the draft, but how would they be able to do so? They could take a quarterback at 15, but they would likely be stuck with Lamar Jackson at this spot, and after signing a historically fragile quarterback in Sam Bradford, would they want Jackson to be one hit away from being their starting quarterback? There are options for the Cardinals here, but how many of them are good options?
Offensive lineman Connor Williams might be one.
Williams struggled last season and his 2017 tape does not show someone worthy of a selection in the top half of the first round. However, Williams cleaned up at the Combine, posting the fastest 40-yard-dash, highest vertical jump, and farthest broad jump of any offensive lineman in attendance. There is potential there, and even though Williams is slightly raw and needs the right coaches to help him develop, he could turn into a very solid offensive lineman at the professional level.
The Cardinals are in a bizarre spot with the 15th pick. I wouldn't be surprised if they traded in either direction here, but if they keep the pick, my best guess in that they try to shore up their offensive line to protect Bradford and company.
16. Baltimore Ravens
James Washington (WR/Oklahoma State)
While James Washington is not very far along in his development and needs to improve his route running in a big way, the Ravens are in need of a game-breaker on the outside. Washington could be their man.
Even though the team signed Michael Crabtree in free agency, Baltimore could still use some help downfield, the area where quarterback Joe Flacco most excels. Flacco had just 13 pass plays of 20 or more yards a season ago, which tied him with Aaron Rodgers and Carson Palmer for 30th in the league, and both of those men played a grand total of seven games. The Ravens have not had a bona fide downfield threat since they won the Super Bowl in 2012, and even though Washington is a reach with this pick, he would be the best receiver to help them fix that problem.
Washington averaged nearly 20 yards per catch a season ago for Oklahoma State, and even though Big 12 defenses leave a lot to be desired, the big play ability he possesses is abundant. The Ravens have had trouble at the receiver spot for several years now, and the team should make this their top priority in the draft.
Getting a game-breaker like James Washington would be a great start.
17. Los Angeles Chargers 
Lamar Jackson (QB/Louisville)
Philip Rivers has two more years on his contract. He isn't getting any younger, and the Chargers could use a young quarterback to develop when Rivers leaves or retires.
And with the 17th pick, San Diego Los Angeles could take a run at the best quarterback available: Louisville's Lamar Jackson.
There has been a significant amount of hand-wringing recently as to what position Jackson should play in the NFL. Bill Polian says he should play wide receiver. Many other people think he can play quarterback. I fall in the latter category; while Jackson was tremendously inconsistent at times last season, he can be successful with the right people in charge.
Whether or not the Chargers have those people is up to your interpretation. What they do have is a talented roster that nearly made the playoffs last season, a quarterback in Rivers that has playoff experience and can mentor Jackson, and a situation in which Jackson will not be asked to do very much out of the gate. The fact of the matter is that Jackson is not good enough to be a starting quarterback next year; he misses too many easy throws, can be erratic at times, and struggles with his decision-making in other instances. However, he is a tremendously talented player who has enough speed and arm strength to remind me of a young Michael Vick.
Jackson probably won't be as good as Vick, but he does have the chance to be a solid NFL starting quarterback a couple of years from now. And no, he's not a wide receiver.

18. Seattle Seahawks
Will Hernandez (G/UTEP)
Russell Wilson played at an MVP level last season despite the fact that he spent most games running for his life.
The Seahawks' offensive line is terrible. The team is blowing up its core. Their defense will be decimated next season with the losses of Richard Sherman and Michael Bennett. And Wilson will still need to pull a rabbit out of a hat several times per game just to keep his offense afloat.
That's where Will Hernandez enters this discussion.
Hernandez weighed in at the Combine at nearly 350 pounds and would likely be ready to play for the Seahawks in Week One (that statement has just as much to do with the Seahawks as it does with Hernandez). He put down 37 bench press reps at the Combine, which was the most among offensive linemen. While Hernandez may not be a household name among offensive linemen, he's one of the best in this year's draft class.
He could also help Seattle in the area they likely need it most: the running game.
Last year, the Seahawks rushed for 1,629 yards, the tenth-worst figure in the NFL. However, if you subtract Wilson's 586 rushing yards, the Seahawks would have barely gotten over 1,000 yards and would've had the worst rush offense in the NFL. And Wilson was an instrumental part of whatever running game the Seahawks had last year; he was the team's leading rusher by 346 yards. The Seahawks could also use more talent at the running back position, but where they could use the most assistance is with their offensive line.
At this point in the draft, the best offensive lineman they could take is Will Hernandez.
19. Dallas Cowboys
Da'Ron Payne (DT/Alabama)
The Cowboys had their best defensive season in several years in 2017. However, they should still look to improve things on that side of the ball.
The defense was tied for 15th in sacks last season and could use another pass rusher to complement DeMarcus Lawrence on the defensive line. Even though conventional wisdom says that the Cowboys should improve their offense, they'll have Ezekiel Elliott for a full season and can also hope for improvement from Dak Prescott. They have a chance in the draft, though, to turn their defense into a force, and they can do that by taking Alabama's Da'Ron Payne.
Payne has a rare combination of agility and strength that can make him a dominant defensive lineman in the NFL. If you don't believe me, just ask the Clemson Tigers; he made an interception in that game and caught a touchdown pass at the end of the next drive. His motor runs just as much in the fourth quarter as it does in the first, and he is well-rounded enough to be on the field in any situation. He's likely to be taken in the middle-to-late first round and the Cowboys should seize the opportunity to scoop him up if he's available here.
20. Detroit Lions
Marcus Davenport (DE/UTSA)
Marcus Davenport was the fastest defensive lineman at the NFL Combine; he posted a 4.58 40-yard dash and also put up the farthest broad jump among all defensive linemen in Indianapolis (124 inches).
And while Davenport is still very raw, he has many translatable skills to the NFL and has enough talent to change a game from time to time.
The other thing he could stand to do when he reaches the pros is bulk up; he was only 264 pounds at the Combine and won't be able to use the same power and speed combination he had in college if he's being overwhelmed by bigger, stronger NFL offensive linemen. However, Davenport posted 8.5 sacks last season for UTSA and even though he didn't face the same level of competition that other top prospects have, that doesn't mean he won't make a difference at the NFL level.
He would join a Lions defense that garnered just 35 sacks last season. First-year head coach Matt Patricia takes over a unit that gave up the 12th-most points in the league a season ago, and I would be very surprised to see Detroit not take a defensive player at 20. If you're a Lions fan, it's also fun to imagine the possibility of Davenport playing alongside Ziggy Ansah off either edge for Detroit.
The Lions could conceivably take an offensive lineman with this pick, but with a defensive-minded coach put in place in the offseason, chances are the Lions will look to improve their defense. Out of the available players at this point in the proceedings, Davenport is the man they should target.
21. Cincinnati Bengals
Billy Price (C/Ohio State)
The Bengals need some serious help along their offensive line, and they have already started to shore up that unit.
The team dealt its first-round pick (12th overall) to the Bills for guard Cordy Glenn last week. Glenn missed most of last season with an injury but has been a stabilizing presence for the Bills offensive line since he was drafted in 2012. However, the team lost center Russell Bodine in free agency to, you guessed it, the Bills. Bodine, though, was not exactly part of the solution last season for Cincinnati.
Therefore, the team probably needs to draft an interior offensive lineman, and the man for the job is Ohio State's Billy Price.
This may come as a bit of a surprise with the 21st pick, and there's a very good reason why; Price partially tore his pectoral muscle on his third bench press repetition at the NFL Combine. The good news is that the tear is only minor and should not have a major effect on his draft stock, although it may scare off some teams in the latter half of the first round.
That being said, the Bengals are so desperate for offensive line help that they probably don't even care.
Andy Dalton took 40 sacks last season, and that number isn't terrible. However, Cincinnati was the second-worst rush offense in the league, and that didn't happen because of the lack of talent possessed by Giovani Bernard, Joe Mixon, and Jeremy Hill. It happened because the Bengals were porous (at best) up front and could use a major upgrade at the position. If the Bengals elect to take Price, he would slide into his natural center spot to replace Bodine and could very well represent an improvement at that position.
There is a lot to like about Price. He is an aggressive offensive lineman who often gets a fantastic jump off the snap. He is also very strong and was expected to excel at the bench press before his injury ended any chance of that happening. If that doesn't impress you, he has enough agility to move out to guard if necessary, but he's strong enough at 312 pounds to easily handle his assignment at either position.
If he becomes available with the 21st selection, he would be an easy choice for a Bengals organization that has struggled to build through the draft in recent years and still has not won a playoff game since 1991, when they defeated the Houston Oilers.