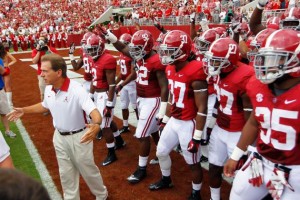 Alabama-Georgia may be, save for Notre Dame-Clemson, the biggest game of this college football weekend.  While Alabama has already endured a home loss to Ole Miss in week 3, a win today in Athens would easily put them right back in the Playoff picture.  However, another loss probably knocks them out of any possible contention for a spot in the sport's final four.  So, it would be safe to assert that this game is pretty darn big to Alabama, and maybe not so much for Georgia.
As for the Bulldogs, the game against the Tide most likely represents the biggest game of their season.  Trips to Auburn, Tennessee and Georgia Tech still remain, but if Georgia wins, they have a real chance to be undefeated going into the SEC Title Game.
And the oddsmakers like Georgia as well; they're a 2-point favorite. Which is, in simplest terms, a mistake.
This year's Alabama team is undoubtedly weaker than last year's, losing standouts such as safety Landon Collins, linebacker Trey DePriest, quarterback Blake Sims, and, most of all, wide receiver Amari Cooper and running back T.J. Yeldon.  Nick Saban, Lane Kiffin, Kirby Smart and staff have had something of a difficult time replacing these departed players, and this year's team has likely taken a step back from last year's Playoff squad.
So far, they've suffered for having this much turnover.  After a week one win over Wisconsin in Jerry World AT&T Stadium and a 37-10 victory over Middle Tennessee the week after, Ole Miss came into Bryant-Denney Stadium and, for certain long portions of the game, handed the Tide their lunch.  Alabama would end up going down 43-37 that night, and while the Rebels absolutely should have won by more than six points, this play was the difference in the game: (While watching this unhinged play never gets old, it turned out to be an enormous play when all was said and done.)
So that being said, there is both a statistical and historical argument to be made for an Alabama win on Saturday.
I found this tweet in an article by SBNation's Bill Connelly (I'll get back to that later) that, to be honest with you, kind of startled me. This is from ESPN's David Hale, on Greyson Lambert and how he handles (or doesn't handle) pressure:
Some potentially concerning stats on Greyson Lambert for #UGA fans looking ahead to Bama… pic.twitter.com/xCNur1Kb2w

— David Hale (@DavidHaleESPN) September 29, 2015
So, if Alabama's pass rush can get through to Lambert, it'll be a long day for Georgia's offense.  Of course, they may very well not get through to Lambert, and that may be an issue.  Back to that Connelly article:
It's been a while since Alabama's had an impressive pass rush. That's partially by design; Saban's and Kirby Smart's defense is based on leverage, swarming and gang tackling more than risk. But the baseline sack rate has still been lower than preferred over the last couple of seasons.

The needle seems to be pointed up. Alabama ranks 42nd in Adj. Sack Rate; the Tide aren't generating a ton of pressure on passing downs, but linemen Jonathan Allen and Da'Shawn Hand are beating linemen by themselves. They have combined for 5.5 sacks, while everybody else on the team has just 4.5.

Pressure could be vital. Alabama's secondary is still the weakest link in the defense, and Greyson Lambert has proven that, when given time, he can do devastating things. Since beginning the Vanderbilt game 0-for-7 against the Commodores' increasingly tricky defense, he has completed 44 of 49 for 592 yards.
With that, we can most likely wrap up the statistical argument right here.  Now, it's time to delve into the historical argument behind why Alabama should go into Saturday favored instead of being a two-point underdog.
Since 2012, Alabama has remarkably only lost five times.  I'm excluding 2011 because they're only loss that season was to #1 LSU in the greatest 9-6 game in college football history.  But think about that for a second; five times.  Over the course of 3+ seasons.  That's amazing.  But this historical argument is about the teams they lost to, so let's look at that.
In 2012, they lost at home to Texas A&M in large part due to the heroics of that year's Heisman Trophy winner, Johnny Manziel.  Who remembers this play?
The Tide went on to win a national title that year, overpowering Notre Dame 42-14 in Miami.  The A&M loss was their only defeat in an otherwise perfect season.  The point is, A&M's was an offense designed to spread out the opponent, something Alabama was simply not ready for.
Fast forward to 2013 and Alabama had won their first 11 games in hopes of a three-peat.  There was one, final, looming task in front of them to complete an undefeated regular season, and it came in the person of the Auburn Tigers.  While Alabama's inability to kick a field goal (and their continued attempts at doing so) played a large part in the final outcome of the game, plays like this one did too.  Here is the game tying touchdown for Auburn, a play that is as spread offense as it gets.
Their next loss would come in their next game, against yet another spread offense in the Oklahoma Sooners.  OU quarterback Trevor Knight had the game of his life, throwing for 348 yards and four touchdowns.  Alabama simply couldn't keep up, and would go on to lose 45-31.
A year later, the Tide, out for revenge after the disappointing finish to the previous season's campaign, went into their game at Ole Miss ranked as the #1 team in the land.  While their defense did better against Hugh Freeze's spread, they would go on to lose 23-17. Another spread offense had beaten the mighty Tide.
Finally, the team made the inaugural College Football Playoff as the #1 seed, despite having lost in the regular season.  Their opponent in the semifinal would be Ohio State, a team, and spread offense, on its third-string quarterback, Cardale Jones.  While Jones didn't have that great of a game statistically (18-35, 243 yards, one touchdown, one interception), the Buckeyes rushed for almost 300 yards behind Ezekiel Elliott.  It was as shocking a game as there was in college football last season, and it happened for one simple reason: Alabama could not stop Ohio State's spread look.
So what's the point in me saying all this?  Well, Georgia is not a spread offense.  While Nick Chubb has had an amazing start to his season and even elicited absurd comparisons to Herschel Walker, the offense won't be working the perimeter of the field like 2012 Texas A&M, 2013 Auburn, 2013 Oklahoma, 2014 and 2015 Ole Miss, and 2014 Ohio State were able to.  They'll be playing in the trenches, which may bode well for Bama.  And, in case you haven't figured it out, I'm predicting that the Tide will roll in Athens.
But no matter what the result of today's game is, there is one thing that needs to be certain here: it's way too early to count out Nick Saban and the Crimson Tide.