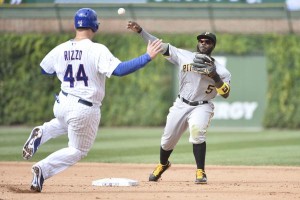 And then there were ten.  It's that time again, the time for us baseball fans to sit back and enjoy some October baseball.  It's also the time for us to pick those games correctly… or at least try to.
Last year's playoffs gave us two Wild Card teams, the Royals and Giants, playing in the World Series.  Only one team (the Orioles) that had home-field advantage in the Division Series moved on to the LCS, and no series went more than five games until the World Series, which went seven.  To be completely forthright, until the Fall Classic, the postseason was a real clunker, and if it weren't for that legendary Giants-Royals series, well, the postseason of 2014 would have lived on as one of the least competitive of recent memory.
However, it did have its moments.  This one, in my opinion, was its best, the Travis Ishikawa, modern-day "Giants Win the Pennant" home run:
But that was a year ago, and this is now.  Only four of the ten teams in last year's playoffs are back this year (Cardinals, Royals, Pirates, Dodgers).  Those teams will be accompanied by six new ones (Blue Jays, Rangers, Astros, Yankees, Mets, Cubs).  This year's playoffs are wide open, one of the most interesting Octobers in recent memory. When I called these predictions wild guesses, well, you know, they are.  But I'll try to get them right anyway.
So here they are.  I'll pick both Wild card games as well as every series, and each prediction will be accompanied by a brief explanation.  I may get all or none of these right because your guess is as good as mine when it comes to this year's postseason.
Let's get to it; we'll start on the AL side and then work our way to the National League.
AL Wild Card Game: Astros at Yankees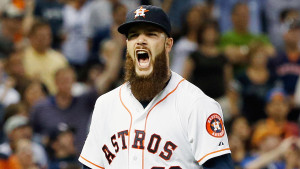 Little known fact: Brett Anderson of the Dodgers leads baseball in ground ball percentage this season (66.3%).  Take a guess who's second.
It's the Astros' Dallas Keuchel.
Keuchel just so happens to be pitching against the Yankees in the AL Wild Card game, and his ground ball-inducing tendencies just may be perfect for a one-game playoff in the ultimate hitters' park, Yankee Stadium.
Both lineups do pose threats to Keuchel and the Yankees' starter, Masahiro Tanaka.  Both teams cleared the 200 home run mark this season and are never really out of a game.  But if this one does end up being a shootout, favor Houston: the Yankees are without arguably their best home run hitter in Mark Teixiera.  Greg Bird has filled in admirably (even well) at first base but he is both a batting and fielding downgrade.  The Yanks will likely miss Tex here.
This game will likely be a decent to high-scoring affair; Tanaka has struggled recently and Keuchel has never pitched on three days' rest. While the Yankees undoubtedly have a better bullpen, they be behind and unable to get the game to Dellin Betances and Andrew Miller.
I'm taking Houston to come into Yankee Stadium, take the Wild Card game, and be on to Kansas City Thursday.
Prediction: Astros 7, Yankees 5
NL Wild Card Game: Cubs at Pirates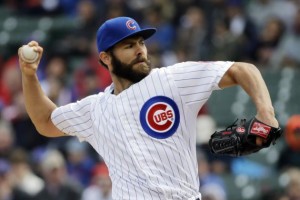 This is actually what the Wild Card game was made for.  This game will, I believe, be the best Wild Card Game since its inception in 2012. It's mainly because of the two teams in it and the pitchers they're sending out to the hill to start the game.
The Pirates will be making the safe choice and starting their ace, Gerrit Cole.  This is a no-brainer; Cole has had an excellent year and is ninth in the game among pitchers in WAR.  He leads a very good, 98-win Buccos team into battle against the Cubs on Wednesday night.
As for the Cubs, they'll be starting the man who is currently the best pitcher in the game: Jake Arrieta.
ESPN Stats and Info put together a recap of Arrieta's second half to date, and it has been historic:
Jake Arrieta has a 0.41 ERA in 12 starts since the start of August. From ELIAS: That's by far the lowest ERA from August on in a season since earned runs became official in 1913 (minimum 10 starts).

Arrieta's 236 strikeouts were a big part to the Chicago Cubs setting a new record for most strikeouts in a single season by National League team's pitchers, breaking the 2003 Cubs record of 1,404 strikeouts. Including their win against the Brewers Friday, Cubs pitchers have struck out 1,414 batters.
That's insane.
Arrieta has gone out of his mind since the All-Star break and been a big reason for the Cubs' second half surge and 97-win season.  There isn't much more to say about his performance that hasn't already been said, and the prospect of him starting in a one game playoff should have the Pirates very concerned, even with their potent lineup.
This game could have easily been the NLCS; it at least should have been a first-round series.  Instead, we'll only get one game of this.
That being said, this will be a game for the ages.  While you never know what will happen in a one-game playoff, this is why it exists. Both aces will be starting, and this one won't disappoint.
As for a prediction, well, it's difficult.  While I chose the Pirates to come out of the NL in April, with Jake Arrieta's recent dominance, it's hard to think the Bucs' lineup will be able to do serious damage against him.  In a close one and an all-time classic, the Cubs win in extras.
Prediction: Cubs 2, Pirates 1
What's right?  What's wrong?  Let me know in the comments section and, more importantly, enjoy the baseball this month!