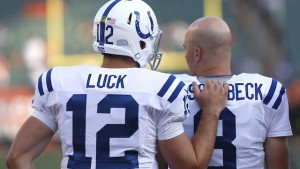 On the very surface, this would seem like a ridiculous discourse to engage in.  Luck is one of the best quarterbacks in the league and has reached the Pro Bowl in each of his first three seasons in the NFL. He's arguably carried the Indianapolis Colts on his shoulders every year since he was drafted, and his team would not have gotten as far as it did without his leadership and play at the position.
On the other hand, his backup Matt Hasselbeck has also reached three Pro Bowls… but he's in his 17th season.  He hasn't been a regular starter on an NFL team since 2012 and has been Luck's backup since '13.  He's 40 now, and this may be his final season.  An accomplished career that started with him backing up Brett Favre in Green Bay will end with him backing up Andrew Luck in Indy… or will it?
Luck was ruled out of the team's week 4 game against Jacksonville with a shoulder injury, and, with the team playing on Thursday night against Houston, he had little time to recover and missed that game as well (the NFL should scrap TNF, but that's for another time).  In the meantime, Hasselbeck has filled in, and while he has played two inferior opponents, the Colts have won both games.
And, in a much more troubling development, Hasselbeck has outplayed Andrew Luck.
This isn't an opinion, it's a fact.  And the numbers back it up:
This season: Andrew Luck's 1st 2 games: 493 Yds, 3 TD, 5 Int Matt Hasselbeck's 1st 2 games: 495 Yds, 5 TD, 0 Int pic.twitter.com/Bp4w06kir0

— SportsCenter (@SportsCenter) October 9, 2015
I would call this a minor issue, but that wouldn't give this conundrum justice.  Hasselbeck has clearly played better, but Luck is clearly the Colts' franchise quarterback; he has to play, right?  But even when Luck comes back, the team will still have plenty of issues to sort out.
Such as this one: they've been playing really bad football.  While they're 3-2 and obviously in the driver's seat in the AFC South, they basically got hammered by the Bills and Jets in the first two weeks of the season.  In each of the past three weeks, they've been taken deep into games in the last three weeks by the Titans (with Luck), Jaguars, and Texans (the last two with Hasselbeck).
Are they going to make the playoffs?  Of course they are, for the simple reason of the three teams they've beaten over the last three weeks.  But, as Gary Davenport of Bleacher Report writes, once they get there, they may not do very much:
But the next few weeks, as the Colts begin to face opponents that aren't covered in frosting, are going to serve as an excellent barometer for what will happen in those playoffs—for what's going to happen when that erratic offense and nonexistent defense have to square off against the AFC's best.

And if the first five weeks of the 2015 season are any indication, the same thing is going to happen that happened to the Colts in Weeks 1 and 2.

They're going to get pounded.
Well, yeah.  They are going to get pounded.  If the Buffalo and New York games are any indication, they will be unequipped to handle even fringe playoff teams.  They have myriad issues, but this is where they start: their defense, or lack thereof.
This is how the first five offenses the Colts have faced have faired against them, with the quarterbacks of those teams in parentheses.  It isn't too pretty:
Buffalo Bills (Tyrod Taylor): 342 yards
New York Jets (Ryan Fitzpatrick): 344 yards
Tennessee Titans (Marcus Mariota): 433 yards
Jacksonville Jaguars (Blake Bortles): 431 yards
Houston Texans (Ryan Mallett/Brian Hoyer): 444 yards
That isn't good, but the problem gets magnified when you consider the quarterbacks the Colts will be facing the next three weeks: Tom Brady, Drew Brees, and Cam Newton.  Based on prior results, there's little reason to think that Indy can do anything to stop them.
Another problem of theirs?  Their new playmakers, and how they haven't performed.  The team added running back Frank Gore and wide receiver Andre Johnson through free agency this past offseason; couple that with the addition of wide receiver Philip Dorsett through the draft and you should get a very dangerous looking assortment of offensive weapons.  Of course, through five games, that hasn't exactly been the case.
Johnson has 13 catches for 128 yards and two touchdowns.  These numbers should be taken with a grain of salt, however; 77 of those yards came and six of the receptions came in the win against Houston, and in the two games before that, Johnson had approximately zero catches.  Both of his touchdowns came against his former team, and he has been rather inconsistent so far this season.
Gore has been okay to decent in his first year away from San Francisco, but he too has been inconsistent.  He's come alive recently, with games of 86 and 98 yards coming within the last three weeks. Wedged in between, though, is a 53-yard game against Jacksonville, and before the Tennessee game, 31 and 57-yard performances against the Bills and Jets.  He's also lost two fumbles so far this season, which is just another thing to worry as the Colts go forward.
And as for Dorsett, he only has eight catches through the first five weeks, more or less acting as a non-factor.  He hasn't caught for more than 45 in any game this year and only has one touchdown; to call him a disappointment to this point would be a colossal understatement.
This is the heart of the matter: there is an unfathomable number of issues with the latest version of the Indianapolis Colts.  Coach Chuck Pagano is on one of the hottest seats in the NFL (not right, but that's just the way it is) and his team has struggled mightily to a 3-2 start. The team will make the playoffs and win the division, but this will occur only because of the teams that comprise the remainder of the AFC South.
The colts should be thankful to be sitting at 3-2; they could be 0-5.  But they should also realize that they are a deeply flawed team.
A deeply flawed team that also happens to have issues with its quarterback(s).