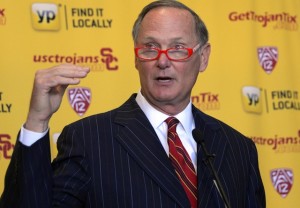 Former USC and NFL quarterback Pat Haden took over the Trojans' Athletic Director gig from Mike Garrett on August 3, 2010.  He was walking into an unenviable situation, as the USC football program had been sanctioned by the NCAA in June with a two year bowl ban and the loss of 30 scholarships.  Pete Carroll, the team's head coach, had left that year to coach for the Seahawks, and Garrett led the coaching search that yielded the unabated disaster that would become the Lane Kiffin era.
And yet, in light of recent events, the time has come to ask whether USC should retain Haden as their AD.
Kiffin's 2010 and 2011 seasons were very successful, and the team even won 10 games in Kiffin's second year in Los Angeles.  But things started to go downhill with an incredibly disappointing 7-6 2012 and a rough, albeit 3-1, start to 2013 that included a home loss to Washington State.  And when the Trojans traveled to Tempe to play Arizona State, everything unraveled.
After trailing 20-14 at halftime, the Trojans gave up 28 points in the third quarter, and the game was blown open.  According to all accounts, Haden met with USC brass in the third quarter of that game and decided to fire Kiffin after the game.  And he wasted no time, either: he notified Lane that he would be fired in the terminal at LAx; did I mention that this all happened at 3 A.M. PT?  That was Haden's first mistake; not firing Kiffin, but rather doing so in the manner he did.
After this, Ed Orgeron would take over and get the Trojans program revitalized and nationally potent again.  Before that Orgeron was famous for two things: being Ole Miss' head coach from 2005-2007 and Michael Oher's college coach in The Blind Side (and real life). That was his only stint as a Division I head coach, and he was a grand total of three conference games in as many years with the program.  It didn't seem like the move would work out.
Of course, it did.  Orgeron had his team playing hard and winning games again.  The USC program was back, and Orgeron's brief stint as USC head coach culminated in a stunning home win over #4 Stanford on November 16.
It seemed like Orgeron would have the job for good after going 6-2 to finish the season, but a loss to cross-town rival UCLA in the final week sealed his fate.  Haden and the USC Athletic Department opted to go in a different direction. They decided that, instead of keeping Orgeron, it would be better to hire then-Washington head coach Steve Sarkisian. The Orgeron era was over, and he resigned once he was passed over for the head coaching job.
How would an Orgeron regime have fared in the ever-copmetitve Pac-12? No one knows, but Bleacher Report's Adam Kramer wrote about what could have been Monday:
Having failed at Ole Miss, many assumed Orgeron was not equipped to handle a job of such magnitude over the long haul. But everything aligned. He was different. The program was different. And, perhaps most importantly, he had the unwavering support of his players, many of whom he could still be coaching. The true value of this could have snowballed into something grand.

How grand is a question that will never be answered. At the bare minimum, it would have been much, much different.

Picking a head coach is an inexact science, to say the least. It's a process that fails far more often than it succeeds. In many interim instances, athletic directors and administrations would much rather test drive a current regime without a financial penalty attached and decide six months later whether they want to proceed.

That, however, is not the way this profession works. Well, in most cases.
Choosing Sarkisian over Orgeron seemed, at the time, like the right decision.  Of course, hindsight is 20/20, and now we can confidently say it wasn't.
Ironically enough, the Sarkisian epoch at USC got off to a really strange start.  In a game at Stanford on September 6, 2014, Sarkisian had grown rather unhappy with some calls that had not gone his team's way.  Instead of simply complaining to the referees about it, he decided to go the extra mile and actually text Haden from his cell phone and ask him to come down to the sidelines.
The best part is, Haden acted like receiving a text message from the head coach to come to the sidelines and argue with referees was a completely normal, weekly occurrence.  For example, can you imagine if Carroll had texted Seahawks' GM John Schneider before the last play of the Super Bowl last year, asking him what play to run? I'm not 100% sure how that would have turned out, but my guess would be Schneider would have said, "Run it", and the Seahawks would have won back to back Super Bowls.  But that didn't happen.
Anyway, the team went 8-4 in the 2014 regular season, winning the 2014 Holiday Bowl over Nebraska.  Going into 2015, the thought around college football was that USC might have its most talented roster since the days of Pete and a chance to compete for a national championship.  After two wins to start the season, things got off the rails with a home 41-31 loss to Stanford in Week 3 and an ugly Week 5, Thursday night 17-12 loss to Washington.
And then the real trouble came.
We all found out about it on Sunday afternoon, with this report from Fox Sports' Bruce Feldman:
Am told by multiple sources Steve Sarkisian showed up in no condition to work today & #USC brass knows he needs serious help.

— Bruce Feldman (@BruceFeldmanCFB) October 11, 2015
Sarkisian's drinking has been somewhat well publicized in the past. While it really hasn't come into focus until this season, Sunday isn't the first occurrence of his drinking getting in the way of his work.
Earlier this year, the University held a Salute to Troy event for alumni and donors to kick off the season.  Sarkisian was at the event, but he really wasn't all there.  While I couldn't find a full video of the speech, this is the important part, in which he is clearly intoxicated, slurs his words, and drops an f-bomb:
Sarkisian would be fired by USC on Monday, and replaced by offensive coordinator Clay Helton for the rest of the regular season.
Before wrapping up this article, I'd like to take a moment to digress and say that I hope Coach Sark can get the help he needs.  Addiction is a very difficult disease to overcome; here's to hoping we see Sark on the good side of this when all is said and done.
Going back to Haden; this is where USC is now.  Their football program is in disarray, and at least part of that needs to be put on the shoulders of the athletic director.  The Salute to Troy episode just maybe should have been a sign that the football coach was in dire need of help; after all, his drinking problem dates back well before he was the head football coach at USC.  That ugly night should have been a sign of trouble, but instead, Haden pressed forward with what turned out to be a disastrous hire.
Oh, and I haven't even mentioned the fact that the basketball program has not won an NCAA Tournament game since he took over as AD.  His straight outta Dunk City hire of Andy Enfield has gone 23-41 in two seasons, and probably needs to turn the program around in the next year or two if he hopes to have long-term success at the school.
But, going back to football, Haden kind of, sort of, maybe got the Trojans into this mess, with the hire of Sarkisian and the rejection of Orgeron.  Now, he has to get them out of it with his next hire.
As far as I'm concerned, he's lucky he even has one.