This year's MLB Division Series were some of the most competitive in recent memory.  Three went to the maximum five games and one went to four games; there were no sweeps.  Perhaps most remarkable about the first round's results, however, are the teams that are left remaining and their histories in the playoffs (or lack thereof); the four teams remaining (Blue Jays, Royals, Cubs, Mets) have a grand total of seven World Series titles between them, and the most recent championship from any one of those teams came when the Blue Jays went back to back in 1992 and 1993.  Joe Carter hit this walk-off home run in game 6 of the '93 Fall Classic to secure the Jays' second straight title.
Anyhow, those are, remarkably, baseball's final four in 2015.
Below will be my predictions for both League Championship Series.  I will break down each team's chances of winning their respective series.  I will limit the predictions to just the LCS and will not expand them to my hypothetical World Series; that might be a separate article once we reach that point.
Now, without further ado, let's get things going and start by breaking down the ALCS.
ALCS: Blue Jays vs. Royals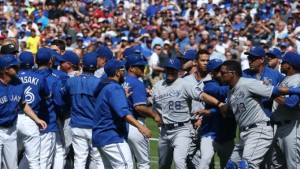 As you can probably tell by the above photo, the Kansas City Royals and Toronto Blue Jays really don't like each other.  They had a fun little bench-clearing brawl on August 2, and you can expect the mindsets of both teams to remain unchanged.
While the games may be more tightly legislated by the umpires and more chippy between the lines, the boiling emotions between the two teams really shouldn't have an actual effect on the games themselves.
So how will those games play out?  To start, the Blue Jays led the league in both home runs and runs scored in the regular season. Their two, three, and four hitters (Josh Donaldson, Jose Bautista, Edwin Encarnacion) combined for 120 of the team's 232 home runs, but home run threats exist throughout the lineup in the forms of Kevin Pillar, Russell Martin, Chris Colabello, and Troy Tulowitzki.  The team is the Golden State Warriors of baseball: never out of a game, no matter how out of hand it might seem.
But this is also of importance: they may potentially be playing four games in a stadium that just isn't conducive to home run hitting. Kauffman Stadium ranks 25th in home runs in ESPN's park factors, which makes the task of scoring runs off Kansas City's talented pitching staff, and particularly their lights-out bullpen, that much more difficult.  Also, the K's bigness has to directly benefit the Royals' offense against a Blue Jay pitching staff that has the fourth lowest K/9 in the league (6.98).  The Royals' lineup, on the other hand, strikes out at the least often rate in baseball (15.9%).
Statistics, and home field advantage, obviously favor the Royals. What favors the Blue Jays is… pure talent.  Having a threat at just about every position in the lineup is something that is very difficult to beat, even with the Royals' own talent and prior experience.  Don't underestimate the Jays' pitching staff, either, as David Price, Marco Estrada, Marcus Stroman and R.A. Dickey aren't too bad themselves. The Jays' bullpen has improved as well, as set-up man Aaron Sanchez and 20-year-old phenom closer Roberto Osuna have both pitched very effectively; Sanchez appeared in every game of the Blue Jays' five-game ALDS victory over the Texas Rangers.
This is a rather close series, one that I think may be decided by a handful of plays.  But, I give a slight advantage to the Blue Jays, mainly based on their talent. Bat flips not withstanding, obviously.
Prediction: Blue Jays in 6
NLCS: Cubs vs. Mets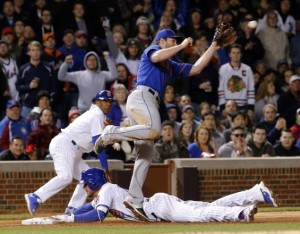 This series, much like its American League counterpart, is all sorts of interesting.  Basically, how this series will be decided really is not rocket science at all: the matchup that will dictate the series will be the Cubs' young hitting against the Mets' young pitching.  The two teams played seven times in the regular season; the Cubs won all seven games.  In fairness, however, all of those games came before the Mets' wild trade deadline, one that got them Yoenis Cespedes, Kelly Johnson, Tyler Clippard, and Juan Uribe, to name a few.
We know New York will be starting young guns Jacob deGrom, Noah Syndergaard, Matt Harvey, and Steven Matz.  We also know that the Cubs will be running out their young hitters, such as Kris Bryant, Kyle Schwarber and Jorge Soler.  They also have MVP candidate Anthony Rizzo and Starlin Castro (who should receive all the credit on the planet for his second half performance after being moved from shortstop to second base).  The reason Castro is playing second base, however, will not be playing.
Addison Russell will be out for the NLCS with a hamstring injury. This may seem like a big blow considering how Russell has played this season, especially defensively.  Of course, it really isn't, if Javy Baez's brief performance against the Cardinals in the NLDS is any indication.  Over two games, Baez went 4-5 with a home run and three RBI.  He obviously won't keep that up, but if he can continue to be productive, the rest of the Cubs' already potent lineup will benefit from it.
As for the matchup of Cubs pitching versus Met hitting, well, that's difficult to call as well.  The Mets like to hit home runs; even with their early season offensive atrociousness, they still somehow rank eighth in the league in homers.  And how will the Cubs counter that, you ask?  Simple: Jake Arrieta.  Arrieta may win the Cy Young this season and carried the pitching staff when Jon Lester and others struggled.  If the Cubs win the series, he'll be one of the main reasons, most likely, serving as a reminder of just how important pitching is this time of year.
Of course, the Mets have pitching, too.  Completely opposite of the Royals' approach, the Cubbies strike out.  And strike out.  And strike out some more.  Their hitting leads the league in strikeout percentage (24.5%), and the Mets pitching is a solid ninth in K/9 (8.23); it should be mentioned that this number was weighed down by regular starters Jon Niese and Bartolo Colon, both of whom nurse a rather low strikeout rate.
Who wins out?  It's difficult to guess.  Both teams have their aces, but I like the Cubs' lineup just a bit better and, of course, they have Jake Arrieta (and a very good bullpen, by the way).  It's a tough series to call, but I'll go with the Cubs by a very slight margin.
Prediction: Cubs in 7