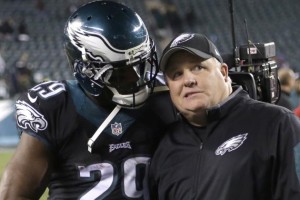 This probably won't be a terribly long article; the NFC East doesn't really deserve all that much of our time.
Currently, predicting the winner of the NFC East is essentially a week-to-week proposition.  Last week and the three weeks before that, one would have to go with the unimpressive New York Giants, who were coming off a last-minute 30-27 victory over the hapless San Francisco 49ers.  For the first week or two of the season, the clear-cut favorite was the Dallas Cowboys; of course, as the NFL goes, centerpieces Dez Bryant and Tony Romo went down, each for several weeks.  Since Romo sustained a collarbone injury in week 2 against the Eagles, the Cowboys haven't won; in fact, they descended deeper into quarterback purgatory, as Brandon Weeden's struggles necessitated a change to newly-acquired backup quarterback Matt Cassel.
The aforementioned Giants, who are likely still the best team in the division, could easily be 5-1 as we discuss this subject right now. Obviously, critical clock management failures against Dallas and Atlanta sunk them in their first two games; without these shortcomings, we would definitely be talking about the Giants in the same breath as the best teams in the NFL right now, even though we really shouldn't fall into this trap.
As for the Philadelphia Eagles, no words can actually describe what they have done in the opening six weeks.  In the first two weeks of the season, they lost 26-24 to the Falcons and 20-10 to Dallas; in six out of the eight quarters of those games, they were absolutely nuked, getting outscored 40-13 with the exception of the second half of the Atlanta game.  After that, save for a loss to Washington in week 4, they've won every single game.  But they're still a mess; prized running back acquisition DeMarco Murray has been the second best running back…. on his own team.  New quarterback Sam Bradford has thrown as many touchdowns as interceptions (nine each).  The way the Eangles have won is clearly an unsustainable way to win games in the National Football League.
Lost in this whole mess, unbelievably, are the oft-discussed Washington Redskins.  They also made a quarterback change going into the season, tabbing Kirk Cousins to depose incumbent quarterback Robert Griffin III.  Cousins has also played very poorly, throwing for just six touchdowns and eight picks.  While the team is at a respectable 2-4 with two losses being decided by a touchdown each, they're likely going nowhere… again.
The Eagles, in case you were wondering, somehow, some way, lead the NFC East.  They're 3-3 (and a really bad 3-3 at that) with wins against the Giants, Jets and Saints.  While the wins against the Giants and Jets are technically good, they played both of those teams on "trap weeks"; meaning, those teams didn't necessarily play their best games against Philly.  They have won two in a row, which has been critical after the loss to the Redskins dropped them to 1-3.
What are we to take away from this?  Nothing, really.  The division is still terrible, and we're only six games into the season.  Somehow, this division is so terrible that it may actually rival the futility of the AFC South, which has the Texans, Jaguars, and Titans.  That's saying something really significant.  Then again, no teams in that division have positive point differentials, and the East has two teams of this kind (Giants and Eagles).
Bleacher Report's Mike Tanier addressed the subject I am writing about yesterday:
"A win's a win," Sam Bradford said after the game. "We're taking things week by week, and our goal was to get out of here with a win, and that's what we did tonight."

The first-place Eagles still talk like a team in crisis mode, even after back-to-back lopsided victories. And no wonder: They are just two weeks removed from speculation that their head coach would take the first train out of Philly headed for Attractive College Opportunity to Be Determined Later. And their offense still doesn't really have its act together.
Futility comes in all shapes and sizes, but this example of futility just feels special.  This division was actually supposed to be interesting going into the season, but injury and underachievement have forced it into easily becoming the worst division in at least the NFC.
Like the NFC South a year ago, this division really will be won by an 8-8 squad.  The best team in this division is probably still the Giants; even though the Eagles, and particularly their defense, have looked greatly improved recently, they still have many problems to sort out.  If they don't figure out these problems quickly, it will probably be difficult for them to stay in playoff contention, even in this division.
Even in this division, one that is so remarkably terrible.