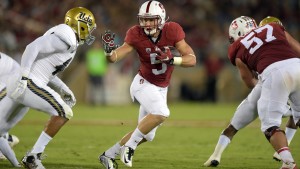 Since 1988, former Oklahoma State running back Barry Sanders held the record for all-purpose yards with 3,250.  In just 11 games, it was one of the most unbelievable records ever held in college football or any other sport, for that matter, and it was one of the few records that looked as if it might never be broken.  That unbeatable record was smashed last weekend.
It was broken by none other than Stanford running back Christian McCaffrey.
Before we go any further, McCaffrey broke the record in 13 games as opposed to Sanders' 11.  He also had 413 touches against Sanders' 394. But forget all of that: he broke of the longer-standing and harder-to-break records in sports, and there should be something to show for that.  But will that thing be a Heisman Trophy?
McCaffrey will be in New York on Saturday night as one of three Heisman finalists, along with Alabama running back Derrick Henry and Clemson quarterback DeShaun Watson.  According to OddsShark, Henry is the overwhelming favorite to win the trophy, with McCaffrey far behind and Watson even further off the pace, and many prognosticators think he is going to win the award.  I think he's going to win it.  It is almost a foregone conclusion that he is going to be the Heisman Trophy winner in 2015, but should he be?  According to statistics, the answer is no.
For starters, McCaffrey obviously has more all-purpose yards than anyone else in the field (all-purpose encapsulates rushing, receiving, and punt and kick return yardage).  With that out of the way, he still deserves the Heisman over Henry.
There are plenty of reasons why he should win the Heisman, but the main one is that we, as college football fans, have just never seen anyone have such a great season in the sport in a long, long time. While the seasons of Henry and Watson have been incredible in their own right and would be worthy of winning the award in almost any other season, McCaffrey's season has not just been really good; it's been historic.  It has transcended the usual year-to-year performances that are rewarded with trips to Gotham; this is a performance that should be rewarded with acclaim for decades to come.  This was one of the greatest seasons ever, and it should be rewarded with a Heisman.
One of the reasons, however, that McCaffrey will likely fall short of winning the sport's greatest individual honor is because of team performance.  Out of the three teams of finalists for the trophy, McCaffrey's Cardinal are the only one not represented in this year's College Football Playoff.  The reason is two losses, one in September to Northwestern and the other in November to the team's biggest rival, Oregon.  McCaffrey only struggled in the Northwestern game (he only rushed for 66 yards) but even in a game in which he supposedly faltered, he still had 171 all-purpose yards.  In the Oregon game, he had 244 all-purpose yards.  No blame can be laid there, and it really wasn't his fault that Stanford lost either game.
As for Henry, he was able to amass 166 rushing and receiving yards in Alabama's one loss to Ole Miss.  Watson did not lose, so it's impossible to see what he would do with his team on the losing end. Here's the thing, though: McCaffrey is impossible to stop.  If a defense holds down one area of his game, it quite possibly opens up another. He can't be held down, and the best defenses can hope to do is contain him.  Or, a defense could do what USC did and stop no areas of his game.  He's one of the most tantalizing players the game has seen recently, and it's just difficult to completely shut him down.
That's not to say, of course, that it's easy to contain Henry, but if a defense is somehow able to take away his inside running game and not let him get the edge for big plays, he can be contained.  He's not really going to kill you out of the backfield as a receiver or as a return man.  McCaffrey can do literally everything for the Cardinal offense, and he's the main reason the team has gone from 72nd to 27th in total offense in FBS this season.  He's the main reason; there aren't any others.  Alabama's team offense was 9th in major college football last season, and it's 34th this season.  To be fair, the offense lost wideout Amari Cooper and quarterback Blake Sims, but Henry has not been able to carry the offense the way McCaffrey has.
This is the statistical argument behind Christian McCaffrey's Heisman candidacy.  Here's another argument: while I'm sure this is true of most other great players, his teammates absolutely love him.  Here's video of him being announced as a Heisman candidate, as well as his teammates going absolutely ape:
The moment you find out you're a #Heisman finalist. #WildCaffhttps://t.co/CNZwxYJ2VE

— Stanford Athletics (@GoStanford) December 8, 2015
That's really cool.  That shows you just how much his teammates want this for him, and how much they appreciate how he's carried the team over the course of the season as well.
So while other candidates will get more consideration and are deserving of attention, there's one man who should be the surefire winner of the 2015 Heisman Trophy.  He won't be, but hopefully we can remember in the future just how great he was this season.
That man is none other than Christian McCaffrey.