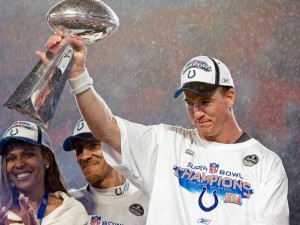 How will you remember Peyton Manning?
There are many answers to this question; that's the point.  Will you remember him for his tenure with the Indianapolis Colts, one in which he shattered the record for touchdowns in a single season with 49 in 2004 and won Super Bowl XLI?  Will you remember Manning for his days with the Denver Broncos, the ones in which he broke the single-season touchdown record…. again, and won Super Bowl 50?
Will you remember Peyton for the commercials?  Yes, those commercials.  The ones for MasterCard, Gatorade, Papa John's, Nationwide (Chicken Parm, you taste so good….), among others.  The ones that made us talk about Manning in a completely different light, not only as star quarterback but also as pitchman, funnyman, everyman.
But, as we speak about looking at Peyton in a different light, will you look at him differently because of a Title IX lawsuit against his alma mater, Tennessee, in which Manning is mentioned for improper behavior toward a trainer and then conducting a smear campaign against her and her family to impugn her name?  Would that change your opinion of him, if the allegations are true?
Will your remember Manning for his regular season successes or his playoff losses?  His broken records or ultimate January failures?  His nice-guy reputation or the allegations of sexual harassment and steroid use?
That's the problem with Peyton Manning's legacy; it's complicated.  It isn't clear-cut.  It leaves a lot of questions unanswered.  And because of this, the opinions of Manning and his career accomplishments run a very wide spectrum; one only has to look here and here to see that wide range of opinions.
If you're of the belief that statistics and production are the two most important things for a quarterback, you would say that Peyton may be the best quarterback ever.  If you believe that playoff wins is the be-all, end-all of a starting quarterback's career, then Peyton wouldn't even be in your top five.  The general opinion of him, in some ways, is even more scattered than that of Tom Brady, and he may be one of the most polarizing athletes in sports.
And while he is polarizing, he did get to go out (mostly) on top with a win over the Panthers in Super Bowl 50.  While he played absolutely no part in the victory other than to not turn the ball over, he did win the game.  The defining moment of the postgame celebration, in the minds of many, was who Manning first greeted after the big win:
So, this is the summary of events on that night: Peyton wins a Super Bowl after many previous playoff disappointments, plays basically no part in the victory, then gives a celebratory hug and kiss to…. Papa John?  The entire sequence is the dream of both Manning haters and Manning lovers alike.  Why?  Because many fans and pundits value different qualities in quarterbacks.  While some reviewed that sequence of events and wondered why it was Papa John receiving the greeting instead of a teammate or family member, others saw that occur and thought of it as little to nothing; lots of players have endorsement deals, Peyton just has more than everyone else.
The pro-Peyton crowd would have just said that the haters are gonna hate and that in the moments after winning the Super Bowl, he could do whatever he wanted.
But, he isn't going out on top like others in sports have.  When John Elway, Michael Jordan, Ray Bourque, and Ray Lewis went out with their championships, their names were clean of any allegations of cheating or misconduct.  Yes, Lewis almost went to jail for murder and had that whole deer antler spray thing before his final game, but public opinion of him at the end of his career was probably better than that of Peyton.
The allegations, both of sexual assault and HGH usage, put a damper on the retirement of one of the greats to play the game.  However, that didn't mean he couldn't give a great retirement speech.  That's what he did today… for the most part.
While Manning's farewell was rife with emotion, full of heart, raw, honest, and real, he did have to face questions after it was over.  Most, honestly, were of the softball variety (i.e.: tell us about that time you flipped off Gary Kubiak) until USA Today's Lindsay Jones got her crack at the future Hall of Famer.  She asked him about the allegations, brought about by Dr. Jamie Naughright, the former Tennessee trainer, in the aforementioned Title IX lawsuit.  This was the end of his response:
Quoting Forrest Gump, which is appropriate at almost any other time in one's life, was not appropriate at that particular time.  The allegations are serious, and while the reporting of New York Daily News justice reporter Shaun King is more than a little flawed and far too personal, Manning must answer to questions about the lawsuit with utmost seriousness and respect.
In any event, Jones tweeted out a brief explanation of why she asked Manning the question.  It's more than justified:
Manning deserved a chance to respond to what everyone has been saying about him for the last month. I had to ask.

— Lindsay Jones (@bylindsayhjones) March 7, 2016
She absolutely had to ask.  To be very frank, I'm happy she did.  In an event where reporters and VIP guests wanted to venerate Peyton, Jones decided to be the one person in the room who had the guts to ask one of the questions that should be on everyone's mind.  While her Twitter mentions are exploding, and not in a good way (even she admits this), she did her job and should be applauded for that.
But, in getting back to Manning, his legacy, with the allegations, endorsements, wins, losses, and records, is incredibly complicated. Part of it is still unwritten, with verdicts forthcoming in the courts of justice and public opinion.  No matter what he does next with his life, though, we'll still keep talking about him, for better or worse.
And maybe, just maybe, that is the ultimate legacy of Peyton Manning.