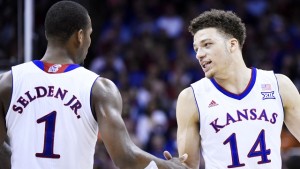 If you think that there won't be madness this March, I would politely disagree with you.
The field is wide open.  The teams are almost inseparable.  And the action is going to be gripping.
I filled out my bracket Sunday night; I'll reveal my picks for each game in the South Region here along with explanations for each one.
First, if you haven't seen them already, here are the teams and matchups for this region:
(1) Kansas vs. (16) Austin Peay
(2) Villanova vs. (15) UNC-Asheville
(3) Miami (FL) vs. (14) Buffalo
(4) California vs. (13) Hawaii
(5) Maryland vs. (12) South Dakota State
(6) Arizona vs. (11) Vanderbilt/Wichita State (play-in game)
(7) Iowa vs. (10) Temple
(8) Colorado vs. (9) Connecticut
I'm going to sort the preview into three categories: no-brainers, upsets,  judgment calls, and problematic picks.  This is my official preview for the South Region of the NCAA Tournament.
No-Brainers
(1) Kansas over (16) Austin Peay
Kansas is arguably the best team in the Field of 68, making its way through the Big 12 Tournament with relative ease.  The most memorable moment of the week, however, had to be Wayne Selden's uncle, Flava Flav Anthony, absolutely losing his cookies after his nephew's dunk on the Baylor Bears:
But, more than anything, Kansas has established itself as the team to beat in the bracket.  They're deep, well-rounded, and do almost everything well.
The Governors of Austin Peay, on the other hand, probably should have gone to a play-in game in Dayton.  They aren't, and while they could have given a lower-end one seed a semi-competitive game, this isn't a lower-end one seed.  There won't be a mercy rule in this game; there might as well be.
(2) Villanova over (15) UNC-Asheville
Villanova's disappointments in past NCAA Tournaments will likely follow them into this one as well.  These letdowns will leave them alone in the first round, though, as the Wildcats and their top-20 defense should easily overwhelm the Bulldogs.  While UNC-Asheville could stay with the Wildcats on the glass, there won't be a 15-2 upset in this region.
(Note: that's it for the no-brainers.  That was fast, no?)
Problematic Picks
(5) Maryland over (12) South Dakota State
On the surface, this one shouldn't look problematic; the Terrapins are playing as well as they have all season and the Jackrabbits were probably overseeded.  Look closer, however, and you'll find that even though the Terps blow South Dakota State away on paper, the play on the court may tell a different story.
Maryland is, quite simply, the most maddening team in college basketball.  When they're good, they can beat anyone in the country. When they're bad, it's ugly.  The team's bad was back-to-back losses to Wisconsin and Maryland in February, a loss to Michigan in January and countless other close wins.  If Maryland struggles, look out for a Jackrabbit team that can pound Maryland on the glass.
(4) California over (13) Hawaii
The Rainbow Warriors won't be in the dance next year because of NCAA violations committed by a former assistant; none of the violations involved any players on next year's team, but whatever. California should win this game, but it'll be close.
Hawaii is a top-40 team in assists and averages a full three more helpers per game than the Golden Bears.  California should be able to bang the Rainbow Warriors (that's an amazing team name) around on the glass, but will the Golden Bears be a deer in the NCAA Tournament headlights?  Time will tell, but it's definitely possible that this could happen.  If it does, California will be out very early.
Judgment Calls
(7) Iowa over (10) Temple
I have almost no opinion of this game.  Iowa can stroke it from downtown (over 38%) but has lost six of its last eight games to head into the Tournament as the coldest team in college basketball.  Temple was a bubble team that hangs its hat on its defense and is tied for first in the nation in turnovers per game (9.2).  This could really go either way, but I took the better perimeter and passing team in the Hawkeyes.  This one is a true flip of a coin.
(8) Colorado over (9) Connecticut
I like the Buffs and their physicality over the guard play and never-say-die nature of the Huskies.  This one will come down to the battle on the glass: if the Huskies can hold their own, then they'll probably be the ones to take on Kansas in a second round matchup.  If Colorado has its way (meaning: knocks around UConn), then it's game over for Kevin Ollie's team.
And now for the best part….
Upsets
(11) Vanderbilt/Wichita State over (6) Arizona
Yes, the play-in game and the uncertainty of who will come out of it can absolutely be off-putting when trying to pick an upset in your bracket.  That being said, I truly believe either one of these teams can and would beat Arizona in a first round game.
Wichita State, on one hand, has the best defense in the country, takes care of the ball, and has major tournament experience in senior guards Fred VanVleet and Ron Baker, or, as Aaron Harrison refers to him, the bad, bad boy.  Vanderbilt, on the other hand, is one of the few teams in the tournament that can match the Wildcats' rebounding physicality.  Arizona is a young, albeit experienced, squad.  But beating either one of these teams will be a very tall task.
(14) Buffalo over (3) Miami (fL)
Buffalo's biggest weakness as a team is their three-point shooting; that being said, they're getting hot at the right time, having shot almost 44% from deep in their conference tournament.  And, to boot, they match up really well with this Miami team.
The Hurricanes, even will all their experience, could get hammered on the glass and on the break.  As a team that only uses 68 possessions per game, Miami will have to dictate the tempo to a Bulls team that uses almost 75 possessions per game.  The pace will dictate the game; if it's slow, Miami wins.  If it's fast, Buffalo wins (probably).  I'll take the chance that the pace is fast and pick the Bulls to shake up the South Region.
Now that we're out of the first round, I'll provide shorter explanations for each of the projected matchups.  My reasoning for this is that if my bracket history is any indication, few if none of these matchups will actually happen.
Round of 32
(1) Kansas over (8) Colorado
The Buffaloes and their size hang around for most of this one but the Jayhawks pull away late on the strength of their guards.
(5) Maryland Over (4) California
Likely the most interesting first-weekend matchup in the South, I'll take the experience of Maryland over the rebounding, raw talent, and youth of the Golden Bears.
(11) Vanderbilt/Wichita state over (14) Buffalo
The winner of the Vanderbilt/Wichita State game plays the role of 2014 Tennessee and 2015 UCLA as 11 seeds to beat 14 seeds.  Don't count Buffalo out of this one, either.
(2) Villanova over (7) Iowa
Iowa doesn't last very long after their win over Temple.  Nova takes this, and by a pretty wide margin, too.
Sweet 16
(1) Kansas over (5) Maryland
Maryland has the ability and the guard play to win this one.  This should be one of the best games this region has to offer if it comes to fruition.  The main matchup to watch would have to be Maryland guard Melo Trimble against Kansas guard Frank Mason III.  If Trimble and Duke transfer Rasheed Sulaimon win the guard battle over Mason, Wayne Selden, and Devonte' Graham, the Terps could play spoiler.  If not, it'll be another win for the Jayhawks.
(2) Villanova over (11) Vanderbilt/Wichita State
This is where the run ends for the winner of the Vanderbilt-Wichita State play-in game.  This does not necessarily mean that Villanova is an Elite 8-caliber team; all it means is that the rest of the region isn't that good outside of Kansas.  But let's stop raining on the Wildcats' parade as they advance to the Elite 8.
Elite 8 (Regional Final)
(1) Kansas over (2) Villanova
This one really isn't all that hard.  The Jayhawks are already one of the best teams in the country and, frankly, they got an easy draw in the South Region.  Kansas will take care of business against Nova to cut down the nets and go to Houston to play in the Final Four.
NOTE: post was published before Wichita State's defeat of Vanderbilt in the First Four.