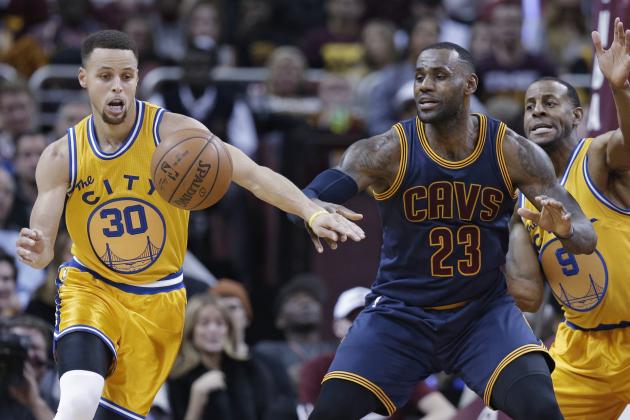 After four games of the Conference Finals, the respective fates of the Golden State Warriors and Cleveland Cavaliers were greatly in question.
Both teams experienced unexpected outcomes; the Cavs split the first four games of their series against the Toronto Raptors, including two losses in Canada, while the Warriors fell behind three games to one to the Oklahoma City Thunder.  Both teams were expected to win their respective conferences; Cleveland, in particular, was expected to sweep the Raptors or defeat them in five games.  Consequently, it was shocking to see both teams appear so vulnerable for such long periods of time.
Both teams also had notable regular seasons, to say the least.  The Warriors set the single-season wins record (73), breaking the previous record of 72 set by the 1995-96 Chicago Bulls.  The Cavaliers, on the other hand, fired head coach David Blatt on January 22nd and replaced him with Tyronn Lue.  After Blatt started the season 30-11, Lue finished it 27-14; the combined 57-25 record was good enough for the Cavaliers to earn home-court advantage for the entirety of the Eastern Conference playoffs.  However, many questions still remained about the team's ability to beat the best teams in the West.
And yet, here we are.  The Cavaliers took Games 5 and 6 in decisive fashion to beat the Raptors and get LeBron James to his sixth straight NBA Finals.  The Warriors improbably became just the tenth team in NBA history to overcome a 3-1 playoff deficit and took down the Thunder in seven hard-fought games.
Both teams overcame obstacles to get to this point.  Golden State endured a knee injury that forced point guard and 2-time MVP Steph Curry to miss two weeks in early May.  In spite of this, the Dubs went 3-1 in four full games without him.  The MVP would come back in Game 4 of the team's second-round series against the Trail Blazers. With Golden State up two games to one, Curry came off the bench and dropped 17 points in overtime, an NBA playoff record, to carry the Warriors to a 3-1 series lead and full control over Portland.
Curry scored 40 points for the game and announced himself to the rest of the world as fully healthy.  That did not necessarily apply to his rhythm and comfort level in game action, however.
Curry would struggle to find his mojo in the first four games of the Western Conference Finals.  In those four games, Steph would shoot just 31-74 (41.9%) from the field and a pedestrian 16-43 (37.2%) from deep.  He surely did not look like the best player in basketball, and many were curious as to why.  This report from The Vertical shed some light on the situation, stating that Curry was not fully healed:
Curry has been a shell of himself – missing shots, throwing away passes, losing his dribble and completely unable to prove that there's Curry-esque agility in that knee. "He's playing at 70 percent, at best," a source close to Curry told The Vertical. Curry refuses to make excuses, but privately the Thunder see something – no explosion, no ability to make the bigs switching onto him pay a price. Nineteen points on 20 shots Tuesday night bore no resemblance to the two-time NBA Most Valuable Player.
While it was nice to have a potential reason for Curry's struggles, the Warriors needed to win the next three games to make it back to the NBA Finals.  Without having Curry's usual production, this goal looked almost unattainable.  And then Klay Thompson happened.
Thompson, the other half of the Splash Brothers duo, has been the Warriors' best player in the postseason.  He's shot 45% from three-point range, averaged over 26 points per game, and carried the team at various times coinciding with Curry's struggles and injuries.  After a narrow victory in Game 5 and the continuation of Curry's woes to start Game 6, he would need to put the Warriors on his back once more to extend their season.
And Thompson would answer the call in grand fashion.  His 11 three-pointers set a new playoff record and propelled the Warriors to a 108-101 victory to force a Game 7.
The exhibition was one of the most memorable single-game playoff performances in recent memory.  It was almost as if Thompson wasn't even looking at the rim on some of his deep shots, and yet it didn't seem to matter.  He carried the Dubs to Game 7 all on his own, and the rest of the team would take it from there.  Curry erupted for 36 points in the clincher, Thompson added another 21, and the Warriors defeated the Thunder 96-88 to advance to their second straight NBA Finals.
The Cavaliers' playoff journey has not been nearly as arduous.   Nonetheless, it has been just as impressive as their West counterparts. Cleveland started the playoffs with a sweep of the Detroit Pistons, a series that featured three close games and this Kyrie Irving dagger to finish off Game 3:
The Cavs followed up their first-round performance with an equally impressive second-round sweep of the Atlanta Hawks.  Wins in the first two games of the Eastern Conference Finals pushed Cleveland to a 10-0 start to the playoffs.  The team missed its chance to tie the 1989 Los Angeles Lakers for the best start in playoff history (11-0) with a loss in Game 3, but starting the playoffs on a historic tear doesn't usually guarantee a title.
Although the Cavs' series with the Raptors went to six games, it wasn't especially close.  Cleveland outscored Toronto by an average of 15.5 points per game; for context, the 2014 San Antonio Spurs outscored the Heat by 14 points per game in that year's Finals, and that series only went five games.  Even though the series was tied heading into Game 5, the Raptors never really stood a chance.  Their fans were pretty darn awesome, though:
With the Game 6 win, LeBron James advanced to his sixth straight Finals and became only the eighth player to achieve this feat.  Here are the other seven:
Bill Russell
Sam Jones
K.C. Jones
Satch Sanders
Tommy Heinsohn
Frank Ramsey
Bob Cousy
If you didn't latch on right away, all seven players were on the Boston Celtics' 1950s-60s teams that went to ten straight NBA Finals from 1957 to 1966.  The fact that James has joined their company with more parity in the league and with two different organizations is nothing short of remarkable.
With all of this being said, the 2016 NBA Finals should be a compelling series.  Oh, and did I mention it's a rematch of last year's Finals?  This, as well as the individual players and collective talent on both teams, should make this year's Finals very competitive and entertaining.  Let's preview the series with a couple of major keys to the outcome of the series.
Pick-and-Roll
Some would argue that last year's NBA Finals turned in the 4th quarter of Game 3.  In that 4th quarter, the Warriors discovered David Lee, his passing, and the efficiency of the high pick-and-roll.  In 13 minutes, the cast-off former double-double machine was +17 and went a perfect 4-for-4 from the field.
Lee is gone now, but the pick-and-roll game of the Warriors remains. Whether Curry, Thompson, or Shaun Livingston is the primary ball-handler, roll men Draymond Green, Andre Iguodala, Andrew Bogut, and Festus Ezeli will present unique challenges for the Cavaliers. Bogut is one of the best-passing big men in the game and is almost always looking to pass when he rolls to the rim. Ezeli can finish with authority inside while Iguodala and Green can drive to the rim, take a jump shot, or make an extra pass to the Warriors' dangerous shooters.
But there's another reason why the pick-and-roll will be such a huge key for the Cavaliers, and it lies in the players who will be defending it.  As Zach Lowe of ESPN writes, the two-man combination of Kyrie Irving and Kevin Love is not exactly adept at pick-and-roll defense:
But Irving and Love have been the central players in Cleveland's worst breakdowns. Opponents in the playoffs have scored 1.09 points per chance when they involve those two as the primary pick-and-roll defenders in a play that leads directly to a shot attempt, drawn foul or turnover, per SportVU data provided to ESPN.com. That would have ranked last by a mile among 119 two-man combos that defended at least 250 pick-and-rolls in the regular season, per that SportVU data set.
Toronto was able to exploit this weakness with the two-man pick-and-roll combo of Kyle Lowry and Bismack Biyombo.  With the Warriors' offensive firepower, they could rely on pick-and-roll action to stifle the Cavs' defense.  Look out for this early on in Game 1 as a harbinger of how the game, and, for that matter, the series, will go.
LeBron's Jumper, His Fatigue, and How They're (Kind of) Related
It's no secret that LeBron James' jump shot is not quite as effective as it was in years past.  Statistics back this up: his three-point percentage this season was the lowest since his rookie year (30.9%) and his deep shooting has regressed every year since winning his last MVP in 2012-13.  Accordingly, Bron has adjusted: his average distance on field goal attempts is at a career low (9.6 feet) and he's taking the most attempts from inside three feet in his NBA career (45.9%).
Part of this adjustment can be attributed to James' realization that he must get better shots.  However, one can also credit the King's improved shot selection with Tyronn Lue's offense, one in which the ball moves as frequently as the players.  LeBron just isn't asked to do as much in Lue's system, and that's a good thing: his Usage Rate in these playoffs is down significantly from last year's.  Of course, last year's Cavs were decimated by injuries, but a fresher LeBron means a better LeBron.
And a better LeBron means a better Cavalier team, certainly better than the one that lost to the Warriors in six games a year ago.
Pace…. And Space
The Cavaliers have possessed the most efficient offense in these playoffs, averaging over 119 points per 100 possessions.  Cleveland only averages 89.7 possessions per game, which is relatively low, especially compared to their Bay Area counterparts.  The Warriors average nearly 100 possessions per game and feast off the opponent's misses and turnovers for fast break opportunities and easy baskets.
Aside from the pick-and-roll defense of the Cavs, this will probably be the biggest indicator of the outcome of this series.  If the Cavaliers' offense is allowed to set up in the half court and run its sets, Cleveland will be in very good shape, especially considering how their offense has fared these playoffs.  However, if the game is played at a more up-and-down tempo, the Dubs should fare well.
While Tyronn Lue has sped up the Cavs' offense since taking over as head coach, the team still needs to execute.  If they can execute, they could feast on a Warrior defense that has been susceptible to slumps this postseason.  Another reason why the Cavaliers' offense has been so lethal is because of new additions.  Aside from getting Love and Irving back healthy, the team has added Richard Jefferson and Channing Frye via free agency and trade, respectively.  Frye is shooting 26-45 (57.8%) from deep this postseason while Jefferson has provided valuable minutes off the bench.
Needless to say, LeBron James won't have to do it by himself this time around.  He has some very dangerous weapons beside him now.
The Prediction
I really struggled with this one.  There are good arguments for both teams winning the Larry O'Brien trophy, and either way, it should be an enjoyable, competitive, and (hopefully) long series.  There are so many interesting storylines to this year's Finals (Cavs vs. Warriors rematch, Steph vs. LeBron, etc.) and I think I'm speaking for everyone in saying that I hope it lives up to the hype.
Nevertheless, I have to make a pick.  I'm taking the Golden State Warriors to win their second straight title.  I have the series going the distance, and I really think it could be one of the best NBA Finals series ever.
But here's to hoping injuries don't determine the outcome like they did last year.
**All Statistics courtesy of BasketballReference unless otherwise noted