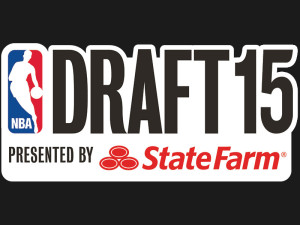 The NBA Draft is taking place next Thursday, June 25, at the Barclays Center in Brooklyn, NY.  There has been a lot of buzz around this year's draft for its fast risers (Cameron Payne, Kristaps Porzingis) and its droppers (Justise Winslow, Willie Cauley-Stein, Emmanuel Mudiay).  There are other sources of intrigue in the draft that are unique to this year; we'll explore those later.  For now, let's start with a big board of 50 players that should all be drafted on Thursday.
D'Angelo Russell
Karl-Anthony Towns
Jahlil Okafor
Justise Winslow
Emmanuel Mudiay
Willie Cauley-Stein
Mario Hezonja
Stanley Johnson
Kristaps Porzingis
Myles Turner
Cameron Payne
Trey Lyles
Sam Dekker
Tyus Jones
Bobby Portis
Frank Kaminsky
Rondae Hollis-Jefferson
Devin Booker
Kelly Oubre
Montrezl Harrell
Delon Wright
Jerian Grant
R.J. Hunter
Terry Rozier
Justin Anderson
Kevon Looney
Caris LeVert
Cliff Alexander
Kris Dunn
Jonathan Holmes
Jarell Martin
Robert Upshaw
Rashad Vaughn
Christian Wood
Jordan Mickey
Chris McCullough
Nikola Milutinov
Rakeem Christmas
Andrew Harrison
Joseph Young
Dakari Johnson
Michael Qualls
J.P. Tokoto
Olivier Hanlan
Brandon Ashley
Cedi Osman
Pat Connaughton
Michael Frazier II
Ryan Boatright
Larry Nance Jr.
You probably realized that my number one choice is not the common one.  Rest assured, I can explain myself.  I wrote this article in late May about why Russell is the best player.  Another thing that I probably should explain in putting Justise Winslow at 4.  Sure, we've all seen him take a jump shot and it's not the prettiest thing in the world, but no one in this draft plays harder than he does.  He may get hurt because of it, and his career may very well be shorter for it, but I want a player like him on my team for his competitiveness.
A player you saw that I probably put very low is Kristaps Porzingis.  While I think that his upside is fantastic, he needs quite a bit of time to develop, and he needs to go to a system that will allow him to play his unique game and an organization that gives him time to develop.  I believe that the rest of the board does well to explain itself, and that parts of it will be explained more fully in the mock draft section of this article.
Now to the fun part: the mock draft.  The mock draft will cover the first round in its entirety, and will provide which player is being drafted, who is drafting them, a brief description, and a pro player comparison for each drafted player.  Who's going where?  Who's rising? Who's falling?  I don't know, but I'll take my best guess here.  So, here goes, my official 2015 NBA Mock Draft.
1. Minnesota Timberwolves
The pick: Karl-Anthony Towns
PF/Kentucky
It's entirely possible that the Timberwolves could draft Jahlil Okafor at #1.  The problem, however, is the contract of starting center Nikola Pekovic which makes Minnesota give up $12 million per year.  This, coupled with weakness at the 4 position force the T'Wolves to go with Towns here.  It's not a guarantee, however.  Towns is a good jump shooter who can also bang on the glass.  His athleticism limits him, but he is still strong enough to back down NBA bigs.
Towns' defense can improve, but he is a rather mobile big man who can move around, especially in the paint.  Here is a block that he had against Mississippi State:
If you thought that dunk attempt was absolutely terrible, you're right.  However, Towns has potential on defense and as a rebounder.  His strength will allow him to improve in this regard, and his high basketball IQ can't hurt either.
Towns has some issues in the post, especially with making moves there.  Also, he gets into foul trouble on D and has a tendency to help when he shouldn't. However, even though he can play very inconsistently at times, he has the potential to be a big-time NBA two-way big man.
Towns Comparison: DERRICK FAVORS
2. Los Angeles Lakers
The Pick: Jahlil Okafor
C/Duke
I don't have a ton of confidence in this pick materializing.  The Lakers basically have three directions they could go in with this pick:
1.  Draft for their biggest need (a big man) and take Okafor
2.  Draft a running mate for Kobe Bryant in what is likely his final season and take D'Angelo Russell or…
3.  Go bananas and draft Kristaps Porzingis
Porzingis is a jump shooting 7-footer out of Latvia that was minimally heralded until recently. However, he has shot up draft boards with his impressive workouts.  However, this would be an awful fit for the Lakers because he needs at least 3 years to develop into a consistent, productive player and more likely 5 years to realize his full potential. The Lakers don't have that much time, and they don't want a third shoot-first backcourt player; they take Okafor. Okafor, as you may already know, is the top center in the draft.  He is excellent at running the floor and can also excel in a halfcourt set.  His defense can improve as well, and he can give more effort at that end.  He will be a great offensive rebounder in the pro game, and I feel that this is his best skill in the pros. Also, his footwork is something to behold, and this has made him draw comparison to Al Jefferson. Also, he has great strength that manifests itself in absurd finishes like this one:
However, Okafor is a somewhat overrated defender, and his effort is very inconsistent at that end.  He is also very slow, and his footwork cannot bail him out of every situation.  He is very inexplosive, which does not help his prospects as a good NBA defender. However, he is one of the best all-around players in the draft, and I see the Lakers taking him at #2.
Okafor Comparison: AL JEFFERSON/AL HORFORD
3. Philadelphia 76ers
The Pick: D'Angelo Russell
G/Ohio State
The Philadelphia 76ers unveiled new uniforms a week before the draft. This is often done to show a new direction, a new attitude for a franchise.  The team does the best thing to change the attitude and fortunes of the franchise by taking the draft's best player.  Just ask him:
Russell has some issues with his jump shooting and his athleticism, and these will force him to adjust parts of his game at the next level.  He also doesn't have the ability to finish with his right hand right now, and he needs to develop that.  However, he is the best player in the draft for his scoring prowess and his high basketball IQ.  He also rebounds very well for his position and makes plays others cannot because of his excellent size.
Nonetheless, Philly gets an unselfish, all-around point guard who can, at worst, replace the scoring of the departed Michael Carter-Williams.  This team still has a ways to go, which starts and ends with the health of big man Joel Embiid, but this is an awesome start.
Russell Comparison: DAMIAN LILLARD
4. New York Knicks
The Pick: Emmanuel Mudiay
PG/Republic of Congo (played for Guangdong Tigers of Chinese Basketball Association in 2014-15)
Okay, I have no clue where this pick is going. Knowing the recent history of the Knicks, whatever they do still has a good chance of not working out. Look at what the team put on its website on June 1, showing its complete ineptitude from top to bottom:
Check out @AndreaBargnani's 2014-15 season highlights! WATCH http://t.co/I9qb7FFzJVpic.twitter.com/mlellJH1Qt

— NBA New York Knicks (@nyknicks) June 1, 2015
Yes.  That is a real thing.  If you click the link, you actually get "highlights", but you may be better served getting a 404 error. Anyway, there are so many directions this pick could go.  One clear option is to trade down in the draft, as they are enthralled with Murray State guard Cameron Payne and enamored with Kentucky forward Trey Lyles too.  They see both as logical fits for the Triangle offense.  Another is to see the team draft Porzingis or Russell, if they are available.  While Mudiay is not the best fit for the Triangle, if the team stays with this pick, this is who they're going with. This is also good for team president Phil Jackson, who clearly does not care about 3-point shooting:
NBA analysts give me some diagnostics on how 3pt oriented teams are faring this playoffs…seriously, how's it goink?

— Phil Jackson (@PhilJackson11) May 10, 2015
Hopefully, if the Knickerbockers take Mudiay, all will be goink great by this time next year.
Mudiay Comparison: MICHAEL CARTER-WILLIAMS
5. Orlando Magic
The Pick: Mario Hezonja
SG/SF/Croatia
Hezonja is another enigmatic international player, and much like Porzingis, experts are split on him. Here is an excerpt from an SBNation piece that describes Hezonja's attitude very well:
Hezonja constantly talks trash to the opponent. He showboats after three-pointers. He hangs at the rim after dunks. And about those dunks: he absolutely never passes up the opportunity to do a windmill or a double clutch when he's rumbling down the floor in transition.

Here's Hezonja not stopping with his team up 19 points with five seconds left on the clock. He should just run out the clock, but no. Instead, he'd rather establish himself as the alpha and put an exclamation point on Barcelona's playoff victory.
And this is the video in which Hezonja throws down the hammer on Unicaja's season:
Hezonja's greatest gift is his athleticism, and he is a good jump shooter who is very dangerous from outside.  His arrogance (or confidence, depending on how you view him), is what stands out to many.  he takes shots he probably shouldn't, but that's who he is.  He has the confidence/arrogance of a Kobe Bryant.  It will remain to be seen whether or not he is actually that good, but my guess is that he's not.
Hezonja Comparison: BEN McLEMORE
6. Sacramento Kings
The Pick: Kristaps Porzingis
PF/C/Latvia
This is probably lower than you've seen Porzingis in any mock draft recently.  However, I still see him going to Sacramento and not Orlando.  The reason is simple: I don't see the Magic giving up on Channing Frye and his 4-year, $32 million contract after year one.  I also don't see the Magic giving up on last year's #4 pick, Aaron Gordon, and his potential to grow into a potential starting power forward in the NBA.
The Kings, however, are a different story; while the Magic could use a power forward, a power forward is absolute necessity for the Kings.  At their best last season, they were starting Jason Thompson.  While they had success at the beginning of the season with him in the lineup, he only averaged 6 points per game and had a PER of 10.23, which ranked him 68th among power forwards.  This is the position where they need the most help; at points last year, Rudy Gay was pressed into playing it.
The Kings need him not just to fill a role but also to serve as a running mate for star big man DeMarcus Cousins.  Cousins has been one of the best centers in the NBA over the past 5 seasons, but has had no help in the frontcourt.  This pick may change that, and in the process, give the Kings a 7-foot shooter who can space the floor and give Boogie room to operate in the post.
Going to Sacramento will allow Porzingis to screw up, make mistakes, and learn from those mistakes. The team should and will give him time to learn the game, and if he goes to Sacramento, we will look back on this as a thoroughly solid pick for a rebuilding team.
Porzingis Comparison: DONATAS MOTIEJUNAS
7. Denver Nuggets
The Pick: Justise Winslow
SF/Duke
The Nuggets go with a hard-nosed wing player that can help the team knock down its 3rd worst ranking in opponent points scored (105). Winslow plays excellent defense and has the best motor in the draft. Check out this play against Notre Dame in February that shows both his defense and his hustle:
That play is the reason that I had him at 4 on my big board.  A player with his hustle, work ethic, and motor will always have a place in the NBA, and while he just does not have a great jump shot, his defense will be his meal ticket to a successful NBA career.  This is the type of player that new Nuggets head coach Mike Malone should love to have on his team; a player that serves as a great example to the rest of the Nuggets, the same ones who quit on Brian Shaw, and a player that can help change the culture to a losing organization.
Winslow Comparison: MICHAEL KIDD-GILCHRIST
8. Detroit Pistons
The Pick: Stanley Johnson
F/Arizona
Johnson can step in as a quality stretch 4 who can play solid defense and knock down some threes. What is most important to the Pistons in this draft is protecting against a potential Greg Monroe departure, and while trading for Bucks PF Ersan Ilyasova helps in that regard, having an additional wing/stretch 4 can never hurt, especially considering that Tayshaun Prince is a free agent nearing the end of his career.
Ross Comparison: TERRENCE ROSS
9. Charlotte Hornets
The Pick: Cameron Payne
G/Murray State
Cameron Payne is one of the fastest rising players in this year's NBA Draft, and people have come around to his game in recent weeks.  Why? Because he belongs.  Charlotte will take him here as another backcourt body as well as a good player to compliment Kemba Walker.
After the Lance Stephenson trade, some draft experts think that it is a given that Charlotte will go with a 2-guard at #9.  Count among these ESPN draft guru Chad Ford:
With Lance Stephenson gone & Spencer Hawes on board, chances Hornets take a 2-guard like Devin Booker or Kelly Oubre at No. 9 just went up

— Chad Ford (@chadfordinsider) June 16, 2015
This is a perfectly logical assumption to come to. But I doubt it will happen for one simple reason: neither of those players are 9th pick in the draft talents. They could possibly get to that point down the road, but they are both still risky selections.  Payne can step right in and give Charlotte spacing, shooting, and shot creation right away.  An added positive is that while he only stands at 6-2, his game allows him to play some 2-guard, which will allow him to get playing time even when Kemba Walker on the floor.  He is a much better fit for this team than many pundits realize.
Payne Comparison: MIKE CONLEY
10. Miami Heat
The Pick: Willie Cauley-Stein
C/Kentucky
Do the Heat believe in mid-season revelation Hassan Whiteside?  Is Dwyane Wade coming back to Miami?  Those are the two questions that will dictate who gets taken here.  My best guess on those two questions is no to the first and yes to the second.  I answer the second question in the affirmative, even though Flash is already addressing his Heat days in the past tense:
However, this slip can just as easily be attributed to nervousness or simply misspeaking on air and not as a statement of fact.  This may very well be an ignorant viewpoint, but I can't visualize D-Wade in another uniform; I still don't see him playing in a city not named Miami.  However, no one ever saw LeBron James in a Heat uniform before 2010 either, so anything is possible.
The pick of Cauley-Stein here is also based on a possible lack of organizational belief in breakout center Hassan Whiteside.  At points last year, Mr. Whiteside drew comparisons to one of the best shot-blocking big men of recent NBA memory:
Okay, what's the deal with Hassan Whiteside morphing into a circa '01 Marcus Camby? Seriously?

— David Aldridge (@daldridgetnt) January 25, 2015
However, he also made plays like this one against Kelly Olynyk and the Celtics in March:
While Whiteside is under contract for next season, plays like the last one may temper Miami's belief in his ability to maintain his composure at times.  They can still bring in another center to push Whiteside in camp.  Another center would also allow the Heat to see which player is better and worth keeping.  This pick would set up a clear competition in which two men enter and only one survives long term with the organization.
Finally, how could you refuse big Willie's style and his wardrobe decisions?  He even has his own clothing line, and if this is on it, I may invest.
Kentucky's Willie Cauley-Stein is dressed to impress tonight pic.twitter.com/Q9N0fhpvcs

— Bleacher Report (@BleacherReport) April 8, 2014
Cauley-Stein Comparison: TYSON CHANDLER
11. Indiana Pacers
The Pick: Frank Kaminsky
PF/C/Wisconsin
The Pacers may or may not need a big man this offseason.  Roy Hibbert has a player option for next year, and Luis Scola is not under contract for next season.  This pick is also one that is made in the interest of improving the team on the offensive end. While the Pacers ranked tied for third in the league in points allowed last season (97), they were ranked but 24th in the league in points scored (97.3).  If Kaminsky winds up in Indiana, he can develop a niche as a floor-spacing big man who can knock down threes and do some ball-handling as well.
Kaminsky's greatest asset unique to him is his incredible footwork.  Look at him clown Jahlil Okafor with a genius spin move on this play in 'Sconnie's Title Game loss to Duke:
He is a player that is very smart and makes few mistakes with the basketball in his hand.  He is maybe the most versatile player in this year's draft, and can handle the ball and even create his own shot on occasion.
However, he will struggle to defend NBA big men, a fact that was painfully obvious in the Title Game when Frank the Tank struggled to hold down Okafor in the post.  His lack of explosiveness also hurts him in this regard, and more athletic bigs may take him to town.
However, even though he basically is what he is as a player, he is a nice fit in the Pacers' struggling offense.
Kaminsky Comparison: KELLY OLYNYK
12. Utah Jazz
The Pick: Myles Turner
C/Texas
The Jazz are in a good position with their frontcourt. They already have Rudy Gobert and Derrick Favors in the fold, and they will occupy the starting spots at the two big positions.  Favors is a gifted offensive player who can also do a good job on the glass. Gobert's all-around game is still coming along going into his third NBA season, but he is a flat-out athletic freak:
The Jazz are a team looking to potentially sneak into the playoffs next year in the still-stacked Western Conference, and this is a pick that can help them fortify their identity as a defensive, rebounding team.  Little-known fact: the Jazz allowed the least points per game in the NBA last season (94.9).  This team could become a poor man's version of the Grizzlies of recent years, and having another big man in the fold will help them to realize this potential.
Turner is one of if not the best rebounding big man in this year's draft, and he also has a vastly improved jump shot and face-up game.  He can get knocked around by stronger bigs in the paint, but his frame should fill out some.  He is the obvious choice here.
Turner Comparison: BROOK LOPEZ
13. Phoenix Suns
The Pick: Kelly Oubre
SF/Kansas
I'm going to make this clear from the jump: I don't love Oubre's game.  He has a tendency to take poor shots, especially jumpers, and he is not an overly willing passer.  He's not a great jump shooter, and, as you may be able to guess, his basketball IQ and feel for the game have lots of room for improvement.  However, he does things like this, and you can tell that there is room for him somewhere in the NBA:
The place where there is clearly room for him to play is in Phoenix.  He is a great fit here, where is excellent athleticism and his prowess in transition will help the Suns' high-powered attack.  The Suns played the third-fastest pace in the NBA last season, only trailing the two best teams in the West, Golden State and Houston.  While Oubre needs a lot of work in most of the other areas of his game, he doesn't need work here.
Phoenix is a place where Oubre can go and maximize his potential.  This is the one team in the lottery that he can go to and immediately flourish. Their high-powered offense and up-tempo system will maximize his strengths (athleticism, defensive potential, transition play) and minimize his weaknesses (feel for the game, jump shooting, consistency).  This is the perfect fit for him, in all areas of the game.
Oubre Comparison: WESLEY JOHNSON
14. Oklahoma City Thunder
The Pick: Sam Dekker
F/Wisconsin
This is a team that has very few needs on paper. However, they would like to have insurance against another year or more of injuries to Kevin Durant. Not to panic Thunder fans, but the history of the NBA seems to suggest that foot injuries don't go away, but foot injuries have largely occurred in big men (Bill Walton, Sam Bowie, Yao Ming).  However, the Thunder were two different teams last season: the one with KD and the one without him.  They were 18-9 when Durant played last season and 27-28 when he didn't suit up.
The Thunder were left to starting either Kyle Singler or Andre Roberson at that position without Durant. I feel that Dekker can and will be a better player than both of them, and can step in and contribute off the bench when Durant is playing.  This is a team competing for a title, and they get to fill a need and draft a luxury, both in one shot.
Dekker is a versatile offensive player who can do a little bit of everything on that end of the floor.  He is not the best defender, but he can either defend the perimeter or the post there.  His jump shot can be erratic and has a stupid high arc.  While he drained this one to send Wisconsin to the Final Four, you can see that the shot is in the air for nearly 2 seconds:
He shot 50% from three in the tournament, but turned in an 0-6 performance in the National Championship Game; his jumper finally regressed to the mean.  That always happens to shooters that are mediocre or worse; they struggle to stay hot and their shot comes crashing down to Earth sooner or later.  However, Dekker belongs in the NBA, even if his jump shot may hit the ceiling once or twice.  He will be a role player to start, and could develop into a decent starter someday.
Dekker Comparison: CHANDLER PARSONS
15. Atlanta Hawks
The Pick: Trey Lyles
PF/Kentucky
Paul Millsap, DeMarre Carroll and Pero Antic are all free agents this summer.  They probably should all stay in Atlanta, especially if the #1 thing they care about is winning.  However, if the Hawks cannot protect all of them, and that is likely, Lyles is a safe, obvious choice at 15.  Of course, the Knicks could trade down for him, but the Hawks could use his face up game and offensive versatility here.
Lyles is a tweener defensively, and he struggles to guard bigger power forwards in the post.  His best work on defense comes when he is guarding small forwards and wings, and if he can guard NBA wings with success, he can have a nice career.  His frame needs to fill out to have success, especially on the glass, but he has the potential to get better and make a career for himself.
Lyles Comparison: DAVID WEST
16. Boston Celtics
The Pick: Bobby Portis
PF/Arkansas
Portis, in my view, is one of this year's draft's most criminally underrated players.  He realizes this too, as profiled in this BasketballInsiders piece:
"I play mad," Portis said. "I play very angry because when I'm sitting in the locker room before a game, I imagine my opponent slapped my Mom. That's why I play mad. Now, I have to bring it to him because he slapped my Mom… I've created this thing that I do now where I get mad so I can go out there and have a productive night."

Portis knows this is somewhat strange, telling reporters with a smile, "I am crazy." But there's no arguing with the results. His pre-game ritual certainly worked in college, as he averaged 17.5 points, 8.9 rebounds, 1.4 blocks and 1.1 steals as a sophomore at Arkansas. Not to mention, he shot extremely well from the field (53.6 percent) and three-point range (46.7 percent).

The 20-year-old power forward is an interesting and versatile prospect. He studies Kevin Garnett, trying to mimic aspects of Garnett's game and, most notably, his intensity.
Yes.  Kevin Garnett.  While he does not have Garnett's overall game, he does have the intensity of KG.  His motor is something awesome, and he keeps plays alive with it.  His motor aids him in making winning plays, those that make the razor thin difference between winning and losing.
He also plays like Garnett with his faceup game.  His agility helps him to take bigger, less spry defenders off the bounce, and his decent, still developing jump shot keeps those same defenders honest.  His basketball IQ is also very high, and he makes the easy, simple play, which goes a long way in the NBA. Mark my words: Bobby Portis is going to have a long, successful career in the NBA.  Don't believe me?  Just watch.
Portis Comparison: TAJ GIBSON
17. Milwaukee Bucks
The Pick: Devin Booker
SG/Kentucky
Booker is an intriguing player whose best skill at this point in his career is his jump shooting.  Take this quote from a CBS Philadelphia article from his college head coach, John Calipari:
Unprompted, Coach Cal compared Booker to one of the NBA's ascending shooting guards, who just happened to win the NBA Championship on Tuesday night.
"You're talking about a big guard, who can shoot, Klay Thompson-ish," Calipari said of Booker. "That's what he looks like. The league now is create a rotation defensively and take advantage of that rotation. Well, with him out on the court, either you don't let him get it and it's four-on-four or you do let him get it and he's looking quick three, pull-up elbow, teach him to finish at the rim, he's pretty good. Again, the league at his size, he ends up guarding somebody 6 [foot], 4 [inches], 6 [foot], 5 [inches]."
Let me put this out here before the people reading this go crazy: He isn't Klay Thompson.  Sorry.  He's one of the best shooters in the draft, and he is the youngest player in the draft.  (He will turn 19 on October 30th, which is around the time when the 2015-16 season will start).  However, he will not gain added mobility with age, and his athleticism is not very good either.  He can become a good player in the NBA, but he isn't Klay Thompson.
The Bucks need him for his offense and 3-point shooting.  Even though they ranked 7th in the league in shooting from beyond the arc (36.3%), they struggled to score points (97.9 PPG, T-21st).  These facts were painfully apparent in their first-round series against the Bulls, in which they shot 30% from 3 and failed to average 90 points per game.  Milwaukee also has a good deal of cap room with the trade of Ersan Ilyasova, and they could be gearing up for a big summer in free agency.  Don't count out the possibility of the Bucks signing or trading for a marquee player, and possibly using Booker to do this.
Booker will be a solid NBA player.  His three-point shooting will help whichever team he goes to.  But he isn't Klay Thompson.
Booker Comparison: DANNY GREEN
18. Houston Rockets
The Pick: Delon Wright
G/Utah
Wright gives the Rockets a solid defensive point guard the likes of their current starting point guard, Patrick Beverley.  When Beverley went down last season, backup Jason Terry performed admirably in his presence, and even got in a crossover against the league MVP:
However, Terry is in his contract year, and testing free agency once more is an option for Jet.  Another option for him is to retire, which is also very possible.  Wright gives the Rockets an NBA-ready point guard that can become a contributor right away off the bench.
Wright's most translatable skill to the NBA right now is his length and his defense.  He also has a high basketball IQ and he got to the free throw line consistently at Utah.  However, he is not quick or fast, and his jump shot needs a good deal of improvement.
Wright Comparison: ELFRID PAYTON
19. Washington Wizards
The Pick: Rondae Hollis-Jefferson
SF/Arizona
Last year, Paul Pierce anchored the small forward spot for the Wizards.  While he had a solid year, he averaged the lowest points per game of his career (11.9) and at 37 years old, he may not have much left in the tank.  However, he had a little bit left for the playoffs:
After the game, the Truth said this when asked whether he called bank on the shot:
That quote is entirely appropriate for the discussion of the Wizards pick at 19.  If Pierce calls game on his Hall of Fame career, the Wizards need a body to put in the rotation behind presumed starter Otto Porter. The Wizards are clearly gearing up for the summer of 2016, however, as the organization and its fans are pulling out all the stops to get him back to his hometown:
#kd2dcpic.twitter.com/HK4Ka52r9v

— WizardsTalk (@WizardsTalk) June 9, 2015
In the interim, however, Hollis-Jefferson will give the Wizards the gift of his outstanding athleticism and motor.  For the Wizards, he can be an excellent role player, providing energy and effort off the bench for a team trying to take the next step in the Eastern Conference.  He is also a very versatile defender. However, his jump shot can do a good deal of improving, and he needs to improve it to augment his athleticism and hard work both on the glass and defensively.
Hollis-Jefferson Comparison: KAWHI LEONARD
20. Toronto Raptors
The Pick: Tyus Jones
PG/Duke
This is another criminally underrated player in this draft.  Draft experts are lower on Jones because of his very limited mobility.  However, he took, and made, enormously big shots all year long, like this one that spelled the beginning of the end for Wisconsin in the National Title Game:
The point here is that Jones has historically been a clutch player who has a history of winning.  He is also an excellent passer who always gets the ball to his teammates at the right time, in the right place. Jones is also a good shooter, which always helps at the next level.  However, he will have to rely on his jumper in the pros, as he will struggle to create his own shot.  The lack of athletic tools limit Jones' upside as well, and he will be a backup in the league for at least his first year in the league.
This is a good fit for the Raptors because they are at risk of losing the 2014-15 6th Man of the Year award winner, Lou Williams, to free agency.  Williams, a guard, is an unrestricted free agent after this season. They will definitely look to get him back, but will also take Jones on account of the possibility that he may not be back.
I believe that Jones' ability to create for others and shoot will make him a good player in the NBA.  His very high basketball IQ will not hurt either, and this will give him a long prosperous career.
Jones Comparison: JEFF TEAGUE (BETTER)/MO WILLIAMS (WORSE)
21. Dallas Mavericks
The Pick: Monterzl Harrell
PF/Louisville
The Mavericks need a little bit of everything is this year's offseason, and they would like to have it in the form of youth.  Harrell is a good place to start, as his athleticism, rebounding, and mobility, especially for a big man, are ready to be showcased at the next level.  His defense could use improvement, and while his athleticism makes up for some of these errors, he could use improvement with this as well as his rebounding.
The Mavericks were the oldest team in the league last season (average age: 29.5 years old) and they desperately need youth.  Tyson Chandler and Amar'e Stoudemire are free agents.  Dirk Nowitzki is nearing the end of his stellar career.  Additionally, key bench player Charlie Villanueva is also a free agent.  The point I'm trying to make here is clear: the team needs to get younger, in a hurry.
Harrell is a player who, despite his mistakes, will be an outstanding energy big, especially for a team like the Mavericks, who are looking to win a title.  His feel for the game and decision making can greatly improve, but going to a team like the Mavericks will help out his career a ton.
Harrell Comparison: AMIR JOHNSON
22. Chicago Bulls
The Pick: Terry Rozier
PG/Louisville
The Bulls may very well need a backup point guard again this offseason, as Aaron Brooks is an unrestricted free agent and Kirk Hinrich has a player option.  Rozier seems to be the logical choice in this spot, and the Windy City is a very good fit for him.
Rozier is a high volume scorer who also has the ability to find open teammates.  While is shot selection can suffer at times, his ability to create his shot is a very translatable skill for him going into his rookie season.  Another skill of his is his defense, as he is a pick-pocket-er who will swipe the ball away from unsuspecting ball handlers.  He is a sneaky good choice at pick #22.
Think about this: the backup point guard on the Bulls has prospered every year since the lockout-shortened 2011-12 season.  Players such as C.J. Watson, Kirk Hinrich, Nate Robinson, D.J. Augustin, and Aaron Brooks have all seen increases in offensive production.  This is for one simple reason: Derrick Rose's inability to avoid the injury bug, especially with his knees.  If the Bulls take Rozier, remember his name; he could be pressed into more action than some would think.
Rozier Comparison: TREY BURKE
23. Portland Trail Blazers
The Pick: Kevon Looney
PF/UCLA
Guess what: LaMarcus Aldridge may very well be leaving the Pacific Northwest this summer.  Rumors have pegged Aldridge as going to either the Spurs or Mavericks in free agency, and league executives believe Aldridge will leave, accroding to ESPN's Brian Windhorst:
Will Love sign it? He's repeatedly said that he intends to be with the Cavs next year and into the future. The issue is that almost no one in the league believes it yet, so he will be courted on July 1. Of all of the high-profile free agents this summer, executives still believe Love and LaMarcus Aldridge are the likeliest to be willing to change teams.
That clears the way for Portland to go with a power forward, making UCLA's Kevon Looney a sensible pick.  Even though he is not a very good athlete and does not have much strength to knock around NBA big men in the post, he is a very good offensive rebounder and defender.  This play shows his rebounding prowess, although you can begin to detect a lack of lift on his part:
There is no way on Earth that Looney will be able to replace Aldridge, assuming he leaves.  However, he can give the Blazers defense, which, even though it ranked 12th in the league in points allowed (98.6), could use improvement, especially considering that Portland plays the Thunder four times a year and would like to win another division title next year. Their work will be cut out for them without Aldridge, however.
Looney Comparison: WAY LESS ATHLETIC TERRENCE JONES
24. Cleveland Cavaliers
The Pick: R.J. Hunter
SG/Georgia State
The Cavaliers need some help for LeBron James.  In Miami, the self-proclaimed best player in the world had shooters such as Mike Miller, James Jones, Ray Allen, Shane Battier, and Mario Chalmers to turn to when he was bottled up.  Without Kevin Love or Kyrie Irving in the NBA Finals, however, there was little to no floor spacing with players such as Matthew Dellavedova and Iman Shumpert.  They, along with J.R. Smith, hit some key threes, especially in the series' first three games, but went cold in the last three games.
Georgia State shooting guard R.J. Hunter will change that.  He can shoot the lights out at times, and, although he is inconsistent, he can help the Cavs space the floor in some limited minutes off the bench.  On the off chance that James Jones or Mike Miller leave, he can help to replace them.  J.R. Smith also has a player option, and he may not be back either.
Hunter is a knockdown shooter who can also play a little in the pick and roll.  You know what that means in the NBA though: he'll be used as a knockdown shooter.  Check out this three that he drained in the team's first round NCAA Tournament game to sink heavily favored Baylor:
While he is thin as a rail and will get kicked around defensively, the jump shooting he provides is his greatest asset.  He can be streaky as a shooter and will have some bad misses from time to time, but can really help the Cavaliers space the floor better than they did at times last year and in the NBA Finals.  This is the easy choice here.
Hunter Comparison: GARY NEAL
25. Memphis Grizzlies
The Pick: Jarell Martin
F/LSU
The Grizzlies have not one but two aging big men in Marc Gasol and Zach Randolph.  It also doesn't help that Gasol is a free agent, and a prized commodity at that.  With Randolph nearing the end of his career, it would help the Grizzlies greatly to have a backup power forward, especially if Randolph becomes susceptible to injury like he was in 2011-12. However, Martin is a far different player than the Grizzlies are used to having.
Martin is a sick athlete that runs the floor in transition and makes spectacular highlight plays on a regular basis.  Have a look at a dunk he threw down against Florida, in a college basketball game that counted.
Martin's athleticism is everything in his game, which is why his overall game needs a lot of work. His defense is extremely questionable, as is his effort at that end.  His basketball IQ is not very high, and he is prone to ball watching on defense and taking tough shots on offense.  However, he is a project, one that will allow Randolph to finish his career without looking over his shoulder.
Martin Comparison: JEFF GREEN
26. San Antonio Spurs
The Pick: Nikola Milutinov
PF/C/Serbia
The Spurs have had other-worldly success in terms of drafting international players.  This chart demonstrates this fact:
1999: Manu Ginobili
2001: Tony Parker
2002: Luis Scola
2003: Leandro Barbosa
2004: Beno Udrih
2005: Ian Mahinmi
2007: Tiago Splitter
2008: Goran Dragic
2009: Nando de Colo
That isn't too shabby.  Players such as Scola, Barbosa, Udrih, Mahinmi and Dragic had to be let go because the Spurs simply didn't need them.  The team's contract situation is also good, provided Ginobili and Tim Duncan decide to come back, which they most likely will.  The rest of the team, with the exception of Parker, Boris Diaw and Splitter is also under contract, but few if any of the role players are likely to leave.
This pick can very easily become what is known as a draft-and-stash pick, especially considering how interested San Antonio is in LaMarcus Aldridge in free agency.  Milutinov is a solid jump shooter, especially from inside the arc, a good transition player, as well as a great passer from inside the paint.  He is a typical Spur.  However, this pick is not about what Milutinov gives the Spurs; it's about what he doesn't take from them; a roster spot.
Milutinov Comparison: MEYERS LEONARD
27. Los Angeles Lakers
The Pick: Justin Anderson
SF/Virginia
The Lakers have this pick from the Houston Rockets after last summer's Jeremy Lin trade.  They could go in a couple of different directions here, as this is simply a luxury pick with which the Lakers could fill out the roster.  With Okafor already in the fold, they are likely to go with Virginia's Justin Anderson, who will provide them depth at small forward just in case Wesley Johnson leaves in free agency.
While Johnson had one of the best years of his career (out of necessity), he cannot be counted upon to do the same again due to the returns of Kobe Bryant and Joseph Randle and the Lakers' #2 draft pick.  Anderson can provide depth behind Johnson, even though he has stayed remarkably healthy over the course of his career.
However, the Lake Show may be on to something with a late-round pick.  As Umair Khan of the Wizards-centric website "Bullets Forever" writes, Anderson may be the league's next great "3-and-D" player off the bench:
He has all the tools you want out of a "3 and D" prospect, but with some baggage as well. I think it'll take a year of seasoning and learning the intricacies of an NBA defense, but it wouldn't surprise me if he stepped in from day one and made an impact either. There's rough edges, but he's also a prospect with good size and athleticism and with NBA range on his shot.
This sums up Anderson's game perfectly.  He can be a decent three-point shooter and rebounder with good athleticism.  He needs time, but he could be a stealthily good choice for L.A. at 27.
Anderson Comparison: AL-FAROUQ-AMINU
28. Boston Celtics
The Pick: Jerian Grant
PG/Notre Dame
The Celtics acquired this pick in the Doc Rivers trade from two drafts ago.  They don't have very many needs this year, although Grant can fill a need that may not appear to exist, but still does.
The C's may very well be in need of a backup point guard.  After trading Rajon Rondo on December 10, 2014, Boston was forced to use Phil Pressey as their backup point guard, and his real numbers and per 36 minutes numbers were not very good.  The organization tried to assuage this need by trading for Isaiah Thomas at the trade deadline, but the team was only playing three guards consistently; Thomas, Marcus Smart and Avery Bradley.  They could use a fourth guard, and specifically a point guard, to fill this need.  Grant fits the bill perfectly.
Grant is an excellent passer who creates for others by using his elite size and passing ability.  He also has the ability to knock down some jump shots, but not with regularity.  His defense is good and can even still improve a little bit.  He will struggle to finish in the NBA, and will need to develop his jumper and range to combat this, but he is a good fit for the Celtics here.
29. Brooklyn Nets
The Pick: Cliff Alexander
PF/C/Kansas
This is one of those picks where the team has little if any wiggle room with their cap situation and decides on a player because it has nothing to lose. This is why Alexander is going here.  The Nets have nothing to lose (or gain, for that matter) and they are taking a player with good potential who can step in a make a contribution.  This is Cliff Alexander's potential, right here:
Alexander is also an excellent rebounder who moves very well for a big man.  He also has grown-man strength, and uses in screens and back downs. However, he has a poor feel for the game and is extremely foul-prone on defense.  He was also held out of action after February 23 after it was learned that his mother took out a loan for Alexander's pro career, so there is not a ton of tape on him.
However, the Nets will cross their fingers and hope for the very best on this pick.  It's all they can do.
Alexander Comparison: DANTE CUNNINGHAM
30. Golden State Warriors
The Pick: Chris McCullough
PF/Syracuse
The Warriors have very few needs coming off their first NBA title since 1975.  However, the Warriors are shopping David Lee, and there is a slim chance, but a chance nonetheless, that jack-of-all-trades Draymond Green leaves in free agency.  McCullough is simply protection against this happening, and nothing more.
McCullough has a tendency to run the floor, and he is very agile in transition.  He can become a good shooter, especially as a face-up player.  He fits the Warriors system perfectly; wide open, fast-paced and quick-firing.
Where McCullough falls short is his defense, where he is not overly tough or physical, for that matter. His lack of strength hurts him on the glass and in the post.  He will have to fill out to have a career in the NBA, but the potential is there.  Also, he tore his ACL this past January, which is one giant red flag.
McCullough Comparison: UDONIS HASLEM