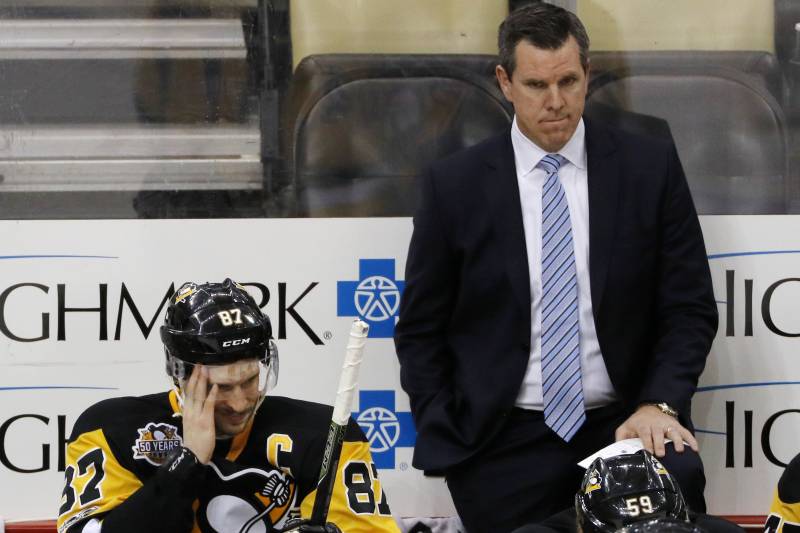 Sidney Crosby is one of the National Hockey League's biggest stars and most recognizable faces. Today, he's also something else: the poster-boy of a concussion problem that has quietly plagued the league for years.
In the Pittsburgh Penguins' Game 6 loss to the Washington Capitals on Monday, Crosby (who missed Game 4 of the series after suffering a concussion on May 1) took this hit against the boards. One can reasonably assume that this would trigger some type of concussion test, but you can judge for yourself:
I sure hope 20 years from now we're not reading stories about Sidney Crosby's declining health pic.twitter.com/pakQJCfA7Y

— Dumb Bozo (@davelozo) May 9, 2017
For as critical as we often are towards football's occasional concussion ignorance, Crosby likely would have been immediately entered into the concussion protocol if he played in the NFL. After all, the NFL was shredded for not forcing Cam Newton into its concussion testing after this hit, which, comparatively, doesn't look nearly as bad as Crosby's. Unfortunately, the Crosby debacle would be far from finished after the dangerous collision.
After Game 6, Crosby was asked by reporters whether or not team doctors evaluated him for a concussion during the game, and he responded in the affirmative. After Crosby was questioned, Penguins coach Mike Sullivan was asked the same question and said that his star player wasn't examined during the game. So the player, who may have been concussed, and the coach, who is responsible for the player, are sending two completely different messages about what happened. Not great, Bob.
This is where the problem arises. If you watch Crosby try to get up from his collision, he is very clearly slow to get to his skates and even uses the side boards to help him get back up. It would be reasonable to assume that the Penguins' coaches could miss Crosby's struggle as the action moved toward the defensive end of the ice. However, that is where the on-ice officials, and the league's New York offices, are supposed to help the coaching staff and the injured player.
This year, the NHL revamped its concussion policies and added a comprehensive staff of league spotters in the league office to watch each game and specifically identify players who may have suffered head injuries. Additionally, the New York spotters work in conjunction with concussion spotters in the arena and game referees to identify potential concussions; the spotters and officials have the authority to force a player to leave the game if they exhibit signs of a possible head or neck injury. This is similar to the NFL's protocol that forces players to be immediately removed from the game when they exhibit those same warning signs. While players can try to game the system, as Herm Edwards smartly noted, the NHL's new policies seemed like a good start towards addressing a major problem in one of the most violent sports on the planet.
The catch here is that the entire system literally self-destructed in front of everyone's eyes on Monday night. Crosby took his tumble, the spotter(s) didn't force Crosby's removal from the ice, Crosby didn't pull himself out (and why would he), and the Penguins' coaches didn't seem to notice anything wrong with one of their clearly-shaken players. While it is clear that the NHL is invested in protecting its players from head injuries, the implementation of the system failed miserably in Sidney Crosby's case.
Here is the issue that must be faced in this situation: is our collective outrage about the NHL's handling of Sidney Crosby have more to do with concussions or Sidney Crosby?
For instance, if Trevor Daley was boarded and came up very slowly but was allowed to stay in the game, would we be this angry about it today? Chances are that answer is no. That's just the way it is.
This is what John Mayer once said about comparing himself to Kanye West. It seems off-topic, but it's relevant to what we're talking about here:
Look, if I save a baby from a burning building and Kanye saves a baby from a burning building, there's more Google news hits on Kanye. I'm fine with it.
Likewise, in this scenario, if Sidney Crosby gets violently concussed and Trevor Daley (who also plays on the Penguins) gets violently concussed, we are conditioned to react far more strongly to Crosby. And when both are permitted to stay in the game after suffering said collision and not acting like themselves, Crosby will receive far more attention and sympathy.
This story had all of the perfect elements to become a firestorm: a star player, visible and tangible signs of an injury, and negligence on the part of a major institution, one that has become a punching bag in recent years. But it's entirely possible that the system has failed its players in the past, just like it's plausible that many of the league's players have gamed the new system this year.
This is the other dilemma: we are trained to criticize the NFL for just about everything (and justifiably so) because most of us care about and love football. While the Stanley Cup Finals drew eight million viewers for the series' deciding game last year, the NFL considered an audience of 30 million for a Divisional round playoff game a disappointment. It's not like there aren't people interested in hockey in the United States. But if a tree falls in the forest and ESPN isn't around, does it really make a sound?
Because so many of us watch and care about football, we are more likely to talk about Cam Newton's bell-ringing than Sidney Crosby's. And we're more likely to destroy the concussion policies of Roger Goodell than we are those of Gary Bettman because we are more familiar with Goodell's power-wringing and overall character than we are with Bettman's.
This is the thing: while the NHL has implemented comprehensive policies to protect its players, their protocol failed one of the most recognizable faces of the sport in its most-viewed period of the season. While good things can come of this, such as increased concussion awareness and a microscope on the NHL's handling of head injuries, we need to seriously ask ourselves how we will react when something like this happens to someone like Radim Vrbata.
I'm sure most of you don't even know who Radim Vrbata is. Just know that he wouldn't be treated with the same attention as Sidney Crosby, the new face of the NHL's concussion crisis.