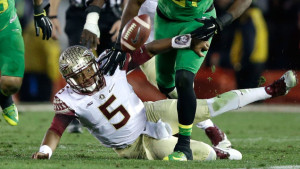 Jameis Winston and Marcus Mariota are widely regarded as the two best players in this upcoming NFL Draft. However, even though both play quarterback, they are two very different players.  Mariota is more of a scrambling QB who is not as good throwing from the pocket but is much more adapt at using his feet to make plays.  Winston is the better "pro-style" quarterback of the two, but did not perform as well for his team last season, Florida State, as Mariota did for his, Oregon.  For these reasons, I would take Mariota before I would Winston.  There are other reasons too.
Over the course of Mariota's collegiate career, he threw for 105 TDs and 14 interceptions; for perspective, that's a 7.5:1 INT-TD ratio.  Throw in another 29 rushing touchdowns, and you have a 9.5:1 INT: (total) TD ratio.  Winston, on the other hand, threw 65 TDs and 28 INTs in his college career, and also only had 7 rushing TDs, albeit in two years to Mariota's three.  The ability to progress through reads is something that is incredibly important for an NFL quarterback.  And while Winston is likely better in this regard, he is more prone to make poor decisions, as his statistics show.  Also, Mariota played four teams that were ranked at the end of last season; Winston played none. However, Jameis' off-the-field issues present a completely different issue in and of themselves.
Winston's track record of issues started in 2012, when he and FSU teammate Chris Casher were caught shooting squirrels with a pellet gun.  Shortly after, Winston and two other FSU teammates are caught engaging in a pellet and BB gun fight outside an apartment house off-campus.  In December, Winston is accused of rape oat the apartment house.  After the charges were dropped by the Tallahassee Police Department, the state attorney conducts a new investigation.  No charges end up being filed, but the victim is suing Winston civilly.  In one of the more embarrassing heists in recent memory, Winston is charged in April 2014 with stealing roughly $33 in Crab Legs from a store in Tallahassee.  He is forced to perform community service and is suspended from the Florida St. baseball team until that service is completed.  Finally, in September 2014, in the week leading up to the football team's game against Clemson, Winston is witnessed standing on a table at a student union meeting and yelling an incredibly offensive and obscene phrase about women.  These issues should cast doubt and speculation as to whether he can keep it together in the pros, especially with the lifestyle that being an NFL quarterback brings.
Mariota, on the other hand, has been described as a quiet leader, one who leads by example.  His only off-field trouble was a speeding ticket this past fall.  In my view, Mariota's ability to make better decisions than Winston both on and off the field are what would make him my number one pick.