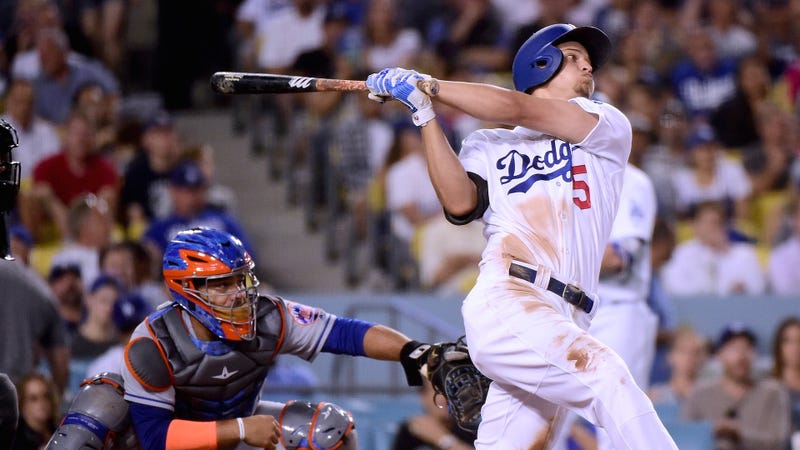 Let's go back to 1984. Before I tell you this story, let me assure you that I know where I'm going with this.
The music legend and founder of the Motown record label, Berry Gordy, has a 20-year-old son looking to break into the music industry. He has changed his name, with the help of his father's company, to create his own image outside of his father's shadow. The younger Gordy has a song that he believes can be a hit, but while he liked the tune, he wanted to bring in a more established singer to perform the song's hook.
When that person came along, the song became internationally-renowned and reached #2 on the Billboard Hot 100. The song was Rockwell's "Somebody's Watching Me", and the man singing the chorus was none other than Michael Jackson, the King of Pop. Keep in mind that Jackson released his "Thriller" album over 13 months before and was truly at the peak of his powers as a musician and performer. The chorus ("I always feel like, somebody's watchin' meeeeeeeeeee") is easily the most memorable part of the song, and Jackson's role in the hit single is what allowed it to be released in the first place.
At the time, many simply assumed that "Somebody's Watching Me" was Jackson's song. And while MJ's are some of the most famous backing vocals ever, he was not actually credited on the song itself. While his contribution to the song is minimal in time, it is what many remember about it, even if Rockwell performed most of the song. It would be Rockwell's biggest and, for all intents and purposes, only hit. "Somebody's Watching Me" has now been the anthem of everyday paranoia for over 33 years, but it likely never reaches the light of day without Jackson's help.
So what's the point of me telling you all this? Well, it looks like a similar situation is brewing with the Los Angeles Dodgers.
The Dodgers lead the NL West by 2.5 games and are currently on a 10-game winning streak. Much of the hype surrounding the team's hot start has revolved around star rookie outfielder Cody Bellinger, who leads the National League with 24 home runs despite having played just 57 of Los Angeles' 77 games this season. Of course, a lot of the recent attention Bellinger has received concerns his oblivion towards the existence of Jerry Seinfeld, but we'll let that go for now.
Many will presume that Bellinger has been the Dodgers' best (and most important) player to this point in the season. After all, he has hit twelve home runs in his team's last fifteen games, and the Dodgers are 14-1 in that span. A closer look at the numbers, though, shows that he has been far from the only key to the Dodgers' success.
Consider this: for as good as Bellinger has been to this point in the season, he has only hit .282. In some ways, that makes his home run binge even more impressive, as the longball has accounted for over 40% of his hits this season. It is fair to ask yourself, however, if he can continue at his torrid pace for the rest of the season; while he leads the league in isolated power, a measure of a batter's raw power, major league pitchers may be able to somewhat figure him out sooner or later. While they may not be able to stop him completely, they could attack him more intelligently as they get a feel for his strengths and weaknesses.
Here's something else to think about: is Bellinger's success a result of the hitters in front of him in the lineup?
Since third baseman Justin Turner returned from the disabled list on June 9, the Dodgers and manager Dave Roberts have employed a lineup with shortstop Corey Seager hitting second, Turner hitting third, and Bellinger cleaning up. Roberts had tried this lineup earlier in the season and has gone back to it since Turner's return. In this version of the Dodgers' lineup, the three hitters have formed something of a Mortal Kombat combination; in the sixteen games the three players have hit 2-3-4 in the starting lineup, the Dodgers are 13-3 and are averaging nearly seven runs per game.
Bellinger plays a role in that success, but so do Turner and Seager; the two infielders lead the team in WAR (wins above replacement). In fact, Turner has been so successful that he is hitting .393 on June 26. While it's very unlikely that he hits .400 for the season, he's been the Dodgers' best hitter when he's been in the lineup this season. Seager has also been outstanding this year, as he has an on-base percentage over .400. More importantly, Seager has only missed four games so far this year; while he's listed as day-to-day with a hamstring injury, he is not expected to miss significant time. As both players lead the league at their positions in WAR, it's become clear that the Dodgers easily have the best left side of the infield in baseball.
Another thing to address when looking at the Dodgers' success is their pitching staff and, in particular, their starting rotation. While ace Clayton Kershaw has been outstanding as usual, the team has gotten pleasantly surprising performances this season from starters Alex Wood and Brandon McCarthy. Wood has been so spectacular, in fact, that he is second in the league in ERA among pitchers with at least 60 innings pitched this season. While the offense has gotten all of the headlines, LA's pitching staff has quietly held down the fort en route to the league's lowest staff ERA.
The Dodgers are 51-26 and just one game behind the Houston Astros for the best record in baseball. While Bellinger has been amazing and will rightfully get most of the credit for the team's success, other players, such as Turner and Seager, also deserve praise for the critical roles they've played in pushing the Dodgers to the front of the best division in baseball. The team does not appear to be showing any signs of slowing down anytime soon, and it appears as if their success in the first half of the season is no fluke.
The Los Angeles Dodgers may very well continue their first-half success on their way to bigger and better things. Their starting rotation could continue to perform like they have in the team's first 77 games, and their offense may continue to perform, albeit probably not at their current pace.
And Cody Bellinger will continue to play a leading role, even if he was only asked to sing backing vocals for baseball's best offense.