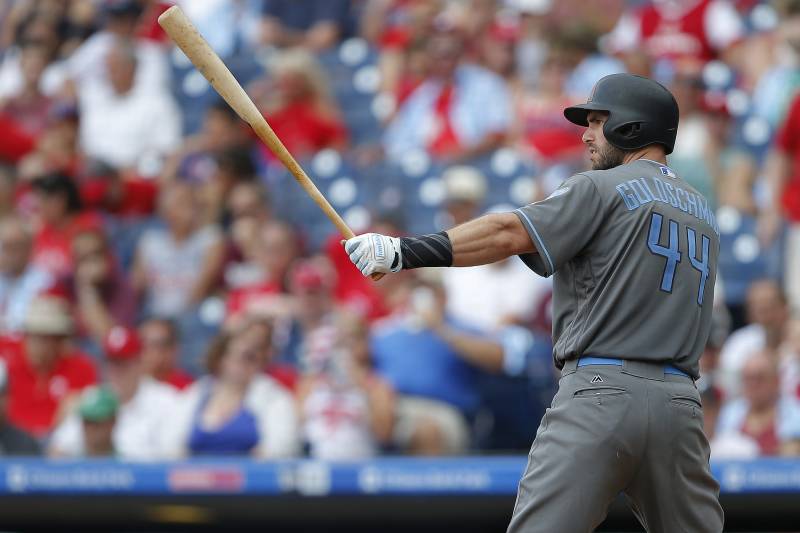 We are at about the halfway point of the Major League Baseball season and it's been a year of fascinating storylines. Some of those include the dominance of rookies Aaron Judge and Cody Bellinger, the emergence of the Houston Astros and Los Angeles Dodgers as the two best teams in baseball, and the underwhelming performance of the defending champion Chicago Cubs. It has been, to this point, an exciting exhibition of both team and individual performances, one that is sure to pave the way for a fascinating second half of the season.
One of the best performaces of this young season, though, has gone completely under the radar.
It's not exactly a secret that I really like Paul Goldschmidt; in fact, I've actually commissioned myself as the president of the Society of Paul Goldschmidt Admirers. He is easily the most underrated superstar in today's game and the consistency of his performance on a daily basis almost always goes unnoticed. Part of the problem is that he plays on the Arizona Diamondbacks in one of baseball's more anonymous markets; most of Arizona's home games don't begin until 9:30 on the east coast, meaning that many baseball fans aren't able to stay up late to see just how good Goldschmidt really is. The other issue is that because Goldschmidt is such a well-rounded player there isn't really one thing to zero in on in terms of his abilities on an everyday basis. It's hard to think of him as just a power hitter, speedster, or elite defender.
If you want a measure of just how talented Goldschmidt really is, consider this: he ranks first among major league first basemen in both runs scored and stolen bases while also coming in third in home runs. At a position where most players simply don't run well, Goldschmidt is on pace for around 25 steals this year. For a more all-encompassing look at Goldschmidt's base running abilities, we turn to BsR, the base running component of wins above replacement. In that category, he is also tops among all first basemen, but that's not all: among all position players, Goldschmidt is tied for third in all of baseball. The two players he's tied with, the Royals' Jarrod Dyson and the Marlins' Dee Gordon, are two of the fastest players in the game today. However, both players only get on base roughly 33% of the time. Goldschmidt, on the other hand, reaches base in nearly 44% of his plate appearances. So not only is he reaching base at an extremely high rate (second among all position players) but he is also a true asset to his team when he gets there.
Next, we move to the all-important power category. While most players who run well are not able to hit for power, Goldschmidt is the rare exception. He ranks seventh in the league in slugging percentage, a measure of a player's total bases divided by the number of at-bats he has. A deeper dive into this, though, shows that his performance in this category is even more impressive than advertised. Out of the top 35 players in the league in slugging, Goldschmidt is the only player with double-digit stolen bases. Eight of those 35 players have zero steals on the season, and 22 of the 35 have negative BsR ratings. Goldschmidt really is the exception instead of the rule, and his all-around prowess of the offensive game is truly something to behold.
If his performance this season were a surprise, chances are it would be covered more vigorously on a national level. This year's showing, however, is a continuation of a trend that started back in 2012. With the exception of his 2014 season, one that ended when he broke his hand on August 1 of that year, Goldschmidt has had at least 20 home runs and 15 stolen bases every single year. Barring unforeseen circumstances, he's going to do that again this year. His exploits have guided the Diamondbacks and their horrendous uniforms to a 52-31 start; Arizona has the third-best record in baseball and is just 2.5 games behind the Dodgers for first place in the NL West.
Even with all that, Goldschmidt still isn't earning the recognition he deserves. His jersey is not in the top 20 of all jerseys sold on MLBShop.com since last year's World Series. He has ceded much of the attention at his own position to players such as Anthony Rizzo and Ryan Zimmerman. Even with the success of the Diamondbacks, Goldschmidt still hasn't earned the respect or praise he has truly earned. Many around the team and the league speak of Goldschmidt as a quiet individual who doesn't necessarily seek out the media spotlight. However, he deserves to be shouted out here, even if he isn't going to be the one doing the talking.
There is also this last note to consider: among all players in Major League Baseball, Goldschmidt ranks fourth in wins above replacement. Only Aaron Judge, Chris Sale, and Max Scherzer are ahead of him in that category. While I don't consider myself a blind slave to WAR, the figure provides a starting point for evaluating players based on their production to this particular point in the season. And through three months of baseball, WAR says that Goldschmidt is the fourth-best player in the league. It also says that he's the second-best position player in baseball, and the guy he's behind in that category has his own cheering section in Yankee Stadium. Paul Goldschmidt, for nearly as productive a season, has some hardcore fans and, well, this blog post. The difference between the two may not be that disparate, but it's pretty close.
It's very unlikely that many people will come to appreciate the greatness of Paul Goldschmidt anytime soon. The fact of the matter is, though, that he has been one of baseball's brightest stars over the past couple of seasons. This year, the Diamondbacks find themselves in contention for a playoff spot and (potentially) a run into October. if Arizona can maintain its first-half success, much of America may finally realize just how good the Diamondbacks' first baseman really is when the playoffs roll around.
But until then, he'll continue to put together an MVP-caliber season, regardless of whether or not anyone outside Arizona notices or cares.