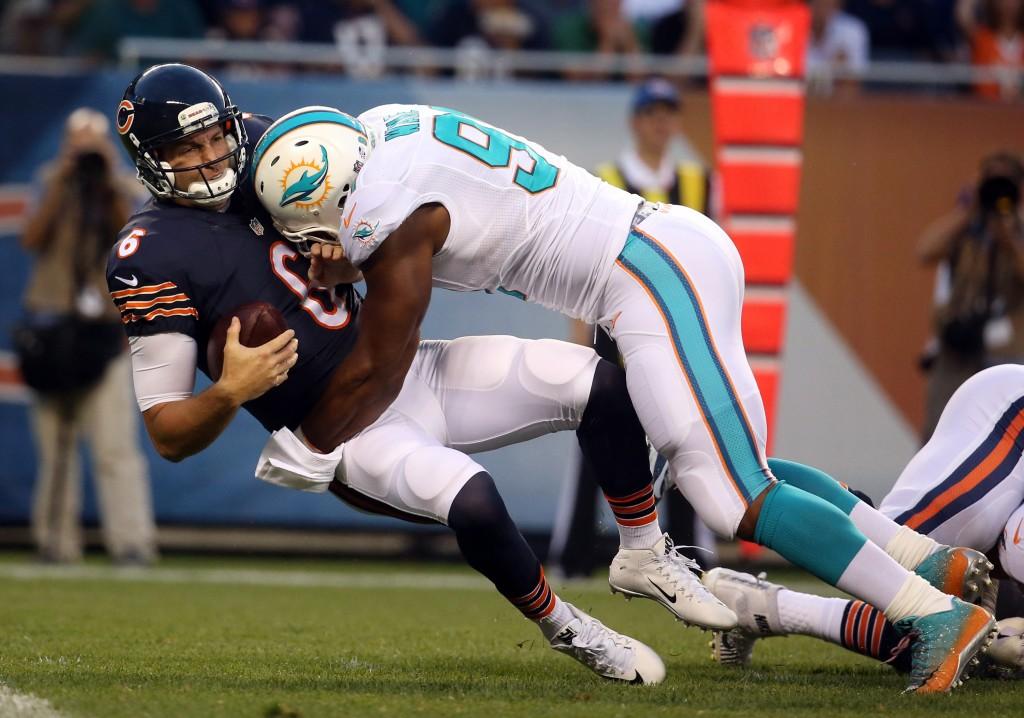 On Sunday, the Miami Dolphins, not long removed from learning that starting quarterback Ryan Tannehill may be done for the year with a knee injury, decided to replace him with former Bears quarterback and recent retiree Jay Cutler. The deal is for one year and $10 million, which allows Miami to get out from under it if Cutler falters. This is good leverage for the Dolphins to have, as they're dealing with the man who was once benched for none other than Jimmy Clausen. Yes, that really did happen.
Invariably, with Cutler's signing came the renewed calls for an NFL team to sign former 49ers quarterback Colin Kaepernick. Kaepernick, as you'll recall, has not been signed in free agency after spending last season protesting the national anthem in response to his concerns about what he views to be racial inequality and police brutality in the United States. Politics and social issues aside, Kaepernick, who threw for sixteen touchdowns and just four interceptions last season, is objectively one of the 64 best quarterbacks in the league and deserves to be employed. In fact, his supporting cast was so bad last year that his best receiver was once released by the Jets.
With the Dolphins bringing in a walking, talking meme as their starting quarterback, many are using this opportunity to bash the league for not being inclusive of Kaepernick's social activism. Here is what Bleacher Report's Mike Freeman had to say on the matter:
That brings us to the other, unavoidable part of this story: Colin Kaepernick.

I've tried to not make every football conversation about Kaepernick, but damn if the NFL makes that impossible.

And now the Cutler signing, once and for all, exploded any and all myths about why Kaepernick isn't signed.

The number of excuses made by pro-NFL forces, both in the league and the media, has been extensive and ridiculous.
Freeman is right that teams have seemingly looked for reasons not to sign Kaepernick this offseason; after all, Ryan Fitzpatrick, Geno Smith, Brock Osweiler, and Jay Cutler are all currently employed while Kaepernick still isn't. The anger and discontent around his NFL shunning are both so great that we have now reached the Spike Lee support rally portion of the Kaepernick proceedings.
And while it's absolutely true that Kaepernick should have a job right now, this is the one situation in which a team bypassing his services looks to have made the right decision. Let me explain.
The head coach of the Dolphins is Adam Gase, who was once the offensive coordinator of the Broncos and Bears. Gase's one year in Chicago (2015) was spent with Jay Cutler as his starting quarterback. These were the numbers Cutler put up in fifteen games with Gase calling plays for the Bears:
| | | | | |
| --- | --- | --- | --- | --- |
| COMP% | TD | INT | YARDS | QBR |
| 64.4 | 21 | 11 | 3659 | 65.9 |
The 2015 season was the best of Cutler's career and he threw a career-low eleven interceptions that year. If you don't think that's a big deal, consider that before Gase's arrival in Chicago, Cutler twice led the league in interceptions. In seasons in which he played at least fifteen games before 2015, Cutler averaged nearly eighteen picks per year. Gase undoubtedly led Cutler to the best season of his career and that logic assuredly played into the Dolphins' decision to sign him.
Let's assume that Miami will get something similar to the production Cutler gave the Bears two years ago. And let's assume that the team will lose something along the lines of Tannehill's average production over his first five NFL seasons. What is an average Ryan Tannehill season, exactly? Well, based on his first five years in the league, it would look something like this:
| | | | | |
| --- | --- | --- | --- | --- |
| COMP% | TD | INT | YARDS | QBR |
| 62.3 | 21 | 13 | 3691 | 54.7 |
If this is to be believed, then the Dolphins may have just gotten better. Of course, there are other factors at play here.
The first of these facets is that Cutler was retired until 48 hours ago. He was slated to be a color commentator for FOX's NFL coverage this year and was reported to have had reservations about leaving that gig for the Dolphins. While he has insisted that he is in good enough shape to still be an NFL quarterback (even without having the slightest conception of what that means), he still needs to ensure that he is in shape, learn the Dolphins' playbook, and get to know his teammates and in particular his wide receivers. All of those things could take significant amounts of time, and the Dolphins' regular season begins in just 33 days.
The second component of this is rather simple: we're dealing with Jay Cutler, the man who once cursed out a ball boy, refused to talk to his offensive coordinator, and treated NFL officials like children. Another true story: while it has nothing to do with his football exploits, Cutler proposed to his wife, reality star Kristin Cavallari, by sending her a wedding ring through the mail. He literally mailed it in! When you think about it, though, Jay Cutler mailing in something incredibly important makes perfect and complete sense. And the fact that there is proof he did all of these things should give Dolphins fans at least some pause when it comes to his arrival.
And yet, after all of that, I'm still inclined to think that his signing was a good move for both he and the Dolphins. Cutler had the best season of his career with his current head coach calling the plays two years ago, and his return to Adam Gase's offense should signal something of a return to form provided that he can develop chemistry with his wide receivers.
And as for that pesky Kaepernick question? If this were literally any other team and any other organization, signing Colin Kaepernick would have made far more sense. This, though, is the one time and place where a team made the right decision by signing someone else. While Kaepernick would have helped Miami, he doesn't have the familiarity that Cutler does with Gase's offense. That's not his fault (Kaepernick never played under Gase) but it is the reality of the situation.
One more thing to consider: even if Ryan Tannehill was healthy, the team likely would have been relegated to being the AFC East's second fiddle behind the gargantuan monolith that is the New England Patriots. The Dolphins' main goal this year should be getting one of the AFC's two wild card spots and reaching the playoffs.
The Dolphins suffered a significant blow to their team with Ryan Tannehill's knee injury. In response, they've formed a union with Jay Cutler, an old friend from head coach Adam Gase's celebrated offensive past.
It's an arranged marriage that could work out for both sides.