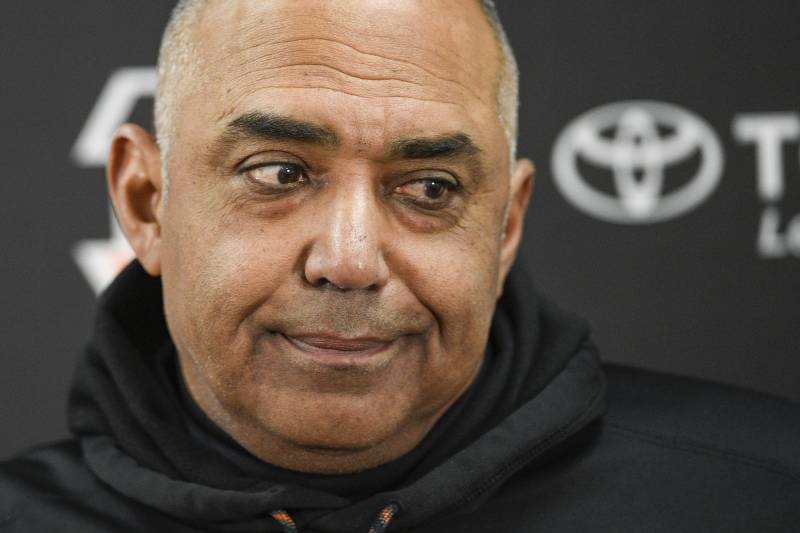 The Cincinnati Bengals just completed their second-straight nine-loss season, are losing their defensive coordinator, and haven't won a playoff game since eleven days before the beginning of Operation Desert Storm; worse off, they won that game against a team that doesn't exist anymore. So naturally, they extended their head coach's contract.
Yesterday, it was announced that the Bengals had extended head coach Marvin Lewis for another two years. Lewis has coached the Bengals for the past fifteen seasons and is one of the most respected coaches in the NFL. Lewis ended the Bengals' playoff drought in 2005 and is easily the winningest head coach in Cincinnati's history with 125 victories. He has won four AFC North titles in his time with the Bengals and may be the best coach the franchise has ever had.
But with all of that being said, Lewis has never won a playoff game in seven attempts and, despite being the most successful coach the Bengals have ever had, is just thirteen games over .500 in his head coaching career. Lewis is, unfortunately, the dictionary definition of mediocrity. But let's look at just how mediocre Lewis has been and what the Bengals have just gotten (or kept) themselves into.
Lewis is tied for 23rd in NFL history for the number of games he has coached (240). Of the 23 men either tied or ahead of him on that list, only three (Weeb Eubank, John Fox and someone you can find behind coach seven and ahead of coach nine) have a lower career winning percentage than Lewis. And no, that wasn't a joke: Jeff Fisher has coached the eighth-most games of any coach in NFL history, which is a metaphor in and of itself. But of those four coaches, Fox, Eubank, and Fisher all went to the Super Bowl at least once, and Eubank won a championship with the 1968 Jets. Those three also combined for 17 playoff wins while Lewis is still sitting on zero. Even worse, four of Lewis' seven playoff losses have come at home, which is a problem when you recall that home teams have won nearly 65 percent of NFL playoff games since 2000. But somehow, Lewis has found new and unique ways to lose each time his team has made the postseason.
If you want to know just how bad Lewis-coached teams have been in January, here is the full list of coaches who have gone winless in the playoffs in a minimum of seven games:
Marvin Lewis
If it seems like we're trying too hard to dunk on Lewis' entire career and accomplishments, that could be deemed a fair assessment. Lewis does deserve immense credit for bringing the Bengals back from complete oblivion after the team lost over 70 percent of its games in the ten years prior to his arrival. He restored instant credibility to a team that desperately needed it, and that should not go unnoticed when fully evaluating the job he has done.
That being said, the Bengals are not a playoff-caliber team at the present moment. Their quarterback, Andy Dalton, finished between Jay Cutler and Eli Manning this season in Total Quarterback Rating (which is to say, near the bottom of the list). Dalton is not a very good quarterback, and he will count for nearly $17 million against the team's cap each year for the next three seasons. The Bengals need to make a decision on whether or not Dalton, 30, will be the team's franchise quarterback in the not-too-distant future. The problem, though, is that with the exception of his injury-shortened 2015 season, Dalton has never been much more than an average quarterback, and the Bengals, as currently constituted, cannot be considered serious championship contenders with Dalton playing at a league-average level.
That is another reason why I would have suggested moving on from Lewis. Lewis is a fundamentally defensive-minded coach (he led the Ravens' defense to a championship in 2000) but he has only had one top-ten offense in the last ten years as the Bengals' head man. There is no shortage of great offensive assistants in the NFL today (Josh McDaniels, Pat Shurmur, Matt LaFleur, and others), and the Bengals would have every chance to get their hands on one before the end of the coaching carousel. For example, why not try to pursue LaFleur, who was Matt Ryan's quarterback coach in 2016 and who currently serves as the offensive coordinator for the league's highest-scoring offense? If he could improve Matt Ryan and at least partially fix Jared Goff in the span of two seasons, why couldn't he do the same for Dalton?
And speaking of carousels, Dalton had two offensive coordinators this season. Ken Zampese was fired after the first two games because his offense scored a combined nine points against the Texans and Ravens. The offense improved under new offensive coordinator Bill Lazor, but even then it only averaged 20 points per game. Even if the offense's average output under Lazor was applied to every game, the Bengals still would have ranked just 20th in points scored and 31st in total yards.
But, as you probably assumed, Lazor signed a contract extension alongside Lewis yesterday.
Even worse, the Bengals' defense, which is its perceived strength, is losing its defensive coordinator, Paul Guenther. While the defense finished 18th last season, Guenther has worked for the Bengals in some capacity for the past thirteen seasons, and while the defense has suffered since he took it over for current Vikings head coach Mike Zimmer, the only assistant the Bengals have lost to this point may be the one they need the most.
Keep one more thing in mind: while you may look at the Bengals' 7-9 record this season as a sign that they really aren't that bad, remember that they get two games per year against the Cleveland Browns. That automatically inflates their record and makes an otherwise bad season look slightly better.
The Cincinnati Bengals decided to keep Marvin Lewis as their head coach because they felt that they had no better alternatives. As it turns out, they probably aren't looking hard enough for that someone who can lead the team into the future. Frankly, the decision Cincinnati made yesterday was perfectly fine, as long as they plan on maxing out at eight wins for the next two seasons.