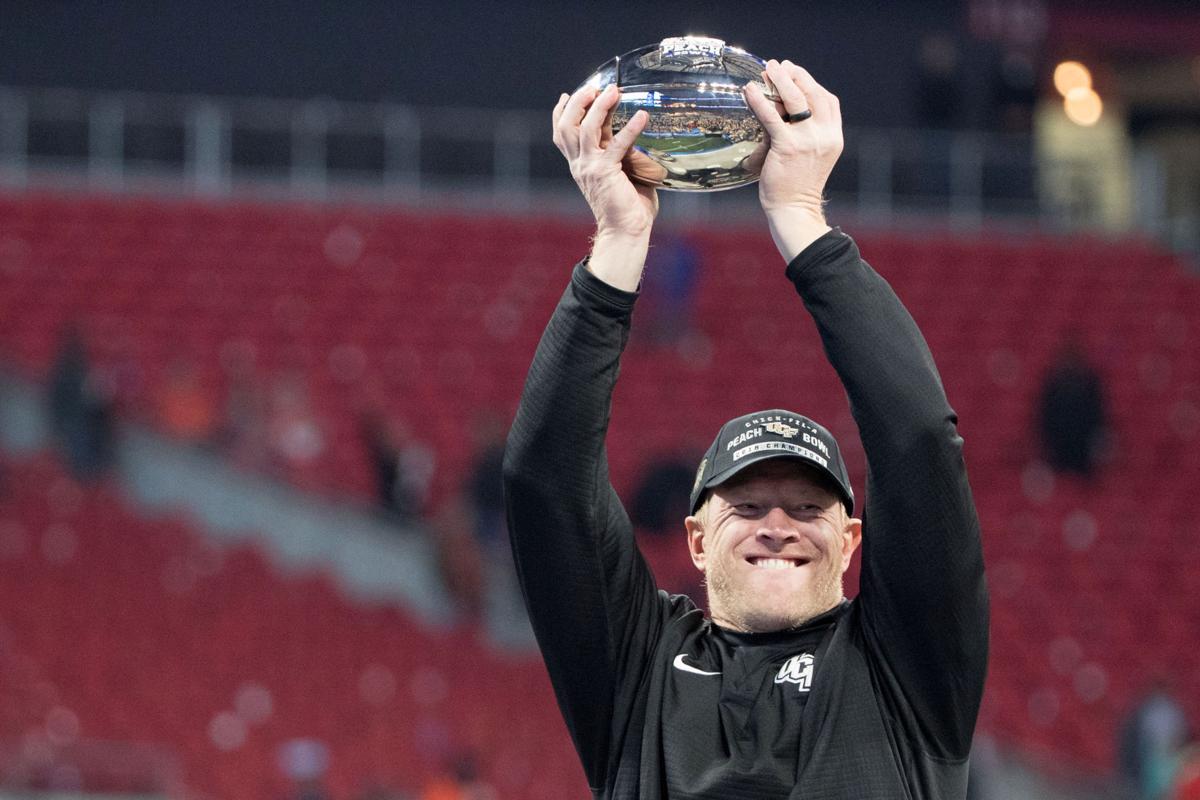 The University of Central Florida may ave been the best story in college football this season.
UCF, as they are more commonly known, went 13-0 and became the first Group of 5 team in the Playoff era to finish a season undefeated. The Knights' dream season culminated in a Peach Bowl victory over Auburn, one that showcased the high-flying offense of Scott Frost, who left the UCF job at the end of the season to become the head coach at Nebraska, his alma mater.
UCF is truly a great success story; two seasons ago, the team went 0-12. Two years later, they finished undefeated with one of the most talented rosters in college football. One of their star players, linebacker Shaquem Griffin, was born with amniotic band syndrome and lost his left hand at birth. He hasn't let that stop him, though, and he finished the Peach Bowl with 12 tackles and 1.5 sacks. He was, by all accounts, UCF's best player this season and his perseverance is nothing short of inspirational.
Between their previous futility, their best player's overcoming of personal challenges to achieve success, and the likability of Frost, who coached the team's bowl game despite accepting Nebraska's job offer a month ago, UCF had the makings of being one of the great underdog stories in recent memory.
And then the school took things approximately 500 steps too far.

It all started just hours after their bowl game ended, with Frost saying that a "conscious effort" kept UCF out of the College Football Playoff. Frost posited this theory after watching Georgia and Alabama, two teams Auburn beat on their schedule, advance to next Monday's national championship game. By the transitive property, UCF could be considered better than all of those teams; the transitive property, of course, does not take into effect important things like home field advantage, the injuries both teams dealt with when they played Auburn, and coaching in high-leverage situations. Also, remember that Georgia later played Auburn (in the same stadium in which the Peach Bowl was played) in the SEC Championship Game and defeated them 28-7. How quickly they forget.
But if people at the university stopped at being angry about the Knights' apparent snub, we would have had no problem and the rage would have been easily understood. Instead, we have a far different situation on our hands.
After the Peach Bowl, UCF Athletic Director Danny White (no, not the former Cowboys quarterback) was seen on the field proclaiming his team as the national champion. At this point it's important to remember a key fact in the debate of whether or not UCF won the national championship:
They didn't.
It's also important to point out that this claiming of a nonexistent championship is hardly unprecedented. Ohio State gave its players rings after the Buckeyes finished the 2012 season 12-0 but were barred from postseason play because of the infamous events of tattoo-gate. And the 2003 USC Trojans crowned themselves champions after what their then-Athletic Director referred to as "significant research". In that case, though, USC actually was the #1 team in the Associated Press poll at the end of the season and did earn at least a split of the national championship with LSU.
UCF, on the other hand, did not top the Associated Press poll, or any other poll, for that matter. They finished twelfth in the final College Football Playoff rankings, tenth in the final AP Poll, and tenth in the last Coaches' Poll. And before you tell me that the BCS would have resolved all of this, UCF would have finished ninth if that poll was still in use. These rankings are especially crucial because many have clamored for an eight-team playoff in recent years, as that would allows smaller, lesser-known schools like UCF to make the Playoff. So it's good to know that the Knights would not have gotten in even if the size of the Playoff was doubled.
There is also another, not-so-insignificant problem with expanding the Playoff to eight teams, and don't take it from me. Take it from former Clemson linebacker Ben Boulware. Boulware was asked about hypothetically having to play in another game after his team played in fifteen games last season before defeating Alabama in a thrilling and emotionally-draining national title game:
If we had to do another game after this? God, no. I'd literally die.
Somehow, I doubt that would be a good look for the NCAA, but then again, the NCAA probably wouldn't know what a good look was if it slapped them in the face. And remember, we're talking about UCF, the school that had a kicker ruled ineligible to play for committing the heinous, shocking, and appalling crime of monetizing his YouTube channel.
But anyway, if you thought that the coronation of UCF's alternative national title and the absurd celebration of Frost's team was complete, then get ready to have your mind frosted:
UCF athletic director Danny White said Wednesday that the program has decided to claim a national championship and will place a championship banner inside Spectrum Stadium to recognize its undefeated 2017 season.

[…]

Nonetheless, the school said that it will hold a celebratory parade for the team at Disney World on Sunday. UCF and Orlando announced Thursday they would hold a national championship celebration Monday evening, the day of the CFP national championship game.
At this point, I can't even be mad at UCF. If I ever get to the point in my life where I have a parade at Disney World in my honor for no particular reason, I'll know that my life probably won't get better from there.
But this is madness. College football is the only sport in which you can say that you won a national championship (without actually winning a national championship, no less) and have your fans believe you. And they're serious about this too, as their social media feeds indicate. Because nothing says "we don't take ourselves too seriously" quite like finishing twelfth in the final Playoff rankings, missing the four-team Playoff, winning your bowl game against what may have been a slightly uninspired opponent and then declaring yourself a "national champion".
There is one more point to be made here. While some have argued for an eight-team Playoff as of late, others are arguing for this and an automatic bid for the top Group of 5 team. That is all well and good until you consider that this was the first year in the Playoff era that a Group of 5 team has gone undefeated and could actually be considered as an honest-to-goodness candidate to make the Playoff. Many have pointed to the NCAA Basketball Tournament as having the best format for allowing smaller schools to shine. But in case you were wondering, the only "Cinderella" teams that have won a college basketball championship since the tournament has expanded to 64 teams were the 1985 Villanova Wildcats (in the first year of the new format) and the 2014 Connecticut Huskies. If you're keeping track at home, that's two-for-33, or roughly six percent of the time.
To make matters worse, UCF's best win before their bowl game this season came against Memphis in a game that went to double-overtime. The Knights also suffered other close calls at the hands of Navy, SMU, and South Florida, and their out-of-conference schedule consisted of FIU, Georgia Tech, Maryland, and Maine. (The Georgia Tech and Maine games were canceled, the former directly and the latter indirectly, due to the effects of Hurricane Irma.) I am all for the little guy who can take down Goliath, but we shouldn't make sure the little guy gets in the Playoff every year if he isn't good enough. I'm not saying UCF wasn't, but they have been the best non-Power 5 team in the Playoff era and even including them in the Final Four (or Eight) would require a serious explanation, one that may be difficult or impossible to justify.
If there is anything you can take out of this article, it is these two things:
We shouldn't bring small-school teams to college football's big dance if they aren't worthy of it.
We shouldn't give schools national championships based on the transitive property.
And if UCF's recent lunacy has exposed those two truths, then maybe it was worthwhile.