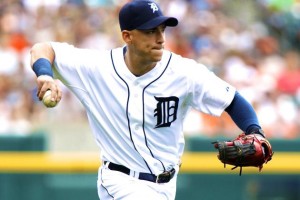 Detroit Tigers Shortstop Jose Iglesias was elected to the first All-Star game of his career in 2015, and rightfully so.  After missing all of 2014 after sustaining stress fractures to both of his shins, Iglesias is having the best season of his career, hitting .314.  He is also on pace for the best figures of his career in hits and RBI, and he has already set career highs in stolen bases and walks.  While this year is the first full year of his career, he may be the best all-around shortstop in the game already.
One of the reasons why I think so highly of Iglesias is his defense. While he may not be the best defensive shortstop in the game (he ranks eighth in the defense statistic on FanGraphs), he is certainly one of the top three.  While Andrelton Simmons, Adieny Hechavarria and others could be considered better defensive shortstops, Iglesias deserves to be in the same conversation every bit as much as they do.
To demonstrate my point, Iglesias made a phenomenal play in the eighth inning of the All-Star Game that is eerily similar to a play you would've expected a recently retired shortstop that wore #2 to make (Spoiler Alert: it's Derek Jeter). Anyway, here is the play, in which he guns down Yasmani Grandal of the Dodgers in plenty of time for the out:
Plays like that are why Iglesias is so good.  The scary part for the rest of the league is that he makes them on a regular basis.  Check out these highlights of his defensive wizardry from just the first half of this year:
These plays and others clearly show that Iglesias is at least the best defensive shortstop in the American League, and one of the best in baseball.  Now, however, it's time to delve into the dreaded statistical argument behind Iglesias' claim to the Major League Baseball Shortstop throne.
Here is a not-so-obvious reason why I say that Iglesias is the best shortstop in the game: it's the weakest defensive position in baseball. The leader in WAR (wins above replacement) at the position is the Giants' Brandon Crawford (2.9), and he is only tied for 24th among hitters.  In fact, among all the leaders in WAR at their positions, with the exception of DH, Crawford's figure is lowest among them.  That means that if you take all of the leaders in WAR at every fielding position and put them at their respective posts, the shortstop position would be the weakest, at least in terms of the good old WAR statistic.
Some may not put any value to defense at the position; as Billy Beane said in the 2011 movie "Moneyball", "His fielding does not matter." (Italics mine).  However, this surely does not apply to the shortstop position.  This is what an anonymous Senior Bleacher Report analyst wrote about the difficulty of the position back in 2008:
The question is whether shortstop is more difficult than third.

Both see a good amount of action. Both see grass-cutters on a regular basis. Both are expected to cover a serious amount of ground to be elite. Both have complicated rotational duties on specialty plays. Both must have cannons hanging from the right shoulder. Both must have velvety hands and nimble footwork.
It comes down to a matter of degree.

The shortstop sees a little more action. Third probably sees a higher number of vicious "chances" and the most dangerous ones. But short must cover more ground, rotate to cover both second and third routinely, have a better arm, have better hands, and have better feet. The difference is not extreme in any instance, but there is a difference.

And it can be seen, not in the best players at the positions, but in the average ones.

Your average shortstop could move to third. Your average third-sacker could certainly NOT move to short. They would either be too slow or to awkward or too, uh, mentally limited.

That is why most pro infielders (with the exception of the huge first basemen) were shortstops at some point in their careers. They started off as the best athlete and were put at SS. At a certain level, their defense became average for the spot, so they were moved to another position.

Check it out, even some catchers and pitchers used to be shortstops.
This is really very true.  Defense is very important in baseball, but it is never as important as it is at the action-filled shortstop position. That's what makes Iglesias so great, especially when you consider his hitting numbers; he plays all-world defense and is one of the best hitting players at his position, too.  Not easy.
So how about his hitting, then?  While you can make fun of his singles-hitting propensity (his ISO (Isolated Power) is .059, which is, err, low), his aforementioned batting average and on-base percentage (.364) are both tops at the position just to the left of second base. While he may not hit for power (he has one home run), he hits for average and gets on base, which are two things that have become increasingly difficult in the new golden age of pitching in professional baseball.
Here is another important thing: Jose Iglesias just does not strike out. His K% is 9.5%, and the only shortstop with a better K% is Andrelton Simmons.  However, Simmons is but a .254 hitter, and his BB% (walk percentage) is lower than that of Mr. Iglesias.  Also, Jose has a very solid BABIP of .343, third at his position.  However, the two players ahead of him (Xander Bogaerts and Troy Tulowitzki) have K%s of 14.9% and 20.9%, respectively.  If they struck out less, their BABIPs would be lower because they'd be putting the ball in play more often.
Another reason why the best shortstop in baseball debate has become a thing?  It's simple: we probably haven't thought about it since 1996. Those who follow the game (and those who don't) simply considered Derek Jeter the best all-around shortstop in baseball, and that was that.  Even when Jeter neared the end of his career, broke his ankle, and slowed down as age took its toll on his body, we still gave him the benefit of the doubt because of his track record.  There is no de facto #1 shortstop in baseball anymore; we have to find him ourselves.
That person is Iglesias.  The combination of fielding and hitting is one that is rarely seen in the game of baseball, and it is especially difficult to pull off at the hardest position to play in the field, shortstop.  There is only one person in the game that can say he does it better than anyone else at the spot, and his name is Jose Iglesias.
Jose Iglesias may not be the best hitting shortstop in baseball.
Jose Iglesias may not be the best defensive shortstop in baseball.
But Jose Iglesias is definitely the best all-around shortstop in baseball.