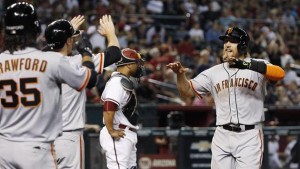 The year is 2015; you probably are keenly aware to this fact, unless you either have been living under a rock or are Andre Dawson.
Anyway, 2015 has been a pretty big year in our country to date. Marriage equality was legalized nationwide, American Pharoah won the Horse Racing Triple Crown, Brian Williams made up some things, and the U.S. Women's Soccer Team won the World Cup.  You want to know what else 2015 has been, and still is?  An odd-numbered year.
And odd-numbered years typically spell doom for the San Francisco Giants.
Here are the results for the Giants from the last three odd-numbered seasons.  The 2011 and 2013 seasons are those in which the Giants were coming off of World Series victories:
2009: 88-74, 2nd place NL West, missed Playoffs
2011: 86-76, 2nd place NL West, missed Playoffs
2013: 76-86, T-3rd place NL West, missed Playoffs
And here are the results from the last three even numbered years:
2010: 92-70, won NL West, won World Series
2012: 94-68, won NL West, won World Series
2014: 88-74, won NL Wild Card, won World Series
The Giants have become what is easily the most bizarre dynasty in sports.  They have been an October dynasty in even-numbered years and a middle-of-the-road team in odd-numbered years.
So how have the Giants done this year?  Not too badly, actually. They're 47-43 after defeating the Diamondbacks 6-5 in 12 innings last night.  This, along with a Cubs loss to the Braves, leaves San Fran just one game back of the second and final Wild Card spot in the National League.  Statistically, they are not faring too badly, especially compared to last year.
They rank 11th in baseball in runs scored this season; interestingly enough, they only ranked 12th in the league in that category last year. As you are aware, I like to use a stat called BABIP (Batting Average on Balls in Play) as a barometer of future hitting success.  The Giants' BABIP this season is .319, which is third in baseball.  This may very well go down, as their BABIP last season was .304, which was 10th in baseball.  However, out of the nine teams ahead of them in this category, exactly zero of them got to their respective League Championship Series.
The Giants were not an overly impressive home run hitting team a year ago, hitting just 132 of them, short of the league average of 140. This season, they've hit 72 through 90 games, and they're on pace for just 130 this time around.  Is being a below average home run hitting team a hindrance in October?  Not really.  Last season, the Orioles ranked first in the league in home runs, and made it to the ALCS doing so.  However, the Cardinals and Royals were 29th and last in the league, respectively, and they were both one of the last four teams standing, too.  It's not a huge deal.
How they do win at the plate is with a high batting average.  They hit .255 as a team last season, and this is significant because all of the last four teams standing at the end of last season were above the league average of .253.  They're hitting .272 this season, which is tied for second in the game.  Statistically, they stack up as a team that can make some noise in October… if they make it there.
Now, let's take a look at their lineup on an individual basis.  While Buster Posey and Joe Panik have been the most consistent hitters on the team, the best offseason addition for the team has assuredly been outfielder Nori Aoki.  He's hitting .317 with a .383 on-base percentage and a .333 BABIP.  He also has a 5.8% strikeout percentage, which is the lowest K% in baseball.  While Aoki has been valuable, he has also been out of the lineup since June 20 with an injury to his right fibula. Getting him back soon will be crucial to the Giants postseason hopes, and according to CBSSports.com, he's coming back in two weeks.
However, the obvious MVP of this team and one of the best players in the game today is Buster Posey.  He leads the team in all the major statistical categories and can be considered a National League MVP candidate.  He's even been compared to Johnny Bench, writes Matt Kawahara of the Sacramento Bee:
At age 21

Bench: Batted .293 with 26 home runs and 90 RBIs for the Reds, finishing 13th in the N.L. MVP race and making his second All-Star team.

Posey: Won the Johnny Bench Award, given to college baseball's top catcher, in his junior year at Florida State.

They catch and pitch

Bench: Longtime spokesman for Krylon paint: "No runs, no drips, no errors."

Posey: Appears in recent Esurance commercial in full catcher's gear, ready to help a woman deliver her baby: "I'm sort of your doctor. We both wear gloves, and we both deliver in the clutch."
Bench comparisons aside, Posey is exactly what you think he is: the best catcher in baseball and the best player on the team.
But the part of the Giants lineup, and particularly their defense, that may very well be most important to their playoff aspirations is the middle infield.  With over .300 hitter Joe Panik at second and defensive ace Brandon Crawford at short, the combination has benefited both the team's defense as well as its hitting.  They might be the most important players on the team, writes David Schoenfield of ESPN:
The middle infield pair made the All-Star team and deservedly so. Both have added power — Crawford ranks 11th in the NL in extra-base hits, while Panik has more than Troy Tulowitzki,Buster Posey or Justin Upton — to go with their excellent defense. The Giants'homegrown infield has been huge because the rotation has been a weakness.Matt Cain and Jake Peavy have returned from the DL, but you don't know what to expect from them. The offense will have to lead the Giants back to the postseason.
The Giants are doing it differently this year, but with Crawford, Panik, Posey and a healthy Aoki, they could be back in the Postseason.
As for the rotation?  It hasn't been quite as good as it was last season. Tim Lincecum had been pitching slightly better than he did last season, but he got hit on the arm with a line drive on June 27 and it is unclear when he will return to the team.  Madison Bumgarner's numbers have been somewhat worse this season (his ERA has jumped from 2.98 to 3.33), but he's still been very valuable to the team, and if his October performance from last season is any indication, he can really turn it on come playoff time.
Another solid pitcher in the rotation this season has been 27-year old rookie Chris Heston.  Heston was supposed to be simply a fill-in for injured starter Matt Cain, but he has performed more than well enough to stay in the rotation full-time.  His numbers are remarkably similar to MadBum's this season, and he has really been the Giants' 1-A pitcher in the rotation.  However, his emergence has caused issues in the rotation with the returns of Cain, Jake Peavy, and Tim Hudson.
As Andrew Baggarly of Giants Extra documents, Bruce Bochy has apparently made his decision in terms of who to take out of the rotation:
With Tim Hudson set to be activated to start Monday at San Diego and Chris Heston retaining his place in the rotation on Tuesday, Bochy said he intends to use Ryan Vogelsong in a long relief role.

That didn't go so well for Vogelsong in April, when he allowed five runs and a whopping 19 baserunners in 5 2/3 innings over two relief outings.

"More than anything, he's got to be patient," Bochy said. "Learn from this last experience. Get that out of his head and be ready to go at any time."
Vogelsong has been better than Hudson as a starter this season, with a better ERA, WAR, and K/9.  This is probably not the right decision even with Hudson in his last season, but who am I to doubt a manager who has won three out of the last five World Series?  He knows what he's doing.  Most (future) Hall of Fame managers do.
The bullpen has been generally good and Santiago Casilla has performed well in the closer's role.  If baseball history has taught us anything, it's that closing out games is pretty darn important.
However, at the end of each World Series clincher the Giants have won, there has been a different pitcher on the mound to close it out (2010: Brian Wilson, 2012: Sergio Romo, 2014: Bumgarner).  But their bullpen is good enough to survive, and it will do so if it gets to October.
Here is the thing with the Giants: they probably still have a chance to win the division.  They're only four games back of the first-place Dodgers, and while they only have three games left against Los Angeles, there is still a lot of baseball left to be played.  But, let's say they are left to contending for the last Wild Card spot with the Cubs and Mets.  To be honest, I don't think either team has enough to make the playoffs, especially in the superior National League.
So, if the Giants get the final spot, they will be locked in the Wild Card game with either the Pirates or Cardinals.  It's fairly apparent that both of those teams are better than the Giants, but one of them will be stuck hosting the one-game playoff.  And, in a single game, to decide two teams' playoff fates, with Bumgarner on the hill?  Anything can happen in that scenario.
The Giants have a chance, even in this, an odd-numbered year.  They may very well make the playoffs this year, and even if they don't, we may be able to put the curse of the odd numbers to bed.
But hold on to that feeling, Giants fans: your team has a chance.