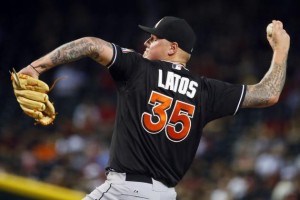 As you've heard, the trading market for pitchers, especially of the starting variety, is going to be very active at this year's trading deadline.  The most frequently mentioned names (among others) have been Cole Hamels, Johnny Cueto, David Price, and Jeff Samardzija.  Contending teams such as the Blue Jays, Yankees, and Astros, all of which are in need of starting pitching, will certainly take long, hard looks at all of the pitchers listed above.  However, there are a multitude of starting pitchers who, even though they aren't aces, could really help teams, especially in October.
To be clear, I believe that the problem with trading in baseball is that teams look at certain players as must-have commodities.  Look at what the Oakland A's surrendered to acquire Jon Lester on deadline day last season.  They gave the Red Sox Yoenis Cespedes and a draft pick in the 2015 Draft's Competitive Balance Round B.  The Red Sox then capitulated that pick to the Dodgers when they signed Hanley Ramirez this past season.  The A's got Lester and Jonny Gomes, a power-hitting left fielder with a career .242 batting average.  While Lester performed admirably in the last two months of the season, he went to the Cubs in the winter.  Gomes fled for Atlanta.  Both are out of Oakland after a fleeting two months with the organization.
While Cespedes was dealt by the Red Sox to the Tigers in December, the trade freed up the Bo-Sox enough to get Ramirez.  The Red Sox are the team that got the better of the deal, even if neither team kept any of their assets.
My point is, front offices shouldn't make deals because they think they absolutely have to get somebody.  This feeling of necessity burned the A's because they didn't need pitching; they needed offense.  So the way they tried to fix the problem was to deal Cespedes, their best offensive player.  They didn't need the pitching because in addition to already having solid starting pitching in the form of Sonny Gray, Scott Kazmir, and Jesse Chavez, they had traded for former Cubs Jason Hammel and Jeff Samardzija on July 5.
About that trade: the A's gave up much more in that deal than in the Lester trade.  The main piece the Cubs acquired in that trade was second baseman Addison Russell, who, even though he is hitting only .231 in his first season in the majors, is an amazing defensive infielder.  He is also a starter on a Cubs team that is currently in the second Wild Card spot in the National League.  Russell just so happens to be 21 years old with a lot of room to improve.
Oakland also gave up Dan Straily in that trade.  Straily, a starting pitcher, was sent to AAA by the Cubs.  In January, he was traded to the Astros for Dexter Fowler, who is now the Cubbies' starting center fielder.  Billy McKinney, a AA outfielder, was also in the deal.  Now, take a guess: where is Samardzija now?  On the South Side of Chicago, pitching for the White Sox.  And Hammel?  Back with the Cubs, and having the best year of his career in the process.
Another outcome of the carnage resulting from the deals: someone had to be sent down to AAA.  That someone was Tommy Milone, and he was traded to the Twins for Sam Fuld on July 31.  Fuld is still with the A's, but has hit .210 and .207 the last two seasons, respectively. Milone is also having the best season of his career, helping the Twins into position to potentially make the playoffs for the first time since 2010.
Did I mention that Oakland was 54-33, the best record in baseball, when they traded for Samardzija and Hammel?  And that on July 31, they were 66-41 which, at that time, was… the best record in baseball? Finally, did I forget to bring up the fact that, after July 31, the Oakland Athletics went 22-33, finishing the season 88-74 and locked up in the Wild Card game in Kansas City against the Royals?
In that game, Oakland was up 7-3 going to the bottom of the eighth, and, in a cruel twist of irony, Lester ran out of gas, a la Pedro Martinez in Game 7 of the 2003 ALCS.  The lead was down to 7-6 with one innings to play.  In the bottom of the ninth, closer Sean Doolittle gave up the one-run lead on a Nori Aoki sacrifice fly.  The game went to 12 innings, and, with the A's up (again) 8-7, Dan Otero was brought on to close it out.
In more irony, with one out and no one on base, Eric Hosmer hit a line drive that got past Gomes.  A single became a triple, and Hosmer scored the tying run on a Christian Colon single.  Otero would be replaced by Abad, and after getting Alex Gordon to pop out, was relieved by Hammel.  Colon stole second, and, with the winning run 180 feet away, Salvador Perez hit a ground ball down the third base line that got past Josh Donaldson and stayed fair.  The A's were gone.
So, to recap: they traded their future shortstop (Russell) for two pitchers (Samardzija and Hammel, neither of whom are on the team anymore), dealt their best hitter (Cespedes) for a pitcher and utility outfielder (Lester and Gomes), and dealt the odd-man-out starter who is turning out to be a real weapon for a postseason-contending team (Milone) for a mendoza-line hitting defensive outfielder (Fuld).  This is the cautionary tale, and certain teams in the history of baseball have had the deadline down pat (See: late 90s Yankees).  But this is what happens when front office executives sharpen their focus on one, two, or even three players; they move heaven and earth to get those guys and once they do, the acquired players don't stay with the team.  And, to boot, the A's helped lay the groundwork for the very successful 2015 Cubs' season.
So that was our history lesson.  Now, let's bring it back to this season.
Yesterday, Jeff Sullivan of Fangraphs wrote a very interesting article about teams that traded for aces.  It prompted me to write this one, and you can read all of it here, but this is the most interesting excerpt from it:
Through this method, I found 22 trades that were made by 21 teams. If that's a little confusing, it's because last year's Oakland Athletics added front-line starters in two separate deals — adding Jeff Samardzija and then Jon Lester. I don't want to bias by double-counting. Of the 21 teams that added good starters, 17 advanced beyond the end of the regular season. Two were eliminated in single-game eliminations. Nine were eliminated in the division series. Four were eliminated in the championship series. Two lost the World Series. Which means that none of the teams actually won the World Series.

It's not that World Series-winning teams haven't added starting pitchers. Last year's Giants swung a midseason trade for Jake Peavy. But Peavy wound up with a below-average FIP and an average ERA. When championship teams have added starters, they've been of the second- and third-tier varieties. The teams adding the big guys have made some noise, but of late they haven't hoisted a trophy.

When you're selling a front-line starter, you're selling the idea that said starter could carry a team through October. Look at what Madison Bumgarner just did. It's an appealing thought, and it's founded in truth. But you can look at last season for counter-evidence. Neither Samardzija nor Lester could save the A's, which lost a one-game playoff in which Lester got the ball. After the Tigers added David Price, they went on to get swept in the first round. Go back further: The Angels missed the playoffs entirely despite picking up Zack Greinke. Two years in a row, Cliff Lee joined a series-bound team and lost. Maybe the ultimate addition was Randy Johnson to the Houston Astros, in 1998. Houston lost the NLDS, 3-1.
Okay, so if trading for aces is historically a move that doesn't work, why do teams always fall into this trap?  Again, it goes back to teams thinking that they have to get a certain player; they don't.  They just delude themselves into thinking that they do.
This season, there will be at least one team that overpays for Hamels, Cueto, or Price.  Every village has its idiot, and baseball is no different.  However, some of the other available pitchers on the market could really help teams, maybe even more than the so-called "aces".
Some of these less heralded pitchers are Mat Latos, Dan Haren, Yovani Gallardo, and Tyson Ross, just to name a few.  Let's start with Latos.
Even though he is 4-6 with a 4.48 ERA this season, some of the other numbers tell a different story with Mat Latos.  His FIP (fielding-independent pitching) is 3.32, which is more than a point lower than his ERA.  He's pitched for the Marlins for the first half of this season, and that surely has not helped.  The defense played behind him could not have helped his ERA, either.  However, according to at least one insider, he may not be worth the trouble:
One other thing: Mat Latos wore out his welcome with #reds. From everything I've heard, it's been the same story with #marlins.

— Jerry Crasnick (@jcrasnick) July 22, 2015
So even though Latos may be a headache in the clubhouse, he is definitely worth it on the field.  A change of scenery may be something that helps his pitching, as the Marlins have been a losing team all season.  Going to a winner may change the game for him, and if history is any indication, he can get it done.  In back to back years (2012 and 2013), he hurled over 200 innings for the Reds, and in both of those years, they made the playoffs.  If he goes to a contender, he could muster a similar performance.
The next, somewhat underrated pitcher who will probably be moved this late July is Dan Haren.  He's on his fifth team in as many years, and he's most likely about to be on his sixth.  While he has never been an ace, he's a pitcher that can give a team a chance to win every time he steps on the mound.  While his FIP (4.31) is noticeably higher than his ERA (3.46) this season, he can be a stabilizing force for a starting rotation in need of consistency, like the Astros or Blue Jays.
Tyson Ross of the Padres is another pitcher on a losing team that can help a winner get over the edge.  This report came across from ESPN's Buster Olney yesterday:
SD needs some imaginative deals to get younger, shed payroll. One idea (speculation): JUpton, T. Ross for Gausman, 1 other lesser prospect.

— Buster Olney (@Buster_ESPN) July 23, 2015
Even if Ross doesn't go to a winning team, he can still provide great value at the front of a starting rotation.  While it may not appear that he's having as good a year as he did in his breakout campaign last year, the numbers beg to differ.  While his BB/9 is up along with is ERA, his FIP, K/9, and HR/9 are all improved from last year.  His BABIP against him is .332, up 31 points from last season.  While it may not look like he is having as good of a season as he did in 2014, he is. Luck just hasn't been on his side, at all.
Finally, the non-ace pitcher who may be most tantalizing for teams is the Rangers' Yovani Gallardo.  He is having the best season of his career, and while luck has been on his side (his FIP is 78 points higher than his ERA), he will still be very valuable for teams looking for a front-line starter.  Unlike the other, underrated pitchers, a team overpaying for Gallardo based on this year alone is likely.  However, that doesn't mean he won't do really well in a new environment.
All told, the only ace on the trade market worth mortgaging the future for is the Tigers' David Price.  Cueto may be worth it, but his FIP has been higher than his ERA in every year of his MLB career.  Hamels' career numbers are remarkably similar to those of Latos, and yet he will be valued more by desperate teams looking for an ace. Samrdzija's numbers are not very good this season (ERA over 4), but he'll be coveted on the market, even though I'd value him about the same as I would value Haren.
Even though the "aces" aren't much better than their less heralded counterparts, desperate teams will give up their future prospects and other talent just for one pitcher.  However, none of the teams that do this will win the World Series.  Why?
Because aces just aren't worth the assets.