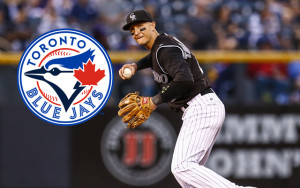 Late last night, the Toronto Blue Jays pulled off the blockbuster of the trade season by acquiring Troy Tulowitzki, as first reported by Fox Sports' Ken Rosenthal:
BREAKING: Tulo traded to #BlueJays.

— Ken Rosenthal (@Ken_Rosenthal) July 28, 2015
Later, Rosenthal also reported the full terms of the deal, including who the Rockies would be acquiring in the agreement:
Deal as we know it right now: Tulo and LaTroy Hawkins to #BlueJays for Jose Reyes and minor leaguers. Do not know financial terms, if any.

— Ken Rosenthal (@Ken_Rosenthal) July 28, 2015
Those three prospects were right-handed pitchers Miguel Castro, Jeff Hoffman, and Jesus Tinoco.
Tulowitzki has had a very solid season for the Rockies, hitting .300 and making the National League All-Star team.  The Rockies had been looking to trade him for the last couple of seasons, but they were unable to find the value they wanted.  They also wanted to trade Tulo to a team he wanted to play for; this explains, at least partially, why he was never traded to a team like the Mets.  However, according to Yahoo!'s Jeff Passan, the Rockies notified Tulowitzki (and his teammates) of the trade in a rather dishonorable fashion:
There was always an agreement between Colorado Rockies owner Dick Monfort and his star shortstop, Troy Tulowitzki, spoken out loud so as to be abundantly clear: If the Rockies were to trade Tulowitzki, they were going to ask for his blessing first. Then came the blockbuster deal that sent him to the Toronto Blue Jays late Monday night, and Tulowitzki, according to sources inside the Rockies' clubhouse, found out not via a phone call but when teary-eyed manager Walt Weiss yanked him from their game in the ninth inning.

The story of how Tulowitzki was treated, relayed by people aggrieved with his departure and how the Rockies broke their word to the longtime face of their franchise, is actually a fitting end to a multiyear trade-him-or-don't saga that wound up with Tulowitzki fetching his passport and heading to Canada along with LaTroy Hawkins for shortstop Jose Reyes and a trio of right-handed pitching prospects: Jeff Hoffman, Miguel Castro and Jesus Tinoco.

Fearful Tulowitzki requesting a trade publicly would make the Rockies look weak, the team asked him to play good soldier, which he obliged, according to club sources. The organization's dysfunction, from the power struggles between former co-GMs Dan O'Dowd and Bill Geivett to a hands-on owner in Monfort whose public comments about players often rubbed them the wrong way, was all too evident, not just to Tulowitzki but the team's young core of Nolan Arenado, Charlie Blackmon, D.J. Lemahieu and Corey Dickerson.

The stunned silence of players early Tuesday morning, when word of the trade came down, spoke to the disappointment of losing Tulowitzki. As the Rockies stashed him in Weiss' office to keep him from addressing a deal that early Tuesday remained unconfirmed by either team, the truth of Tulowitzki's exit filtered into the clubhouse and left the players even more gobsmacked, according to sources.
So what can Tulowitzki do for the Blue Jays that Jose Reyes couldn't?  Let's find out.
Invariably, the first aspect of this trade that arises given the players involved is health.  Interestingly enough, in each player's full seasons, Reyes has averaged more games played (121) than Tulowitzki (114). Also, Tulo hasn't played the last three seasons on artificial turf, like Reyes has in Toronto.  Moreover, Tulowitzki has had multiple lower-body related injuries in the past, such as a torn quadriceps tendon in 2008 and a left hip injury in 2014.  The artificial turf north of the border won't help matters.
However, Tulowitzki adds yet another home run hitting presence to the already stacked Blue Jays lineup.  I've put together a projected lineup for the Blue Jays, with the addition of Tulowitzki and the subtraction of Reyes.  Here it is:
Kevin Pillar- 7 HR
Josh Donaldson- 24 HR
Troy Tulowitzki- 12 HR
Jose Bautista- 21 HR
Edwin Encarnacion- 19 HR
Justin Smoak- 9 HR
Russell Martin- 14 HR
Ezequiel Carrera- 3 HR
Devon Travis- 7 HR
So, except for the 8-hole, there is at least a decent home run threat at every spot in the lineup.  And the Blue Jays even have the option of taking Carrera, their starting left fielder, out and putting Chris Colabello into that spot; Colabello has hit nine home runs this season. While Tulowitzki has spent his career in the ultimate home run hitter's ballpark (Coors Field), Rogers Centre should not be much, if any, of a deterrent; only six less home runs have been hit there than at Coors.
However, they will lose the stolen base threat of Reyes.  Other than Kevin Pillar, Jose was the only threat the Blue Jays had to swipe a bag. The Blue Jays will miss this, but losing him does not mean the team will stop scoring runs; the opposite is the case.  As of July 28, Toronto led all of baseball with 528 runs scored, a whole 72 more than the second place team, the Yankees.  They will most likely expand upon this margin with Tulowitzki, provided he stays healthy and in the lineup.
I still don't think this was a great move.  Why?  The Blue Jays simply do not need hitting.  They need pitching, as their staff ERA is the eighth highest in baseball.  NBC HardballTalk's Matthew Pouliot agrees with me:
And if the Blue Jays did go get a bat, it figured to be an outfielder. Preferably one who hits left-handed. 111 of the Jays' 130 homers this year have come from right-handed hitters, and while they've gotten solid production from every spot, the positions on the team with the lowest OPSs to date are left field and center field.

Then there are the Rockies. The Rockies always need pitching. Their most effective starter this year has been 28-year-old Chris Rusin, a Cubs castoff with a 3-4 record and a 4.13 ERA in 65 1/3 innings. Overall, their starters have a 5.12 ERA, which ranks 29th in MLB ahead of only the Phillies. They're dead last with a 1.52 WHIP and a 1.8 K:BB ratio.

The other thing the Rockies always seem to need to do is to get cheaper. They don't really like spending money. They're not very good at it when they do.

None of this would seem to be a likely recipe for a Troy Tulowitzki-for-Jose Reyes trade. To say this one came out of nowhere would be an understatement. No one would have guessed the Blue Jays were in the market for a shortstop. And no one would have imagined that when the Rockies finally traded Tulo, it would be for a player who has a higher annual salary.
While I completely agree with this viewpoint, we must be fair to the other players in the deal.  While the Blue Jays gave up three pitching prospects, they did get Rockies' reliever LaTroy Hawkins in the deal. Hawkins has had experience closing out games, as he did in stints with the 2013 Mets and last year's Colorado team.  And he will probably be the closer, as the Blue Jays have had many this season (one of their closers this year was Miguel Castro; he plays for the Rockies now).  Roberto Osuna has been the 9th inning man of late and has performed capably, but Hawkins has been effective over a longer period of time. He should get the nod to finish games.
So what does this all mean?  We won't know until the Blue Jays are done dealing.  The Tulo move probably means that they will also look to get a starting pitcher, as they have already fortified their bullpen and lineup.  Trading for the best hitting shortstop in the game makes an already-stacked starting lineup that much more difficult to face. It's a "rich get richer" type of move, and it's one that will probably lead to other moves as well.
Finally, let's not forget another, more far-fetched possibility: the Blue Jays trading Tulowitzki.  It's not completely out of the question, and while it's unlikely, it isn't impossible.  The Rockies are thinking of flipping him to get other assets (probably minor leaguers), and the Blue Jays could do the same with Tulo.  But if they don't, they get one of the best hitters in the game, in his prime, in a home run hitting ball park.
If he can stay healthy, that is.