We are still five months away from the beginning of the college football season.  However, it is never too early to think about which coaches will be receiving their pink slips after this season.  The next five coaches I am about to list should be taking a look over their shoulders, and if they don't perform, could be shipped out.  What is important to understand about this article is that we should not celebrate firings in college sports, and while most of the coaches on this list are held to ridiculously unrealistic standards, that is simply the business that college football is.
#5: Les Miles, LSU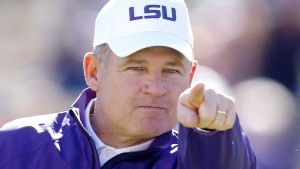 This is clearly the out-of-the-box "hot seat" choice.  However, when examined closely, it makes much more sense.  LSU raked in the #6 recruiting class this year, per Yahoo.com, and this included 5-star recruits such as running back Derrius Guice, wide receiver Tyron Johnson, offensive lineman Maea Teuhema, and defensive back Kevin Tolliver II.  None of those recruits play quarterback.  While Brandon Harris flashes potential, he has not yet reached the quarterback that many expected him to be.  Running back Leonard Fournette may very well win a Heisman this year, and it may be in vain.  This is a team that has also failed to make a BCS/NY6 bowl in the last three seasons.
#4: Larry Fedora, North Carolina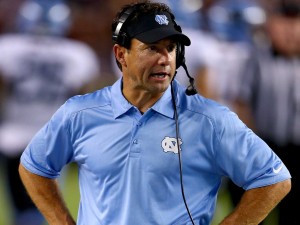 This team returns ten out of its eleven starters on offense.  They will be able to light up Saturdays and outscore many an opponent.  Also, it has brought in former Auburn head coach Gene Chizik to run its defense; but it shouldn't make a difference.  The defense will continue to struggle as it did last season.  Last year, the Carolina team defense was, uh, not great (11th most total yards allowed in the country).  Consider these factors as well as an incredibly weak schedule as you look at this Carolina team.  If they underachieve, look for Fedora's ouster.
#3: Pat Fitzgerald, Northwestern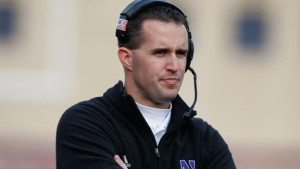 This one is relatively simple: Northwestern has not reached a bowl game in the last two seasons.  While it did achieve quality wins over Notre Dame and Wisconsin last year, it 3-7 outside of those games  The big wins almost served as smokescreens for the rest of the team's games.  Worst of all, the team won ten games but three years ago, and was 4-0 to start the 2013 season before falling apart after a tough home loss to Ohio State.
#2: Bob Stoops, Oklahoma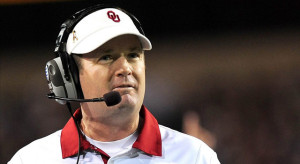 Virtually all of the team's featured talent from last season is back from last year, including FBS single-game rushing record holder Samaje Perine and star wide receiver Sterling Shepard.  Also returning is enigmatic quarterback Trevor Knight, whose struggled last season before going down to a frightening spine injury.  While the running back position is deep with Perine and Joe Mixon, the defense, and, in particular, the secondary will struggle due to its being very thin/young.  This one largely depends on where the OU athletic department's expectations lie for the upcoming season.  If they expect a NY6 bid and the team underachieves, Stoops is gone.  But if they don't Stoops should be safe.
#1: Al Golden, Miami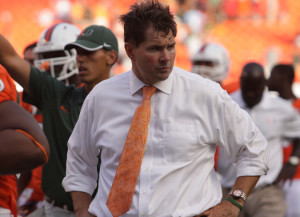 This one is just too easy.  Golden is entering his fifth season at "The U" and has gone a mediocre 28-22 over his first four.  However, in fairness, he has put under strict recruiting restrictions due to the Nevin Shapiro scandal.  This is the make or break year, though.  With the amount of coaches who would love to coach in Miami (including late 90s-early 2000s Hurricanes' savior Butch Davis), the expectations are naturally way too high here.  Quite a few of the team's starters return from last season, including promising young quarterback Brad Kaaya.  Throw in the third-toughest schedule in the country, and underachievement is bound to happen.  The likeliest outcome here is Golden's firing.
UPDATE: An earlier version of this article stated that the Miami Head Coach in the late 1990s-early 2000s was Butch Jones.  Obviously, it wasn't; it was Butch Davis.  I sincerely apologize for the error.