In the first three games of this year's NBA Finals, the Warriors looked like they didn't have the mettle and toughness to win a title and dethrone the king.  They were getting beat by the Cavaliers' tenacious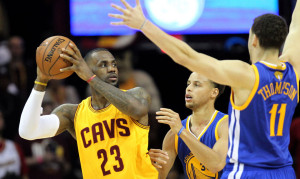 defense and being clowned defensively by LeBron James, who was averaging 41 points per game in the series.  Matthew Dellavedova was causing fits on defense, particularly to MVP Stephen Curry, who shot just 32% (11-34) in those three games; however, with the exception of the fourth quarter of Game 3, he was just 23% (6-26).  Klay Thompson was also shooting 32% (9-28).  However, this all changed in last night's Game 4.  James scored just 20 points on 7-22 shooting, and while the combination of Curry and Thompson combined for only 31, it was a lineup change by coach Steve Kerr that made the difference.  He took the floundering Andrew Bogut out of the starting lineup and inserted Andre Iguodala, who had started every game of his career until this year, which saw him come off the bench every night.  He scored 22 points, grabbed 8 rebounds, and was very possibly the best player on the floor, outplaying King James.
The change in the Warriors play was not only due to the change in the lineup, however.  According to Draymond Green, the team was not worried about the 2-1 deficit:
Draymond Green describes the Warriors' state of mind heading into Game 4, trailing 2-1. http://t.co/8c4C6bcZMjpic.twitter.com/6UbnnFbb3O

— SportsCenter (@SportsCenter) June 11, 2015
The team did come out pissed, winning loose balls that they had previously lost and wearing down Cleveland in the process. Another factor in Golden State's success was their depth.  They had regularly played nine players in their rotation regularly; the Cavaliers only played seven.  Their depth became a plus, which is a positive for them going into the series' last three games:
Warriors kept saying their depth wd b plus. It finally was in this 4th quarter, even on a night their starters took heavier than usual load.

— Ethan J. Skolnick (@EthanJSkolnick) June 12, 2015
The combination of their depth along with their effort and hustle allowed them to pull away in Game 4 and tie the series.
The scariest part of playing the Warriors for the Cavaliers right now is that Curry and Thompson have not gotten going yet.  Last night, however, even though they did not have great games, players like Lee, Iguodala, and Shaun Livingston (who was an otherworldly +25 in 25 minutes coming off the bench last night) picked them up.  Thompson and Curry were +15 and +18, respectively.  When they came out, however, the team was +3 in 7 minutes without Curry and +6 in 9 minutes without Thompson. Again, the team's depth is a huge plus for them and a bigger negative for the Cavaliers. Also, of the seven players the Cavs are playing, one of them has been a glaring negative: J.R. Smith. He, in 28 minutes in Game 4, was -27, and he shot just 2-12 from the field.  However, if he doesn't have his shot, he can always have his PhunkeeDuck:
However, it's obvious: if the Cavaliers continue to play 7 players, then those seven players are going to have to play really, really well.  While the rest of the Cavs have actually played pretty well in this series, especially Dellavedova, only two of their players played very well last night: their two big men, Tristan Thompson and Timofey Mozgov.  And part of their success was the game plan of the Warriors that allowed them to get their points against a smaller, quicker lineup that could make plays at the other end.  The Dubs' defense double-teamed James, especially in the post, and this, combined with the smaller lineup, created mismatches with Cleveland's bigs.
Another issue the Cavaliers had in last night's game was their energy, or lack thereof.  They looked to have tired legs and wore out as the game went on. Dellavedova and LeBron cramped up as the game went on, as well; both needed post game treatment for cramping after game 3 (Dellavedova wound up in the hospital).  James also lacerated his head on a camera lens in the second quarter:
The bottom line is that everyone on the Cavaliers was tired last night.  The extra day off before Game 5 on Sunday is absolutely a must, and they have to get their legs back between now and then.  If they don't, they won't be able to pull out the miracle and beat the Warriors.  However, one thing is clear after last night.
The Warriors are back.