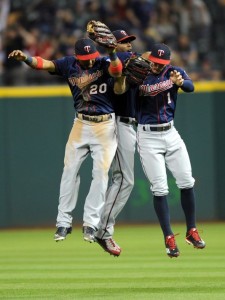 The Minnesota Twins were baseball's hottest team in May, going 20-7 on their way to the top of the AL Central and to the best record in the American League. They hold a 1/2 game lead over their division rival Kansas City Royals for first and are 3.5 games up on the Tigers.  The question that many baseball writers and fans have had throughout the team's recent run has been simple:  Can it last? This is a very legitimate question.  It is one that we can not answer for sure, but my best guess is that the success will not last.  Here's why:
First, there was a rather interesting piece in the Washington Post this weekend about baseball's biggest surprises.  You can read the whole article here, but if you don't, this is the excerpt that deals with the Twins:
Winners of five straight to pull into a tie with the Royals atop the AL Central, Minnesota entered the weekend with no regular hitting above .280 or with an on-base percentage above .348. Their supposed ace, Phil Hughes, has a 4.57 ERA. Their major free-agent acquisition, Erwin Santana, was suspended for 80 games because of a drug violation. Their $49-million bust from a year ago, Ricky Nolasco, has a 5.12 ERA and is allowing 1.611 walks and hits per inning pitched — yet is somehow 5-1. Since being outscored 22-1 in a season-opening sweep at the hands of the Tigers, they have scored 211 runs and allowed 169 runs — and gone 28-15. Plus, their bevy of prime prospects — outfielder Byron Buxton, third baseman Miguel Sano and right-hander Alex Meyer — remains in the minors. No, nothing makes sense about these Twins.
That describes the Twins season to date quite well.  Additionally, pitching staff as a whole has put up a 3.92 ERA to date, 9th in the American League.  The pitching staff's big bright spot has been closer Glen Perkins, who has allowed just five earned runs in 25 appearances this year.  He has also racked up 19 saves in the season's first two months.  Another positive has been Blaine Boyer, who has accrued ten holds which have led to Perkins' saves, leading the bullpen.  Other than that, the pitching staff has been kind of rough, including bullpen pitchers Tim Stauffer (8.03 ERA) and Brian Duensing (7.59 ERA).  The starting rotation has scuffled without Santana and with Hughes, Nolasco, and Santana fill-in Trevor May struggling.
However, the line-up has been better.  The team scores 4.6 runs per game and has hit .257 this season, the latter good for a tie for fourth in the American League.  While there are no horrendously struggling hitters on the team, no everyday player has cleared a .515 slugging percentage or an .850 OPS. Additionally, this team just does not steal bases.  They are 13th in the American League in both stolen bases (19) and stolen base percentage (55.88%).  Add this to the fact that they are 11th in the AL in on-base percentage (.309) and slugging percentage (.391), and they should be struggling to manufacture runs.  The only explanation for their winning is that their pitching staff, maligned as it is, hasn't allowed very many home runs.  It also has allowed the 2nd least walks (117) in the game, trailing only the Mets' pitching staff's 103.
Consider this as well:  The Twins' May schedule was, shall we say, easy.  Of the nine teams Minnesota played last month, five were under .500 (White Sox (six games), Athletics (four games), Indians (three games), Red Sox (three games), and Blue Jays (three games)). 19 of the team's 27 games last month were against teams with below .500 records; to their credit, the Twins were 15-4 in these games.  Another three games were against the Rays, who are now sitting right at .500 with a 26-26 record; Minnesota took two out of those three.  The other five games were against the Tigers and Pirates, and the team was 3-2 against them. So once the schedule gets harder this month when the Twins have dates with the Cardinals, Rangers, Royals, and Cubs, they may very well struggle.
For all these reasons, the Twins are not for real.  While it has been enjoyable to see their run to the top of the standings so far this year, it is unlikely to last. However, it was fun while it lasted.  Give an immense amount of credit to first-year manager and team legend Paul Molitor, who has done an amazing job with this team. He should be up for Manager of the Year consideration this year.  Can they be like the Astros, Braves, Mets, Rangers and others and sustain a sudden run of success?  Who knows, but it will be very difficult.
It was fun while it lasted.