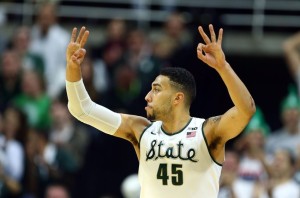 With this post, we will both continue and complete our preview of the 2016 NCAA Tournament by looking at the Midwest Region, located in the bottom right of the bracket.
This is, in my eyes, the most sane region in my bracket (funny, right?). There are still a couple of surprises; this follows the pattern set by the rest of my bracket.  However, most of this region will be controlled chaos instead of just the regular kind, with the best team in the group ultimately winning out.  As was the case with the other three regional previews, I'll supply a list of the matchups right here:
(1) Virginia vs. (16) Hampton
(2) Michigan State vs. (15) Middle Tennessee
(3) Utah vs. (14) Fresno State
(4) Iowa State vs. (13) Iona
(5) Purdue vs. (12) Arkansas-Little Rock
(6) Seton Hall vs. (11) Gonzaga
(7) Dayton vs. (10) Syracuse
(8) Texas Tech vs. (9) Baylor
As always, I'll break up the first-round predictions into the usual four categories: no-brainers, problematic picks, judgment calls, and upsets. So here it is, the final NCAA Tournament preview: the Midwest Region.
No-Brainer (Again, Just One)
(2) Michigan State over (15) Middle Tennessee
Simply put, there's nothing in this matchup that screams, or even suggests, upset.  The Spartans are quite possibly the best team in the entire field of 68 and Middle Tennessee will likely be unable to stay with their balanced attack.  This is not meant to speak ill of the Purple Raiders, but Michigan State will be simply too good for them in this one.
That's it.  This region, for me, has striking similarities to the East Region in that there is a lot of unpredictability, particularly in the early rounds.  However, I picked few upsets in either one.
Problematic Picks
(5) Purdue over (12) Arkansas-Little Rock
There's a reason the Trojans of Arkansas-Little Rock went 29-4 in the regular season.  They allow under 60 points per game, make few mistakes, and perform very well when their best is required.  Those qualities, though, will be pushed to the limit against a Purdue team that possesses the scariest front line of any team in the tournament (Caleb Swanigan, Isaac Haas, A.J. Hammons).  Arkansas-Litte Rock will have to win this the only way they know how; with defense and intelligence.
They can absolutely do it, but it won't be easy.  Give me the Boilermakers in a close one.
(6) Seton Hall over (11) Gonzaga
Seton Hall is the hottest team in college basketball; they also happen to be playing their best basketball at the best possible time.  They also happen to be playing Gonzaga in the first round.  It's March, it's the Zags, and it's going to be a problematic game for the Pirates to navigate.  Star point guard Isaiah Whitehead should help them do it, but don't expect this to be a cakewalk by any stretch of the imagination.
(1) Virginia over (16) Hampton
I almost pulled the 16-1 trigger twice.  I really did.  For me, the rebounding ability of the Hampton Pirates almost made me pick them to shock the world and take down the Cavaliers.  Oh, and the impromptu, post-game Jesus call from a season ago didn't hurt, either:
While it won't take an Act of God for Hampton to have success this time around, they will have to dominate the glass and shoot well to win.  The first part will happen; the second is iffy because of the team's inability to sink threes (30% on the season).  I'll take Virginia, but this could be the year that a 16-seed finally takes down a one-seed.
(9) Butler over (8) Texas Tech
Butler's ability to score should put them over the top in this one. However, be wary of a Texas Tech team that is versatile and has taken down the likes of Baylor, Oklahoma, and Iowa State this season. This being said, have confidence the Bulldogs of Butler; just don't be completely stunned if the Red Raiders are able to pull it out.
Judgment Calls
(4) Iowa state over (13) Iona
The fact that this is one of my judgment calls should show you just how much I think of the Gaels, but particularly how much I think of A.J. English.  English is the only player in Division I to attain 20 points, five rebounds and five assists per game this season.  If the Gaels are going to take down the well-rounded Cyclones of Iowa State, they'll need another 20-5-5 performance from English.
Don't be surprised if they get it, and don't be surprised if they win the game, either.  This one truly could go both ways.  The way I took was that of the Cyclones.
(7) Dayton over (10) Syracuse
Flip a coin.  Choose the winners based on colors.  Do what you have to do to get this one right, but please don't pretend like you know which way it's going.  Dayton was one of the best, least heralded teams in the nation until February, when losses to St. Joe's (twice), St. Bonaventure, and Rhode Island derailed any chance the Flyers had at a top-four or top-five seed in the big dance.
The Orange of Syracuse, on the other hand, probably shouldn't be in the tournament at all.  At 19-13 and painfully mediocre (9th in the ACC), any chance Syracuse had at going to the field of 68 probably lied in the First Four in Dayton.  However, they've been put here, and they match up fairly evenly with the Flyers.  Both teams have solid defenses, and Syracuse's is fueled by coach Jim Boeheim's famed 2-3 Zone.  Whichever team handles the on-ball pressure and trapping of both defenses will probably win the game.
But your guess is as good as mine as to which team that will actually be.
And….
The Upset
(14) Fresno State over (3) utah
Fresno State enters the tournament hot, having won their last nine games en route to a Mountain West Conference championship.  Utah, on the other hand, didn't do so well in its conference title game, losing by 31 to Oregon and blowing a chance at winning the Pac-12.  The battle on the boards will dictate this one, as Fresno State has a slight advantage in rebounding.  The Bulldogs also play very smartly with the basketball, averaging a mere 10.7 giveaways per contest.
If the Bulldogs play within themselves and out-rebound the Utes, the three seed in the Midwest could be taking an early exit.  I think Fresno State can and will send Utah to that early exit in this one.
Round of 32
(1) Virginia over (9) Butler
Hampton matches up with Virginia better than Butler does.  That should tell you all you need to know about this one.  Butler's pace will be wrecked by the Cavalier defense, making it difficult for them to score and operate.  Virginia wins this one effortlessly.
(5) Purdue over (4) Iowa STate
This one also features a battle of conflicting styles.  While Iowa State likes to play a fast pace and utilize their guards to facilitate the offense, Purdue uses their harrowing front line to produce buckets.  I like Purdue and their physicality in this one over the Cyclones and their guard play.
(6) Seton hall over (14) Fresno State
The Bulldogs of Fresno State will be unable to keep up their recent level of play long enough to reach the Sweet 16.  Seton Hall rolls in this one and advances to the second weekend.
(2) Michigan State over (7) Dayton
The guard battle of Denzel Valentine and Scoochie Smith (the best name in the field) will be the most interesting part of this game. Other than that, this one is straightforward; a fairly easy win for Sparty and a trip to the Sweet 16.
Sweet 16
(5) Purdue over (1) Virginia
The reason why I like Purdue in this game is because of their versatility and their ability to win in many different ways.  They can beat you scoring 90 or 60; that's how talented they are.  I'll also take Purdue in this one because they can absolutely dominate the glass on both ends, something that the Cavaliers do not always handle very well.  The pick here is Purdue and the Boilermakers advance to the Elite 8.
(2) Michigan state over (6) Seton hall
This is quite possibly the most intriguing potential matchup in the entire Midwest Region; Seton Hall and their superstar underclassmen against the experience and versatility of Michigan State.  If Whitehead and the Pirates can push the pace for easy points and put the Spartans on their heels, we'll be in for a good one.  If not, the Spartans should be able to win this game.
Either way, one thing is sure: this one is going to be fun and if it does come to pass, we'll enjoy it greatly.
Elite 8 (Regional Final)
(2) Michigan State over (5) Purdue
Purdue's magical run ends in the Elite 8 as Michigan State goes to the Final Four in back-to-back years.  The Spartans will beat the Boilermakers with their speed and ability to score in transition.  This matchup is worrisome for them, though; they don't have a go-to scoring big man and putting up points against the Purdue front line will be a daunting task.
However, I'll count on Michigan State to score enough to win and represent the Midwest Region in Houston.