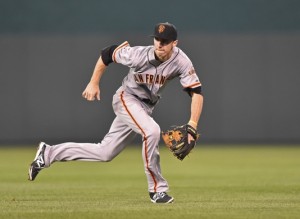 To date, there has been much debate about who the National League Rookie of the Year is, and for good reason.  The Cubs' Kris Bryant and the Dodgers' Joc Pederson have each had outstanding freshman campaigns, so great that both were even named to the NL All-Star team.  The buzz has become about these two, the young guns of baseball, the future of the game.  This is true, but the Rookie of the Year award is about the present, and both are slumping as of right now.
But there's one player no one is talking about, even though he's worthy of high praise and lots of attention: Giants' third baseman Matt Duffy.
Before you can say, "Wow, you're crazy", I'll give you evidence.  Jacob Shafer at Bleacher Report wrote about this yesterday:
Unlike Bryant and Pederson, Duffy's place in the everyday lineup was anything but assured.

San Francisco opened the season with veteran Casey McGehee installed at third base, replacing All-Star/panda-hat-seller Pablo Sandoval, who bolted via free agency to the Boston Red Sox.

Duffy made the team out of spring as a utility infielder, and by May, he began getting regular starts at the hot corner. On May 24, San Francisco designated McGehee for assignment, effectively handing Duffy the gig. It was a leap of faith, considering Duffy played almost exclusively shortstop in the minors, logging just three games at third in three MiLB seasons.

Duffy seized the opportunity, and by the end of June, he was hitting .297 with an .825 OPS.

In fact, it's difficult to imagine where the Giants—who currently sit at 57-47 and in line for the NL's second wild card—would be without their current No. 3 hitter.
There's no telling where the Giants would be without him.  There's also more to the pro-Duffy argument than just his value to the Giants. For the sake of this article, we'll mostly stick to comparing Duffy to Pederson and Bryant.
Duffy leads all National League rookies in batting average (.301).  The only rookie in baseball whose batting average eclipses that of Duffy is Devon Travis at .304.  But Travis has had 238 at bats, and when that figure is compared to Duffy's 358, we realize that Duffy has excelled with a larger sample size.  Bryant and Pederson?  .246 and .223, respectively.  It's obvious; maybe Duffy is just a better hitter than Bryant and Pederson.
And lest you think there isn't more, there is.  The strikeout rate of the Duffman, Silk, and Joc tells the most interesting story of all.  Duffy's K% is 17.0, which, in the pool of qualified rookie hitters, is seventh-lowest.  This is a sharp contrast to Bryant and Pederson.  Why? Bryant strikes out 30.6% of the time, fourth among rookies.  Pederson is right behind him at 30.2%, which is sixth among first-year players. Ouch.
The one weakness of Duffy's is that he does not walk nearly as much as the other players in the rookie field.  While Bryant has a walk rate of 13.3% and Pederson has one of 13.9%, Duffy's is just 4.2%.  How does this translate to his on-base percentage?  It limits his OBP, but only to a very respectable .341.  Kris and Joc have an edge here, but only a slight one; theirs are .354 and .345, respectively.  While Duffy loses, he doesn't lose by a lot.
There's another factor at play here; the parks these players play in. While Pederson and Bryant are obviously better home run hitters than Duffy (they both competed in the Home Run Derby, with Pederson making the final), at least part of it has to be AT&T Park, which has the lowest home run factor in baseball, according to ESPN's "Park Factors".  Dodger Stadium (Pederson's home stadium) and Wrigley Field (Bryant's home field) rank 12th and 15th, respectively.
Despite said park factors, I was floored to find this piece of information: Duffy's slugging percentage is higher than Pederson's and Bryant's.  That's right; despite the elevated home run numbers of Joc Pederson and Kris Bryant, the highest slugging percentage of the three belongs to Matt Duffy.  This shows the value of not striking out and hitting for average, both of which Duffy does very well.  If Pederson or Bryant could consistently hit for average, their SLG% would be higher.  But they don't, so this is a moot point.
I'll leave my last point to ESPN's David Schoenfield, because he already took the words right out of my mouth on July 29:
So who has been the best rookie in the National League?

The unheralded San Francisco Giants infielder began the season as the team's utility infielder but became the starting third baseman when veteran Casey McGehee flunked his opportunity. Entering Wednesday, Duffy is hitting .304/.345/.468, with nine home runs, 16 doubles, four triples and 46 RBIs.

In what has turned into a crowded race with several good candidates, Duffy leads all NL rookies in Wins Above Replacement:

Duffy, Giants: 3.4

Jung Ho Kang, Pittsburgh Pirates: 3.0

Bryant, Cubs: 2.6

Randal Grichuk, St. Louis Cardinals: 2.6

Pederson, Dodgers, 2.4

(Giants teammate Chris Heston has a 1.5 WAR, but his 11-5 record and 3.14 ERA makes him a strong contender as well.)

If you think Duffy's edge in WAR is simply the result of some statistical mumbo-jumbo, think again. His OPS is .813, Pederson's is .816 and Bryant's is .806. Duffy has put up similar offensive numbers while playing in a pitcher's park. Add in his solid defense at third base and he has been the most valuable rookie in the majors. In fact, the guy who hit three home runs last season at Double-A — and who just three years ago was drafted in the 18th round out of Long Beach State after hitting zero home runs in his college career — has been hitting third for the defending champs for the past month.
Right.  Matt Duffy is the most valuable rookie in the NL.
By writing this, I'm not trying to say that Duffy should definitely win Rookie of the Year; there is a lot of baseball yet to be played.  His sudden power surge may end and his numbers might just fall back down to earth.  However, if he keeps up his current pace, I definitely think he should win the award.  If he does, it will be the ultimate surprise in a season full of them.
And it will be a surprise because no one talks about him.
(c) 2015